Nuclear
nuclear reactor types - Search results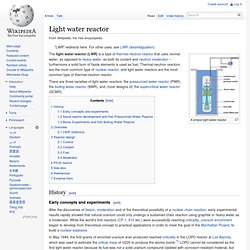 A simple light water reactor The light water reactor (LWR) is a type of thermal reactor that uses normal water, as opposed to heavy water, as its coolant and neutron moderator and a solid compound of fissile element as its fuel. Thermal reactors are the most common type of nuclear reactor, and light water reactors are the most common type of thermal reactor.
Light water reactor - Wiki
The control room of NC State's Pulstar Nuclear Reactor. Pool-type reactors, also called swimming pool reactors, are a type of nuclear reactor that has a core (consisting of the fuel elements and the control rods) immersed in an open pool of water.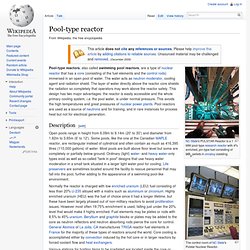 Pool-Type Reactor - Wiki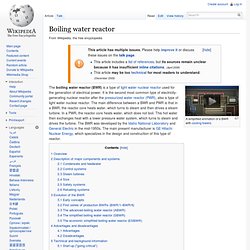 Boiling water reactor
The boiling water reactor (BWR) is a type of light water nuclear reactor used for the generation of electrical power.
List of nuclear reactors - Wiki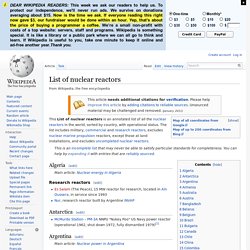 This List of nuclear reactors is an annotated list of all the nuclear reactors in the world, sorted by country, with operational status.
Advanced gas-cooled reactor - Wiki
An advanced gas-cooled reactor (AGR) is a type of nuclear reactor.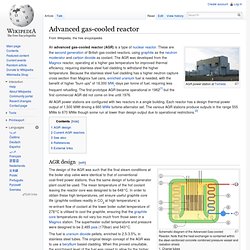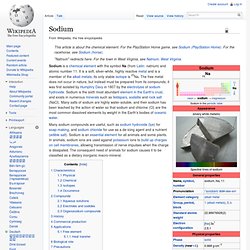 Sodium - Wiki
Sodium is a chemical element with the symbol Na (from Latin: natrium) and atomic number 11.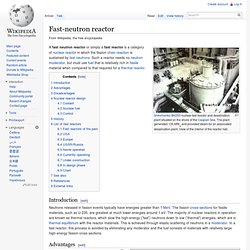 Shevchenko BN350 nuclear fast reactor and desalination plant situated on the shore of the Caspian Sea. The plant generated 135 MWe and provided steam for an associated desalination plant.
Fast-neutron reactor - Wiki
The CANDU (short for CANada Deuterium Uranium) reactor is a Canadian-invented, pressurized heavy water reactor. The acronym refers to its deuterium-oxide (heavy water) moderator and its use of (originally, natural) uranium fuel. CANDU reactors were first developed in the late 1950s and 1960s by a partnership between Atomic Energy of Canada Limited (AECL), the Hydro-Electric Power Commission of Ontario (now Ontario Power Generation), Canadian General Electric (now GE Canada), and other companies.
CANDU Reactor - Wiki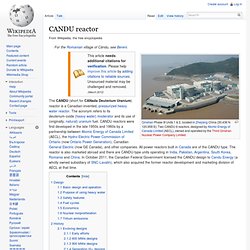 introduction to nuclear engineering
videos for education of nuclear engineering
Nuclear engineering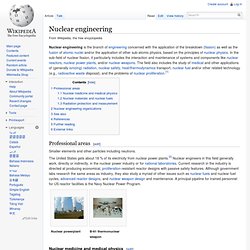 Nuclear engineering is the branch of engineering concerned with the application of the breakdown (fission) as well as the fusion of atomic nuclei and/or the application of other sub-atomic physics, based on the principles of nuclear physics. In the sub-field of nuclear fission, it particularly includes the interaction and maintenance of systems and components like nuclear reactors, nuclear power plants, and/or nuclear weapons.
Nuclear Energy vs. Global Warming
The Generation IV International Forum