Nudos
SUPERVIVENCIA Y NATURALEZA - paracord - El taller de Jeremiah Johnson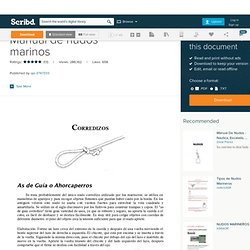 Manual de nudos marinos
proviene del notable verdugo y ejecutor. Existen leyendas y supersticiones alrededor del mismo. Era un nudo prohibido en los barcos de la Marina Real inglesa.
Nudos - como hacer nudos - Escalada. Marineros. Corbata. Cotidianos - Nudos.org
How to tie a Padlock style decorative Knot
In this Arts & Crafts video tutorial you will learn how to tie a Padlock style decorative knot. Padlock knot is a clever way to achieve the look and function of a padlock without having to bother about the key. Take a piece of rope, bend it in the center and make two loops on either side of the rope. Ensure the working end is over the rope in the left side loop and under the rope in the right side loop. Now overlap both the loops so that the left side loop is over the other loop.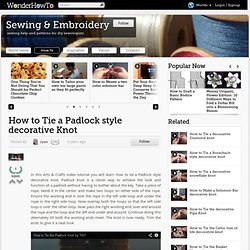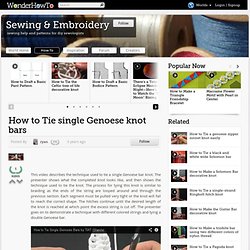 This video describes the technique used to tie a single Genoese bar knot. The presenter shows what the completed knot looks like, and then shows the technique used to tie the knot. The process for tying this knot is similar to braiding as the ends of the string are looped around and through the previous section. Each segment must be pulled very tight or the knot will fail to reach the correct shape.
How to tie single Genoese knot bars
As you can see from the photos when the knots are together the loop is small and when the knots are pulled apart the loop is bigger. You will need to tie stopper knots on the ends of the tails to stop the free end passing through the overhand knots then you pull the knots apart. Finally you will need to experiment with cord length to get the optimal length for the tails, too short and the loop wont open up enough and too long the tails will be a nuisance. When used as a bracelet the tails can be tucked under the loop for extra security and to keep them out of the way. This is my first Instructable too!!
Finished!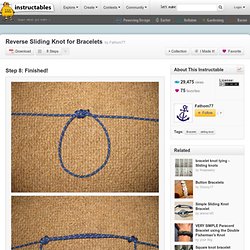 Step nine of button knot
Doing two button knots on loops...step 1
Starting the Knot
i 2 Votes A square sinnet made from black paracord. This is the next piece in my small collection of chain sinnets.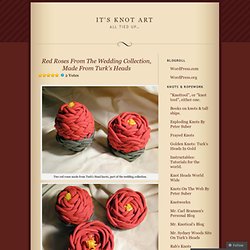 braid « It's Knot Art
Bracelets Brésiliens Au Sycomore : Jeux et jouets créatifs et bien-être de l enfant
Animated Knots List | Knots Alphabetical List | Choose a Knot
Paracord Survival Necklace
Parachute Cord - p5
Tying It All Together is a video channel dedicated to functional knots, decorative knots, and other elaborate ties. My desire, overtime, is to create a video repository of 100s of knots and ties that can be referenced in combination with, or in the absence of, a good knot book. Tying It All Together is a video channel dedicated to functional knots, decorative knots, and other elaborate ties.