Case Studies - What Works
Publications and Reviews
About | Check & Connect Student Engagement Intervention Model | Institute on Community Integration | University of Minnesota
Check & Connect is a research-based intervention used with students who are disengaged from school and learning. The core of Check & Connect is a trusting relationship between the student and a caring, trained mentor. This mentor both advocates for and challenges the student and partners with the family, school, and community to keep education salient for the student. Check refers to systematic monitoring of student performance variables (e.g., absences, tardies, behavioral referrals, grades). Connect refers to personalized, timely intervention focused on problem solving, skill building, and competence enhancement.
Access Denied / User Login
The OJJDP DSO Best Practices Database is designed to assist States and localities in reducing and/or eliminating the detention and incarceration of status offenders. The database is an easy-to-use tool that offers strategies addressing a range of program types, including direct services and system change. Each program profile addresses the following topics: program or practice description, evaluation design, research findings, and references.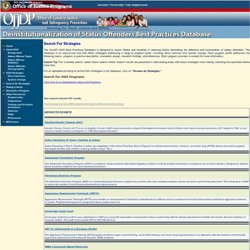 Model Programs Guide - DSO
Findings From Well-Conducted Randomized Controlled Trials The Problem:
SOCIAL PROGRAMS THAT WORK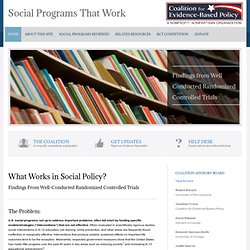 Model Programs | National Dropout Prevention Center/Network
CASE STUDIES | EVERY CHILD CRADLE TO CAREER | Strive Network