SEO
Pigeonholed: How to Avoid Google's Algorithm Wrath! Anyone who has ever dealt with a persistent pigeon problem knows that as soon as you find one method of deterring them, the pigeons find another way to make a nuisance of themselves.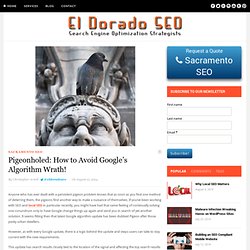 If you've been working with SEO and local SEO in particular recently, you might have had that same feeling of continually solving one conundrum only to have Google change things up again and send you in search of yet another solution. It seems fitting then that latest Google algorithm update has been dubbed Pigeon after those pesky urban dwellers. It's Over: The Rise & Fall Of Google Authorship For Search Results. All You Need to Know About the #SEO Ranking Fac... Build Local Links. How To Build Local Links & Why They're Important For Your Brand Posted by Sam Lowe on Mon, Jan 27, 2014 @ 01:00 PM Brands and organizations spend large amounts of time and money attempting to become highly visible on search engines for a national or international audience.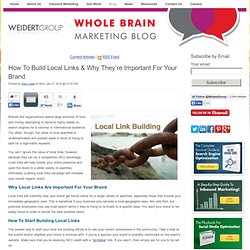 Too often, though, the value of local searches is underestimated and pushed aside in favor of trying to rank for a high-traffic keyword. You can't ignore the value of local links, however, because they can be a competitive SEO advantage. Publications Yahoo Outpaces Google In Mobile Search 10/10. Yahoo now sees 31% of its searches on mobile devices, slightly outpacing Google at 30%.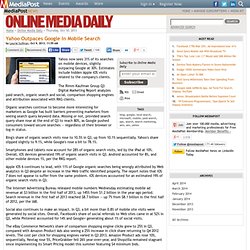 Estimates include hidden Apple iOS visits related to the company's clients. The Rimm-Kaufman Group Q3 Digital Marketing Report analyzes paid search, organic search and social, comparison shopping engines and attribution associated with RKG clients. Organic searches continue to become more interesting for marketers as Google has built barriers preventing marketers from seeing search query keyword data. Missing or not, provided search query share rose at the end of Q3 to reach 80%, as Google pushed consumers toward secure searches -- regardless of their browser or log-in status. Bing's share of organic search visits rose to 10.5% in Q3, up from 10.1% sequentially. Search Marketing ~ How customer reviews make a difference. Search Marketing is a moving target If you know anything at all about search engine marketing you know it's an ever-evolving process.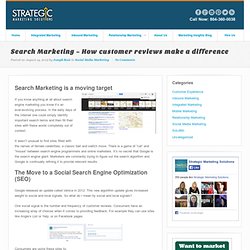 In the early days of the Internet one could simply identify important search terms and then fill their sites with these words completely out of context. It wasn't unusual to find sites filled with the names of female celebrities; a classic bait and switch move. 9 Steps to Optimizing Images for Improved Local SEO. It's a little-known fact that Google Images is one of the search engine's hottest properties.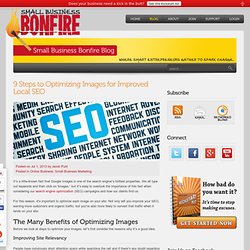 We all type out keywords and then click on 'images,' but it's easy to overlook the importance of this fact when considering our search engine optimization (SEO) campaigns and how our clients find us. For this reason, it's important to optimize each image on your site. Not only will you improve your SEO, earning more customers and organic traffic, but you're also more likely to convert that traffic when it lands on your site. Before we look at steps to optimize your images, let's first consider the reasons why it's a good idea. 7 Keyword Research Tools for Bloggers. I don't always care about SEO with every blog post that I write.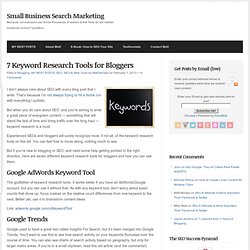 That's because I'm not always trying to hit a home run with everything I publish. But when you do care about SEO, and you're aiming to write a great piece of evergreen content — something that will stand the test of time and bring traffic over the long haul — keyword research is a must. What is a SERP? - Small Business Trends | #smal... WTF is SEO? Ever had a massive, life-changing epiphany?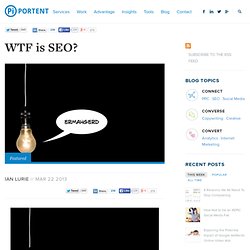 Me neither. However, I've slowly reached the conclusion that we're doing SEO all wrong. Not in the do-real-marketing sense, or the we-need-to-change-the-name sense. More in the wow-did-we-ever-screw-the-pooch-this-time sense. Inbound Marketing / Google Plus SEO: Everybody's Talks About It - How Do You DO It? excellent content/advice. 6 Indispensable Free & Freemium SEO Tools. When you are working on search engine optimization for your own business or for a client's website, you will need some great SEO tools.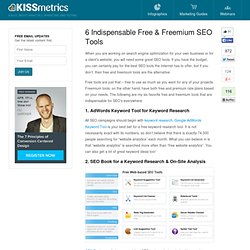 If you have the budget, you can certainly pay for the best SEO tools the Internet has to offer, but if you don't, then free and freemium tools are the alternative. Free tools are just that – free to use as much as you want for any of your projects. Freemium tools, on the other hand, have both free and premium rate plans based on your needs. The following are my six favorite free and freemium tools that are indispensable for SEO's everywhere. 9/19/12 #SMchat Social Media & SEO (with tweets) · smsjoe. Social Media and SEO. Fish Where The Fish Are Join me, Wednesday, September 19, 2012 at 1PM ET, as I moderate the #SMChat topic: Social Media and SEO.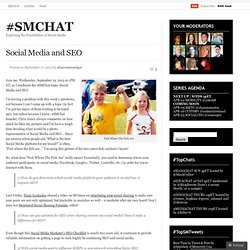 I'm having a problem with this week's questions, not because I can't come up with a topic (in fact I've got too many of them waiting to be typed up!) , but rather because I know, #SMChat founder, Chris Jones always comments on how much he likes my pictures and I'm have a tough time deciding what would be a photo representative of Social Media and SEO… Since my answer when people ask "What is the best Social Media platform for my brand?" Is often, "Fish where the fish are…" I'm using this picture of the two cutest fish catchers I know! So, what does "Fish Where The Fish Are" really mean?
#usguyschat Part 2 SEO/Speed · smsjoe. Top Tips for SEO using Fishies as a memory device. Top SEO Tips for anyone who's practicing the SEO Mindset Glanced into the #UsGuys stream and saw these Tweets: RT @RababKhan: @MediasRes What does "algorithm frequency" mean?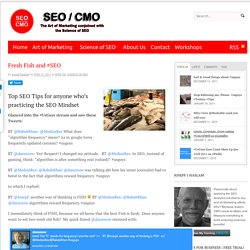 As in google loves frequently updated content? #usguys RT @danenow : Yes! Mozhpvj Shared by Josepf. #usguyschat 4/16 SEO/SPEED Part 1 of 2 Chats · smsjoe. The #Linkedin Profile #in personal #SEO #infograph | Social Search & SEO | Scoop.it. Just a few years ago, professional networking meant printing off your resume, attending job fairs, and scheduling coffee dates with old co-workers or friends of friends who could help you land your next dream job. That has all changed with LinkedIn. Now you can publicly display your resume, easily interact with industry professionals, and discover that your new boss is connected to your favorite college professor. And with its recent IPO, LinkedIn has been all over the news.
After talking with my colleagues at Lab42 about our LinkedIn profiles, we were interested to find out exactly how other users were interacting with the site. Lab42 surveyed 500 Americans who were registered LinkedIn users to discover how they utilized their profile and to see if they valued LinkedIn as a professional networking tool. Pages With Too Many Ads "Above The Fold" Now Penalized By Google's "Page Layout" Algorithm. Do you shove lots of ads at the top of your web pages? Think again. Tired of doing a Google search and landing on these types of pages? Rejoice. Google has announced that it will penalize sites with pages that are top-heavy with ads. Responsive Web Design and Facebook Fan Pages a Perfect Marriage. Ethan Marcotte coined the term Responsive Web Design and soon after wrote an amazing book on the topic. A Book Apart's Responsive Web Design is the perfect stepping stone to getting started coding and designing responsive websites.
For those of you who may not know what I'm talking about, Responsive Websites are websites that adapt to their surroundings rather than being substituted for alternatives. Instead of multiple versions of websites for mobile devices, tablets, projectors, and more; we create one website that responds to the dimensions of the screen or the device it's been loaded on to. Why local search engine marketing is important - a personal story. A few weeks ago I had to have an apartment lock changed in New York City. My wife and I are responsible for managing the estate of a close friend who just passed away. Getting this lock changed in a timely fashion was important. Since I was staying in Connecticut at the time I performed a Google search using the keywords that I felt would yield the best results. Top 10 Effective Search Engine Optimization (SEO) Techniques.
Search engine optimization is a process to improvise traffic on a website. It includes different kinds of search like image search, local search and video search etc. I have seen many organizations hiring SEO companies which pay huge money and don't get any results. My question was, is it so difficult? Guide to Setting up Advanced Segments in Google Analytics for Complex Brand Names. The Ultimate Guide to Keyword Research. 4 Quick Tips for Getting the Most out of Google Analytics. 6 Steps for Optimizing Images for SEO. SEO for Corporate Blogs: Where to Use Keywords. Google to offer app search and nine other search predictions for 2011.
Where to Kickoff Your Keyword Research. 34 Search Engine Optimization Techniques. Website optimization|Search Engine Optimization SEO Tutorial — WebBizIdeas | Search Engine Optimization & Marketing. Inbound Marketing for Startups in 2011. SEO Mistakes That Just Make You Look Dumb. 6 New Tools Every SEO Should Check Out.
---