Content Marketing
Watch?v=bA4wS67hn0o&feature=youtu. e051a40e-2de4-11e4-8f87-12313d03353b-large.jpeg (JPEG Image, 480 × 250 pixels) What Is Content Marketing? And 9 More Content Marketing Questions Answered. In the course of working with brands across the business landscape, a few questions come up time and time again.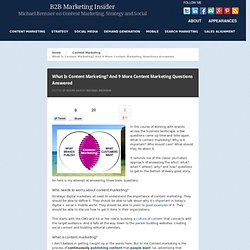 What is content marketing? Why is it important? Who should care? Content Marketing & Social Media: What Nonprofits Must Know. Redirecting... 8 Ways to Get Your Team Contributing Content. The management and production behind a high-quality editorial calendar requires a lot of hard work.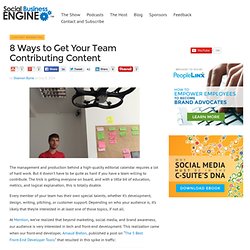 But it doesn't have to be quite as hard if you have a team willing to contribute. The trick is getting everyone on board, and with a little bit of education, metrics, and logical explanation, this is totally doable. Every member of your team has their own special talents, whether it's development, design, writing, pitching, or customer support. Depending on who your audience is, it's likely that they're interested in at least one of those topics, if not all. At Mention, we've realized that beyond marketing, social media, and brand awareness, our audience is very interested in tech and front-end development.
Redirecting... Mike Allton was recently a guest on Jason T.
Wiser's show, "Get On Track, Stay On Track. " During the show, ideas for creating blogs and rich content were discussed, particularly focusing on ideas that could potentially help people who really struggle with blogging, whether it's because they don't have the time or interest in writing, or because each blog post they do write is a labor of love that takes too long to truly finish. Here's a replay of the live Google+ Hangout on Air: During the HOA, you'll hear questions and discussion on topics like:
Redirecting... Tips for Maximizing the Storytelling Impact of Visual Content. Capture Attention with a Striking Visual "Headline" "Dig, if you will, the picture..."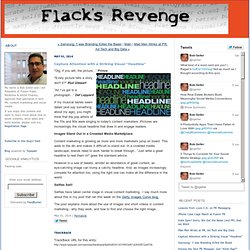 Prince "Every picture tells a story, don't it? " Rod Stewart "All I've got is a photograph..." Def Leppard. Infographic: Using User Generated Content To Boost Sales. If you do online retail, you probably know all about SEO, SEM and other acronyms.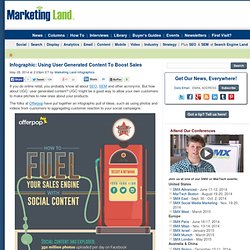 But how about UGC: user generated content? UGC might be a good way to allow your own customers to make pitches to new ones about your products. The Top 7 Content Marketing Struggles. Featured in: Marketing These days marketers are creating a ton of content, but many lack a process for creating, managing and publishing that content. ...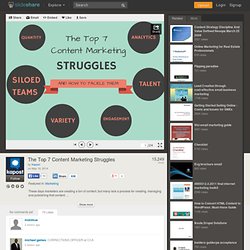 These days marketers are creating a ton of content, but many lack a process for creating, managing and publishing that content. In fact, just 42% of marketers say they're effective at content marketing. Content Marketing For Higher Education. 121 Flares Twitter 41 Facebook 4 Google+ 34 LinkedIn 28 inShare28 Buffer 14 121 Flares × A student's decision of where to attend college is the biggest decision they will make at that point in their lives.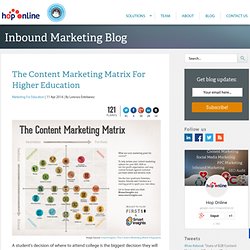 Since this decision will affect the student both socially and financially, higher education institutions have to create content that answers a myriad of concerns. Once a university has made a student aware, it has to make both emotional and rational appeals. This broad spectrum of information comprises the Content Marketing Matrix, and higher education institutions have to master it to turn a prospective applicant into a student. The Content Marketing Matrix is composed of two axes, one moving from emotional to rational, and the other moving from entertaining to inspiring. Should Coca-Cola Quit Its Content Marketing Journey? When a dominant global brand goes all in on content, it's hard not to assume it's got it figured out.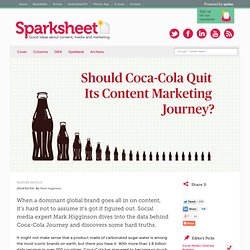 Social media expert Mark Higginson dives into the data behind Coca-Cola Journey and discovers some hard truths. It might not make sense that a product made of carbonated sugar water is among the most iconic brands on earth, but there you have it. With more than 1.8 billion daily servings in over 200 countries, Coca-Cola has managed to become so much more than bubbles. Over the span of its 128 years, the brand has transitioned away from hard sell slogans to embrace higher-order brand values like happiness and well-being (its newsletter, for instance, is called The Optimist).
Along the way it has co-opted the holidays, hippie culture, and more than a few Olympic Games. How to Build an Effective Content Marketing Plan. November 7, 2013 • Mike Sweeney • Content Marketing, Marketing Strategy, Must Read How to Build an Effective Content Marketing Plan According to the 2014 B2B Content Marketing Benchmarks, Budgets and Trends report, content marketing is on the rise, with 93 percent of marketers using content marketing, compared to 91 percent last year.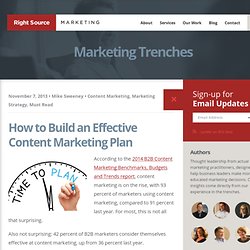 For most, this is not all that surprising. Also not surprising: 42 percent of B2B marketers consider themselves effective at content marketing, up from 36 percent last year. 7 Unique Ways to Find Content Ideas for the Most Boring Topics. 27 B2B Content Marketing Tactics [Research] In today's dynamic content landscape you need to add variety to your B2B content marketing offering to beat the competition.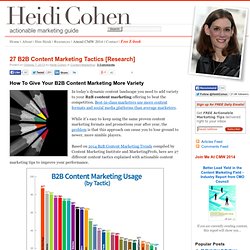 Best-in-class marketers use more content formats and social media platforms than average marketers. While it's easy to keep using the same proven content marketing formats and promotions year after year, the problem is that this approach can cause you to lose ground to newer, more nimble players. Based on 2014 B2B Content Marketing Trends compiled by Content Marketing Institute and MarketingProfs, here are 27 different content tactics explained with actionable content marketing tips to improve your performance. 1. Social media excluding blogs. 7 Things Content Marketers Can Learn from Standup Comedians. Sensei MarketingThe Problem With Content Marketing. We cannot turn on the computer these days without being inundated with "content is king" proclamations by marketers and social media strategists. Content marketing is touted as THE critical tactic in today's social media practice for businesses. It's defined as any type of marketing that involves the creation and public sharing of content in order to acquire customers.
Is Your Blog Built To Last? Is your blog just a flash in the pan or is it built for the long term? Many blogs are started without thinking through the full implications of what blogging entails. As a result, they don't achieve their intended objectives. Get better results with focused content marketing. By now, most businesses have gotten the message that fresh, compelling content is the key to a successful digital marketing strategy, but many small B2B companies struggle to keep their content updated often enough to achieve optimum results. To complicate tactics even further, the bewildering proliferation of social media sites leaves them wondering where to place their efforts to get the best results.
Social media and content top the list of successful tactics Recent research from The Content Marketing Institute provides insights into where you should place your efforts to increase traffic and move prospects along your sales funnel. Around 87 percent of respondents used social media and 83 percent use articles on their website. Five core elements of audience building content... Interesting Infographics / Digital Evolution: SEO to Optimised Content Marketing | The Intergage blog. Visual Storytelling: The Key Weapon to Content Marketing | Effective Inbound marketing practices. Think Like Zuck – 2013 Paradigm. Innovator at Heart Whether you are an Entrepreneur or Intrapreneur, how are you standing in your power to be the change to make a difference in the world?
Ekaterina shares the 5 principles that have allowed Mark Zuckerberg as well as other well known brands to accomplish their success in making a difference as well as a profit. Join us, meet Ekaterina Walter ( the social innovator at Intel ) and ask us your questions as we delve into how both entrepreneurs and intrapreneurs can position their success by learning from Zuck. Content Strategy for Website Redesign | Effective Inbound marketing practices. Companies That Auto-Publish to Social Media Generate 50% More Leads [New Data] If you're an inbound marketer, you're probably already on board with the idea that business blogging is an effective way to generate leads .
And you probably also know that you can increase your blog's ability to generate leads if you also promote it in social media -- the more exposure the better, right? But we did a little analysis here to see if there's something else we can all do to make our business blogs and social media networks even more effective at lead generation . Turns out, there is. And it's auto-publishing your blog content to social media. Who would've thunk it? Content Marketing Metrics [Chart. Alltop - Top Content Marketing News.
Why Your Business Needs a Content Marketing Strategy. 8 Ways to Find Great Social Media Content. 6 Ways Content Marketing Helps Small Businesses Be BIG Online. Mobile Payment Systems Poised to Kill The Credit Card. LinkedIn is changing. Are you keeping up? #In. Visits to Twitter.com Fell 14% in 2010 [STATS] 8 New LinkedIn Features Worth Exploration. Get Organized Around Content. Content. Get to the Point: Three Ways to Optimize Content Across Channels and Platforms. Ten Reasons Why Your Content Strategy Fails. How to Build Personas to Bring Your Targets (Back) to Life. Content Marketing Playbook | Content Marketing | Junta42. Should You Curate Social Media Content? [Chart included.
Interactive - National Film Board of Canada. 5 Key Tips for a Successful Social Media Content Strategy. 2010 B2B Content Marketing Benchmarks, Budgets and Trends. Inbound Marketing: How to pull in customers without pushing ads. 2011 Trends: Content Marketing Is Critical. Is a Content Arsenal in your strategy? How to Find Stories for Your Brand Within Your Organization. How to Develop Content Based on A Need Stage.
---