Content Marketing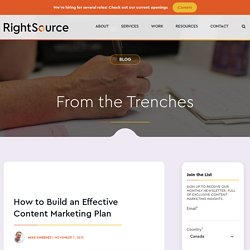 How to Build an Effective Content Marketing Plan
According to the 2014 B2B Content Marketing Benchmarks, Budgets and Trends report, content marketing is on the rise, with 93 percent of marketers using content marketing, compared to 91 percent last year. For most, this is not all that surprising. Also not surprising: 42 percent of B2B marketers consider themselves effective at content marketing, up from 36 percent last year.
7 Unique Ways to Find Content Ideas for the Most Boring Topics
27 B2B Content Marketing Tactics [Research] - Heidi Cohen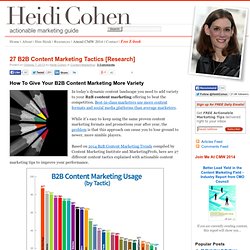 In today's dynamic content landscape you need to add variety to your B2B content marketing offering to beat the competition. Best-in-class marketers use more content formats and social media platforms than average marketers. While it's easy to keep using the same proven content marketing formats and promotions year after year, the problem is that this approach can cause you to loose ground to newer, more nimble players. Based on 2014 B2B Content Marketing Trends compiled by Content Marketing Institute and MarketingProfs, here are 27 different content tactics explained with actionable content marketing tips to improve your performance. 1. Social media excluding blogs
7 Things Content Marketers Can Learn from Standup Comedians
We cannot turn on the computer these days without being inundated with "content is king" proclamations by marketers and social media strategists. Content marketing is touted as THE critical tactic in today's social media practice for businesses. It's defined as any type of marketing that involves the creation and public sharing of content in order to acquire customers.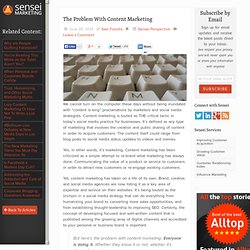 Sensei MarketingThe Problem With Content Marketing
Is your blog just a flash in the pan or is it built for the long term? Many blogs are started without thinking through the full implications of what blogging entails. As a result, they don't achieve their intended objectives.
Is Your Blog Built To Last?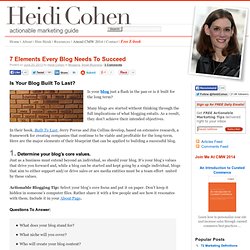 get better results with focused content marketing
By now, most businesses have gotten the message that fresh, compelling content is the key to a successful digital marketing strategy, but many small B2B companies struggle to keep their content updated often enough to achieve optimum results.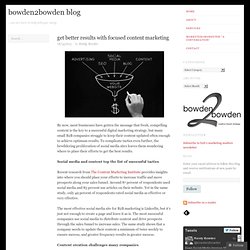 Five core elements of audience building content...
3 Ways Thoughtful Content Will Benefit Your Sma...
8 Reasons Companies Should Adopt a Content Mark...
Interesting Infographics / Digital Evolution: SEO to Optimised Content Marketing | The Intergage blog
Visual Storytelling: The Key Weapon to Content Marketing | Effective Inbound marketing practices
Think Like Zuck – 2013 Paradigm
You are here: Home / Bucket List / Think Like Zuck – 2013 Paradigm #BBSradio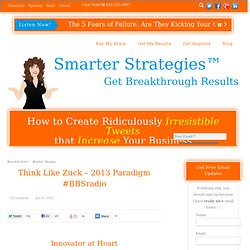 Content Strategy for Website Redesign | Effective Inbound marketing practices
If you're an inbound marketer, you're probably already on board with the idea that business blogging is an effective way to generate leads . And you probably also know that you can increase your blog's ability to generate leads if you also promote it in social media -- the more exposure the better, right?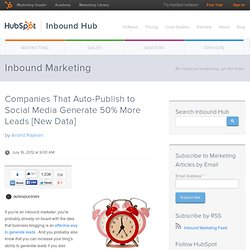 Companies That Auto-Publish to Social Media Generate 50% More Leads [New Data]
Content Marketing Metrics [Chart
To ensure that your content marketing achieves its business goals, you must measure your progress and results.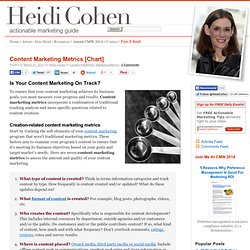 Alltop - Top Content Marketing News
Why Your Business Needs a Content Marketing Strategy - Online Marketing Blog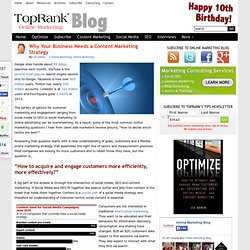 Google sites handle about 88 billion searches each month. YouTube is the second most popular search engine second only to Google.
Do you want to know how to find the most valuable social media content? Are you looking for great articles and videos to share with your friends and fans?
8 Ways to Find Great Social Media Content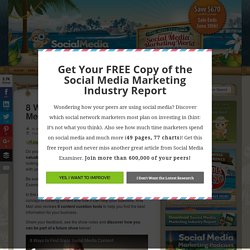 6 Ways Content Marketing Helps Small Businesses Be BIG Online - Online Marketing Blog
For small businesses, looking "big" online isn't so much about appearing as a large company when they're not.
Monday's headline from CNN Money says it all: The end of credit cards is coming .
Mobile Payment Systems Poised to Kill The Credit Card
LinkedIn is changing. Are you keeping up? #In
Visits to Twitter.com Fell 14% in 2010 [STATS]
8 New LinkedIn Features Worth Exploration
Recently LinkedIn added lot's of new functionality that impacts marketers and business owners . This article will tell you what you need to know.
Get Organized Around Content
How many new blog posts or web pages does your company publish every week?
Get to the Point: Three Ways to Optimize Content Across Channels and Platforms
Ten Reasons Why Your Content Strategy Fails
How to Build Personas to Bring Your Targets (Back) to Life
Content Marketing Playbook | Content Marketing | Junta42
Should You Curate Social Media Content? [Chart included
Interactive - National Film Board of Canada
5 Key Tips for a Successful Social Media Content Strategy
2010 B2B Content Marketing Benchmarks, Budgets and Trends
Inbound Marketing: How to pull in customers without pushing ads
2011 Trends: Content Marketing Is Critical
Is a Content Arsenal in your strategy?
How to Find Stories for Your Brand Within Your Organization
How to Develop Content Based on A Need Stage