Job applications
Job Bank - Job Profile
Job Bank - Job Profile
Job Bank - Job Profile
Job Bank - Job Profile
Job Bank - Job Profile
Important Messages: We thank all those who apply.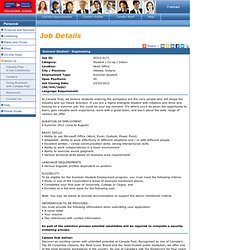 Canada Post - Careers - Job Details
Social Media Manager - Ottawa Part-Time, Student Jobs - Kijiji Ottawa Canada.
job details - LABORATORY TECHNICIAN - Microbiology in Ottawa
Iogen Corporation
Applicant Home
Search Government Jobs at ArmedServicesJobs.com
Dimension & Scope: Interface with customers via inbound or outbound calls or the Internet for the purpose of resolving routine problems with products or services. Principal Duties and Responsibilities: Greet customers in a courteous, friendly, and professional manner using... Fidelity Investments is committed to delivering the best customer experience in the financial services industry.