Webmaster
Graphics Download FileSonic FileServe Hotfile - DownTR.NET
Free Vector Graphics | Design Freebies
Online Tools for Testing Loading Time of Your Blog Probably all of you understand that your blog loading time (or speed) is a very important SEO factor. Such search engines like Google loves blogs with fast loading time.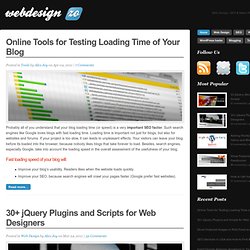 Web Design, SEO & Make Money Online | Development, Wordpress Tips & Tricks
Red Blogs - Recursos utilidades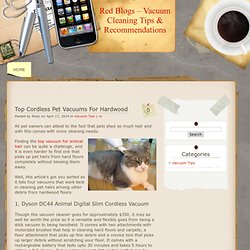 Posted by Ruby on April 17, 2014 in Vacuum Tips | ∞ All pet owners can attest to the fact that pets shed so much hair and with this comes with more cleaning needs. Finding the top vacuum for animal hair can be quite a challenge, and it is even harder to find one that picks up pet hairs from hard floors completely without blowing them away. Well, this article's got you sorted as it lists four vacuums that work best in cleaning pet hairs among other debris from hardwood floors. 1. Dyson DC44 Animal Digital Slim Cordless Vacuum
Fuentes para WordPress | Comercio electronico
Si tienes tu hosting basado en PHP, aquí te dejo algunos plugins que al instalarlos sobre WordPress pueden dotar a tu site de fuentes que hacen que se destaquen sobre el resto. Tener en cuenta que las personas que ingresen a tu site no necesitan tener instalado estas fuentes, el plugin hace el trabajo necesario. Asimismo te dejo algunos sitios donde podrás buscar muchas fuentes para utilizarlas con los plugins que menciono. Lista de plugins de fuentes para WordPress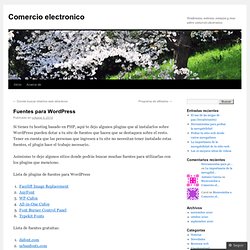 Existen una lista de tipografías estándares que todos los navegadores pueden interpretar, pero, ¿qué ocurre con las demás tipografías? ¿Cómo podemos implementarlas? @font-face es una propiedad muy útil para definir en un sitio web una fuente que el usuario no tenga instalada en su ordenador. Sólo debemos subir la fuente deseada a nuestro sitio web (mediante un cliente FTP, al servidor) y definirla mediante CSS.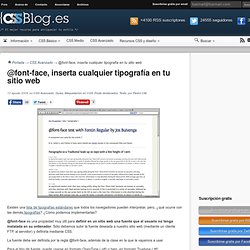 @font-face, inserta cualquier tipografía en tu sitio web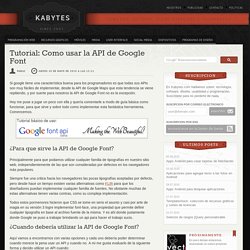 Si google tiene una característica buena para los programadores es que todas sus APIs son muy fáciles de implementar, desde la API de Google Maps que esta tendencia se viene repitiendo, y por suerte para nosotros la API de Google Font no es la excepción. Hoy me puse a jugar un poco con ella y quería comentarle a modo de guía básica como funcionar, para que sirve y sobre todo como implementar esta fantástica herramienta. Comencemos. ¿Para que sirve la API de Google Font? Principalmente para que podamos utilizar cualquier familia de tipografías en nuestro sitio web, independientemente de las que son consideradas por defectos en los navegadores más populares. Siempre fue una critica hacia los navegadores las pocas tipografías aceptadas por defecto, pero desde hace un tiempo existen varias alternativas como FLIR para que los diseñadores puedan implementar cualquier familia de fuentes.
Tutorial: Como usar la API de Google Font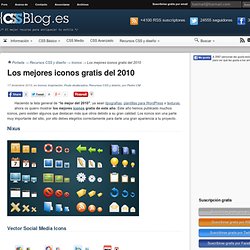 Haciendo la lista general de "lo mejor del 2010″, ya sean tipografías, plantillas para WordPress o texturas, ahora os quiero mostrar los mejores iconos gratis de este año. Este año hemos publicado muchos iconos, pero existen algunos que destacan más que otros debido a su gran calidad. Los iconos son una parte muy importante del sitio, por ello debes elegirlos correctamente para darle una gran apariencia a tu proyecto.
Los mejores iconos gratis del 2010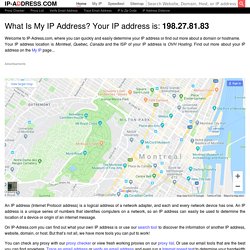 An IP address (Internet Protocol Address) is a logical address of a network adapter. The IP address is unique and identifies computers on a network. Welcome to IP-Adress.com, where you can quickly and easily determine your IP address or the IP address of another device. An IP address (Internet Protocol address) is a logical address of a network adapter, and each and every network device has one.
About AutoFocus 2.0 In short, AutoFocus 2.0 is a clean and simple WordPress theme developed for photographers looking to showcase their work. AutoFocus 2.0 provides stronger markup, better browser support, and Theme options that enable you to customize various elements of the theme without ever touching code. It's also designed on an 800px, 8 column grid which truly allows your images to shine. This new version also boasts a sharper typographic approach with a 22px baseline grid, and a Hoefler Text/Helvetica (Times/Arial for you PC users) font stack that's much easier to read.