METAL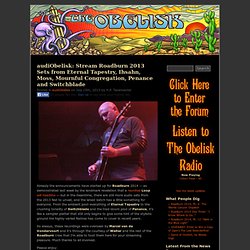 Time marches on and the Roadburn 2013 lineup becomes increasingly unfuckwithable. In this latest update we learn that High on Fire will play The Art of Self-Defense in its entirety (as well as do a regular set), and that among others, The Midnight Ghost Train have joined the lineup! Those dudes kill live and have just toured Europe again, so it's awesome to see their hard work paying off with a gig at a fest like this.
The Obelisk » Roadburn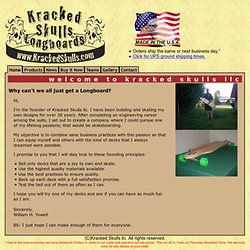 KrackedSkulls.com
Why can't we all just get a Longboard? Hi, I'm the founder of Kracked Skulls llc.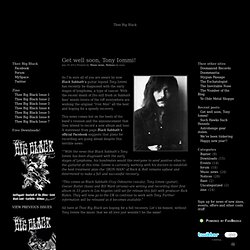 Thee Big Black - Black is thee new Black – Zine, blog, forum, music, films, books, life
Get well soon, Tony Iommi! As I'm sure all of you are aware by now Black Sabbath's guitar legend Tony Iommi has recently be diagnosed with the early stages of lymphoma, a type of cancer. With the recent death of Dio still fresh in Sabbath fans' minds lovers of the riff everywhere are wishing the original "Iron Man" all the best and hoping for a speedy recovery. This news comes hot on the heels of the band's reunion and the announcement that they intend to record a new album and tour. A statement from page Black Sabbath's official Facebook suggests that plans for recording are going ahead despite this terrible news:
Doomed To Be Stoned In A Sludge Swamp
MetalInsider.net - Metal Music Industry News, Gossip and Analysis
crustcake - METAL BLOG: NEWS, REVIEWS, INTERVIEWS, MP3s AND MORE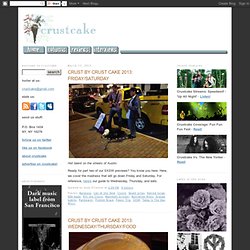 Your faithful and intrepid protagonists, Van and Andy, once again braved the seasonably-for-Central-Texas warm weather and choking dust of a November weekend in Austin to throw themselves upon the altar built yearly unto the god Fun. Three times is He named, and three days and three nights didst they sacrifice eardrums and livers in His honor. (Well, Van could only sacrifice for two, since he had to work on Friday.) But yea, the god Fun was hungry and the souls of two amongst a throng of thousands were mere drops in an ocean. The struggle was epic; their losses, profound. Sally forth then, good reader, and pay sombre respects for their sins.
MetalSucks
INVISIBLE ORANGES – THE METAL BLOG