Outlook
Neuro-linguistic programming (NLP) is an approach to communication, personal development, and psychotherapy created by Richard Bandler and John Grinder in California, United States in the 1970s. Its creators claim a connection between the neurological processes ("neuro"), language ("linguistic") and behavioral patterns learned through experience ("programming") and that these can be changed to achieve specific goals in life.[1][2] Bandler and Grinder claim that the skills of exceptional people can be "modeled" using NLP methodology, then those skills can be acquired by anyone.[3][4][5][6][7] Bandler and Grinder also claim that NLP can treat problems such as phobias, depression, habit disorder, psychosomatic illnesses, myopia,[8] allergy, common cold[9] and learning disorders, often in a single session.[10][11][12][13] NLP has been adopted by some hypnotherapists and in seminars marketed to business and government.[14][15]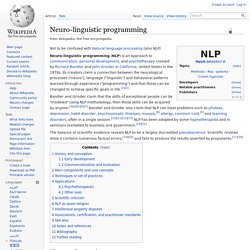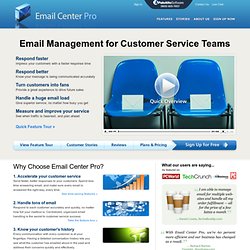 Email Center Pro - Email Management for Customer Service
1. Accelerate your customer service Send faster, better responses to your customers. Spend less time answering email, and make sure every email is answered the right way, every time.
Awesome Gmail Support* Gmail Label support makes organizing easy Dedicated Important view for high-priority messages Send and Archive your messages in just one step Add detected dates to your Google Calendar Support for Gmail keyboard shortcuts for the power user * If you don't have Gmail, no worries... because Postbox works great with any POP or IMAP email account, including Yahoo!, Hotmail, MobileMe/iCloud, AOL, Comcast, Dreamhost, Rackspace, Zimbra and many more.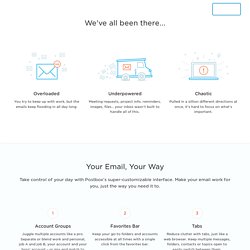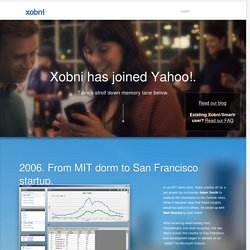 In an MIT dorm room, Xobni started off as a pet project by co-founder Adam Smith to analyze the information in his Outlook inbox. When it became clear that these insights would be useful to others, he joined up with Matt Brezina to start Xobni. After receiving seed funding from YCombinator and other investors, the two drove across the country to San Francisco, and development began in earnest on an "addon" for Microsoft Outlook.
voice of customer innovation OpinionLab is the pioneer and global leader in omnichannel Voice of Customer (VoC) feedback innovation with over a decade of success and a dozen patents on major VoC advancements. Starting with the familiar [+] feedback symbol, the company's end-to-end solution suite allows clients to improve the omnichannel experience with precise, real-time intelligence into what customers want and need.
OpinionLab: Collective Intelligence