Outlook
Neuro-linguistic programming. Neuro-linguistic programming (NLP) is an approach to communication, personal development, and psychotherapy created by Richard Bandler and John Grinder in California, United States in the 1970s.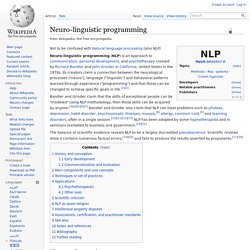 Its creators claim a connection between the neurological processes ("neuro"), language ("linguistic") and behavioral patterns learned through experience ("programming") and that these can be changed to achieve specific goals in life.[1][2] Bandler and Grinder claim that the skills of exceptional people can be "modeled" using NLP methodology, then those skills can be acquired by anyone.[3][4][5][6][7] Bandler and Grinder also claim that NLP can treat problems such as phobias, depression, habit disorder, psychosomatic illnesses, myopia,[8] allergy, common cold[9] and learning disorders, often in a single session.[10][11][12][13] NLP has been adopted by some hypnotherapists and in seminars marketed to business and government.[14][15] Email Center Pro - Email Management for Customer Service. Welcome to Postbox.
Xobni - Outlook Plugin to Search People, Email, and Attachments. OpinionLab: Collective Intelligence.
---