Software
Media
Free. Windows. Inc. | Think Beyond the Browser. (Do you have the latest version 4.1?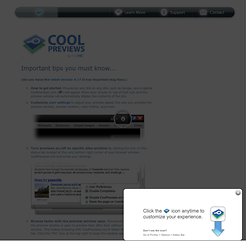 It has important bug fixes.) How to get started. Mouseover any link on any site, such as Google, and a special CoolPreviews icon () will appear. Salvar el mundo... ¿desde tu iPad? Puede sonar raro pero comienza a haber claros indicios que apuntan a que los videojuegos pueden convertirse en una nueva vía, no solo para despertar interés y compromiso, sino para provocar cambios reales.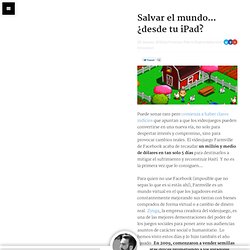 El videojuego Farmville de Facebook acaba de recaudar un millón y medio de dólares en tan solo 5 días para destinarlos a mitigar el sufrimiento y reconstruir Haití. Y no es la primera vez que lo consiguen… Para quien no use Facebook (imposible que no sepas lo que es si estás ahí), Farmville es un mundo virtual en el que los jugadores están constantemente mejorando sus tierras con bienes comprados de forma virtual o a cambio de dinero real.
Zynga, la empresa creadora del videojuego, es una de las mejores demostraciones del poder de los juegos sociales para poner ante sus audiencias asuntos de carácter social o humanitario. E-book management. Twituneando (twitter, twitter y más twitter)
---