Manufacturing magazine
British Engineering Excellence Awards The BEEAs aim to demonstrate and promote the quality of engineering design within the UK, and emphasise innovation and effectiveness of smaller companies enabling them to compete on equal footing with larger ones. Engineering Design Show With a high level conference, free practical workshops and an exhibition demonstrating and promoting cutting edge technology and innovation, the Engineering Design Show is the only event providing for the needs of the UK's design engineers. Engineering Materials Engineering Materials is the place to find out about all things happening in the materials world.
Eureka - For Innovative Engineering Design suppliers, design news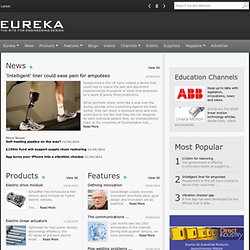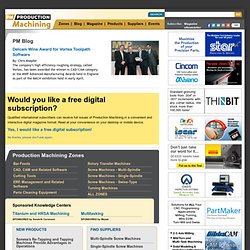 Checklist for Lights-Out Manufacturing By: Mark Eddy Many shops of various sizes are trying to hop on the lights-out bandwagon. This article looks at some things to consider and check out before "hopping." ZONE: Cutting Tools >> Turning Tools
The Online Magazine of Production Machining : Production Machining
Online Training from Tooling U
CUTTING TOOL ENGINEERING Plus | Industry News
Mercados / Gestión Los usuarios son las nuevas fuentes de innovación 07/04/2014 - Productos y servicios innovadores generados por el usuario, protagonistas de la nueva economía Durante la jornada "Innovando desde la experiencia del cliente", que Innobasque - Agencia Vasca de la Innovación organizó el 25 de marzo en colaboración con el Ayuntamiento de Bilbao, organizaciones de distintos sectores mostraron cómo sus usuarios generan innovaciones. En muchos casos, se trata de organizaciones que facilitan la intermediación entre clientes, siendo estos quienes producen el producto o servicio innovador. Administraciones Públicas, centros de investigación y empresas cuentan con el usuario como generador de innovación.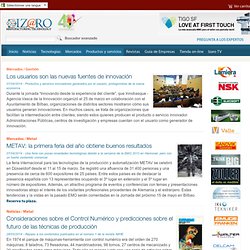 Izaro manufacturing
E_funda - The Ultimate Online Reference for Engineers
The Online Magazine of Modern Machine Shop : Modern Machine Shop
American Machinist
Industry News CAM Software for Students Gibbs and Associates, developer of GibbsCAM® software, introduces the GibbsCAM Student Edition as well as a new on-line Student Store to provide student resource materials. The Student Edition, which complements the GibbsCAM Classroom Edition, is available immediately to NC programming or machining students of high... Major Change at Haas A 7500 RPM and 20 hp spindle has been synonymous Haas Automation's VF series of Vertical Machining Centers for decades.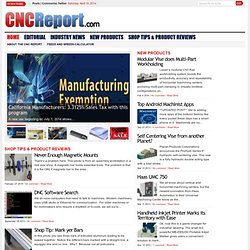 The CNC Report | The Premier Online Machining Magazine