Digital
HG Designs.
Download sites
Resources. Digital scrapbooking tutorials, reviews, and resources » Blog Ar. I (Katie) have been a digital scrapbooker for almost 5 years now and I quickly learned once I started collecting supplies on my computer that I would need to have a good organization system in place.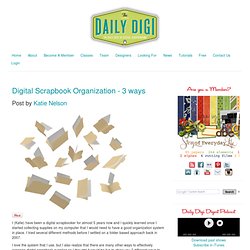 I tried several different methods before I settled on a folder based approach back in 2007. I love the system that I use, but I also realize that there are many other ways to effectively organize digital scrapbook supplies so I thought it would be fun to show you 3 different ways to organize so you can find the approach that works best for you! I'm a very visual person, so for me it is nice to have folders set up with preview images.
When I open each folder I can quickly glance at what I have stored inside without having to open each individual sub-folder. I store my entire system on an external hard drive to keep my laptop working at top speed. Digital scrapbooking tutorials, reviews, and resources. Blog Archive » Font Organization. We love our fonts as much as we love our scrapbooking goodies, but did you know that each time you install a font, it takes resources away from other parts of your machine?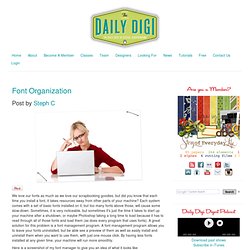 Each system comes with a set of basic fonts installed on it, but too many fonts above those, will cause some slow-down. Sometimes, it is very noticeable, but sometimes it's just the time it takes to start up your machine after a shutdown, or maybe Photoshop taking a long time to load because it has to read through all of those fonts and load them (as does every program that uses fonts). A great solution for this problem is a font management program. ShabbyPrincess :: Free Scrapbooking Kits, Digital Scrapbooking,
---