Digital
Today's free texture is 12×12, 300dpi and in jpg format Feel free to use this however you'd like, no commercial use license is needed Do NOT host this on your own site (please link people back here to download), do not claim as your own, and do not sell this texture 'as is'. Download instructions below:
HG Designs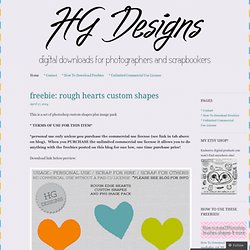 Digital scrapbooking tutorials, reviews, and resources » Blog Ar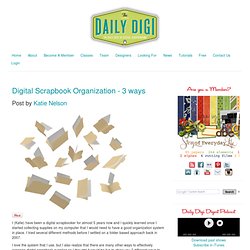 I (Katie) have been a digital scrapbooker for almost 5 years now and I quickly learned once I started collecting supplies on my computer that I would need to have a good organization system in place. I tried several different methods before I settled on a folder based approach back in 2007. I love the system that I use, but I also realize that there are many other ways to effectively organize digital scrapbook supplies so I thought it would be fun to show you 3 different ways to organize so you can find the approach that works best for you! I'm a very visual person, so for me it is nice to have folders set up with preview images. When I open each folder I can quickly glance at what I have stored inside without having to open each individual sub-folder. I store my entire system on an external hard drive to keep my laptop working at top speed.
After you've been a digital scrapbooker for a few years, you forget just how far you've come in terms of understanding the techniques and tricks of your scrapbooking software. Things become second nature and you no longer need certain tutorials or references to accomplish specific looks. Let's take a look at a simple page and break down some of the skills needed to put it together. The January 2014 Digi Files contain this amazing kit by Lauren Grier. I started by choosing my favourite elements from the kit and placing them on a blank 12x12 canvas: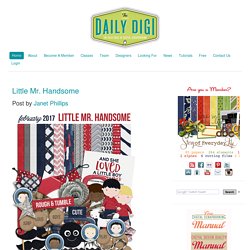 Blog Archive » Font Organization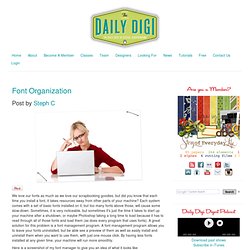 We love our fonts as much as we love our scrapbooking goodies, but did you know that each time you install a font, it takes resources away from other parts of your machine? Each system comes with a set of basic fonts installed on it, but too many fonts above those, will cause some slow-down. Sometimes, it is very noticeable, but sometimes it's just the time it takes to start up your machine after a shutdown, or maybe Photoshop taking a long time to load because it has to read through all of those fonts and load them (as does every program that uses fonts). A great solution for this problem is a font management program.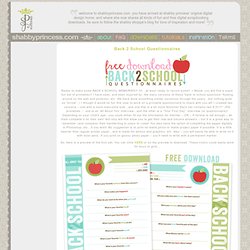 Ready to make some BACK 2 SCHOOL MEMORIES?! Or…at least ready to record some? :) Below, you will find a super fun set of printables!! I have seen, and been inspired by, the many versions of these 'back to school questions' floating around on the web and pinterest, etc. We have done something similar ourselves through the years…but nothing quite so 'formal' :) I thought it would be fun this year to work on a printable questionnaire to share with you all!