Blogs
Back in March, my niece, Everly Penniman, celebrated her first birthday. My sister, Jamie, created the most beautiful party for her. She went with a "Penny Candy Store" theme. I have to say the awnings she made were incredible!
Dear Lillie
The New Victorian Ruralist
Colour me Happy
What Color Are You Afraid Of?
If you're reading this blog, it's pretty likely that you are not afraid of color. But is there a certain color that scares you? I recently posed this question on The Decorologist Facebook page and got some interesting responses.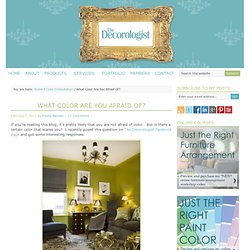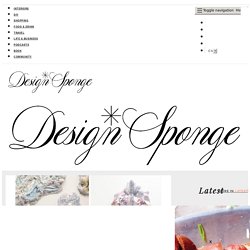 This week's radio show was a reader request: tips for beating procrastination and being more productive. I think it's safe to say that all of us struggle with productivity, time-management and procrastination at one point or another. While most of us know how to "get things done" in the deadline sense of the of the word, most us also want to find a way to avoid those last-minute situations and get work done on a schedule that feels calmer and more in control. I used to be a master of procrastination, but lately I feel proud of being able to push through that feeling a bit more often and get things done bit by bit. I also feel like I've gotten better at getting to the bottom of why I'm procrastinating about something, so I can work through those feelings and finish the job.
It's time for a trip down memory lane! I mentioned earlier this week that I'll be sharing some of the rooms in our home over the years over the next few weeks. I LOVE before and after pics and I love looking back at this space because I think it's one of the biggest transformations I've ever completed in this house. This room was decorated and painted before I ever started blogging, like all the other rooms in our house.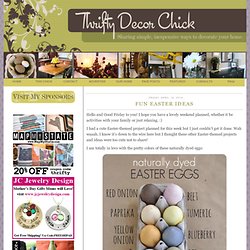 Did you ever wish you could find a complete guide to all of the flea markets, antiques shows, vintage sales, antiques shops, road trips and architectural salvage stores in the nation? All in one place, online, with the capability to search and to comment? I have been wishing this existed for years and figured I better get off my butt and do something about it! So soon, along with an incredible team, my wish will be my reality!
JUNK CAMP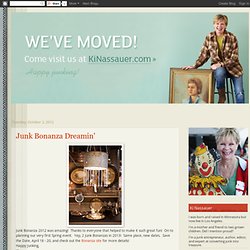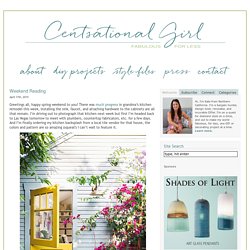 On Trend: Marbled Patterns April 16th, 2014 I love the daily conversation about what's happening in design and it's so fun to see what trends come and go. I think back on when chevron and ombre were everywhere and now the one that's taken over is marbled (or marbleized) prints and patterns.
Notes On A Visual Life
The non-conventional decor at Taylor and Ben's wedding, featured on Pages 82-89 of the Spring issue of Flea Market Style, was a DIY triumph! "Altared State" shared the the couple's many second-hand touches -- and first-rate ideas -- for their October 2013 wedding. Taylor -- daughter of FMS Executive Editor Ki Nassauer -- shared these pictures and stories behind her golden fete! The inspiration for the mannequins? "I wanted something strange, a bit off-putting," Taylor said. "Something you don't know if you love it or hate it.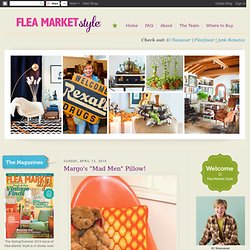 Flea Market Style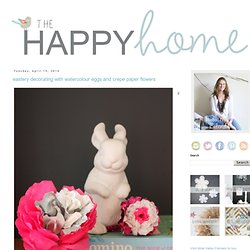 Gee, surprise, surprise, I've been MIA yet again. But this time I have a good excuse. Our renovations have started! Quite major ones too, really.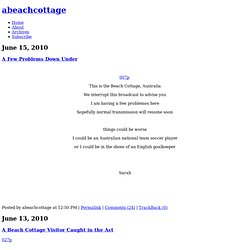 abeachcottage
Hello, how the devil are you all. Be warned this is a rambling post. The other day I had to answer some interview questions and I said that one of the things about this old place that is great in the hot summer months is the old Moreton Bay Fig Tree...a huge old thing, where we have a hammock precariously hung ...a great spot to swing and read in the cool...
beachbungalow8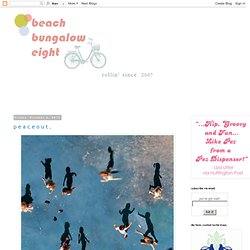 And who hasn't sat on one of those benches in the middle of a gallery room, wondering who the color genius was that chose those wall colors and how could you incorporate those into a living space. Completely love this idea. "'Tomorrow' will transform these galleries into an apartment belonging to a fictional, elderly and disillusioned architect.The domestic setting will appear like a set for an unrealised play.
Not only are our winters LONG here in Minnesota, they can be absolutely dreary too–especially now when spring is fighting it's way out. We need our homes to be cozy and bright, and this home by Minneapolis-based Renae Keller Interior Design is exactly what I love to see! The open and inviting living space photographed by Troy Thies feels both comfortable and fresh, thanks to the cozy neutral tones and fun splashes of color! Such cool, modern details here too–the lighting and art are fantastic! And love the wallpaper detail behind the shelves!
I've been picking up new pieces of art for the studio here and there since the big gallery wall in the living room and the other spaces in the house have swallowed up most of the art I already had. Last week I found a cool etching of a Manhattan street scene that reminded me so much of our old neighborhood that I had to have it. It didn't come with a frame, but luckily I have a habit of buying thrift store art just for the quality frames, and one of the ones in my collection had a mat that was the exact right size for the etching.
Blushing and Sweet
In A Shabby Kind Of Way...
Good Girl Gone Glad
Thank You all so much for your sweet comments for Josh! He had a fun day! We treated him to some of his favorite things, jelly bellies and Chinese food.