Blogs
We are nearing the end of our entryway makeover! Yay! Last week our new light fixture arrived and the following day I hung it with help from a couple of the women's basketball players. I have hung most of the ones in this house that I've switched out myself (well, if you don't count Lillie - haha!)
Dear Lillie
The following clearance items are still available during the last days of our annual clearance event at Finderskeepers Market. Each are marked at least 50% off -- and in most cases, discounted even more than that. This photo shows the Milagro Hearts Cloche, marked half off. For prices, visit Finderskeepers Market or email inquiries to finderskeepersmarket@live.com Also deeply discounted, this full-size white iron bed. French Salt Crocks are now 50% off.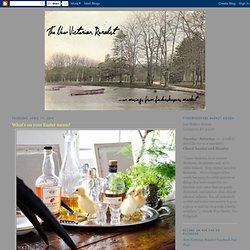 The New Victorian Ruralist
Colour me Happy
What Color Are You Afraid Of?
If you're reading this blog, it's pretty likely that you are not afraid of color. But is there a certain color that scares you? I recently posed this question on The Decorologist Facebook page and got some interesting responses.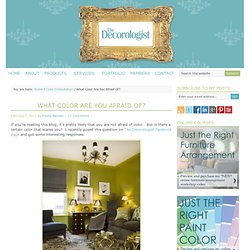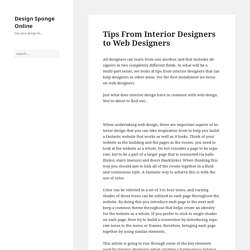 When we were discussing ideas for new columns this year, I sat back and thought about what I felt was really missing from the web. I kept coming back to the idea of decorating, but I wanted to tackle something more practical and knowledge-based, rather than just inspiration. While trying to shape the column's focus I was reminded of an important lesson I learned while writing Design*Sponge at Home: photographs should teach and not just describe. I was so used to listing and linking items in a home tour, rather than using it as a teaching moment (to explain how and why the things in a room worked), that I was missing a chance to really help readers (and myself) gain more design confidence and practical decorating skills. So it's with that concept in mind- empowering readers with practical design lessons and tips- that I'm launching this new series.
Holla! Sooo…the dollar spot at Target. The place dreams are made of, yes? Pure brilliance – all that cheap inexpensive goodness right there when you walk in the doors?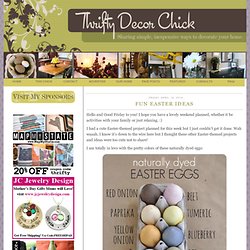 Did you ever wish you could find a complete guide to all of the flea markets, antiques shows, vintage sales, antiques shops, road trips and architectural salvage stores in the nation? All in one place, online, with the capability to search and to comment? I have been wishing this existed for years and figured I better get off my butt and do something about it! So soon, along with an incredible team, my wish will be my reality!
JUNK CAMP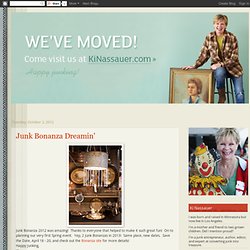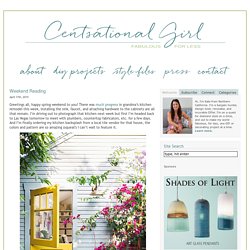 Weathered Gray Coffee Table January 13th, 2014 I'm fixing up the little studio we have above our garage for its multipurpose use and in my quest of inexpensive furniture of course I shopped IKEA. A few weeks ago I bought an Ektorp loveseat and I also had a Hemnes coffee table sitting in the garage, plain and white and perfectly fine on its own, but I wanted to hack it into something more unique.
Notes On A Visual Life
We've all got bucket lists, and I'm sure for more than a few of you, they contain your dream trips to flea markets! Here's where the Flea Market Style staffers have on their itineraries: Ki Nassauer Executive Editor "I would love to get to Portland, Ore. I have never been there and I have heard so many great things about the city!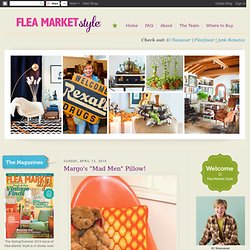 Flea Market Style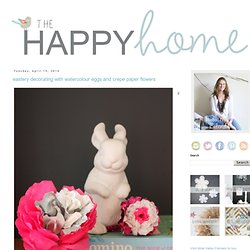 Gee, surprise, surprise, I've been MIA yet again. But this time I have a good excuse. Our renovations have started! Quite major ones too, really.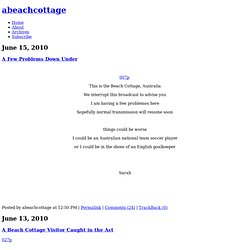 abeachcottage
Hello, how the devil are you all. Be warned this is a rambling post. The other day I had to answer some interview questions and I said that one of the things about this old place that is great in the hot summer months is the old Moreton Bay Fig Tree...a huge old thing, where we have a hammock precariously hung ...a great spot to swing and read in the cool...
beachbungalow8
And who hasn't sat on one of those benches in the middle of a gallery room, wondering who the color genius was that chose those wall colors and how could you incorporate those into a living space. Completely love this idea. "'Tomorrow' will transform these galleries into an apartment belonging to a fictional, elderly and disillusioned architect.The domestic setting will appear like a set for an unrealised play.
Not only are our winters LONG here in Minnesota, they can be absolutely dreary too–especially now when spring is fighting it's way out. We need our homes to be cozy and bright, and this home by Minneapolis-based Renae Keller Interior Design is exactly what I love to see! The open and inviting living space photographed by Troy Thies feels both comfortable and fresh, thanks to the cozy neutral tones and fun splashes of color! Such cool, modern details here too–the lighting and art are fantastic! And love the wallpaper detail behind the shelves!
Thank you all so, so, so much for your kind notes and words of encouragement lately. Each one has meant so much to me. :) It has been hard for me to share everything here, and I don't think it would have been appropriate at the time, but it's been a very strange and difficult couple of months for me, filled with a lot of challenges coming from what felt like every which way.
Blushing and Sweet
In A Shabby Kind Of Way...
Good Girl Gone Glad