Blogs
Jenallyson - The Project Girl - Fun Easy Craft Projects including Home Improvement and Decorating - For Women and Moms. Kelleigh Ratzlaff Designs DIY Papercraft Templates for Stampers and Crafters. Freckles & Purls. Rockstar diaries. Handmade Goodness for Contemporary Gift Giving & Party Plannin. My Nerdy Nook. Lizard & ladybug. My Favourite. Poppytalk. A little house by the big woods. Monday Artday. Ucreate. The Idea Room: About Me. Welcome to The Idea Room.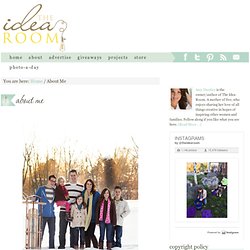 I hope you enjoy what I share here. My name is Amy Huntley and I am married to Mr. Nuts About Sketches. Fiddlesticks - My crochet and knitting ramblings. S.b.creatively. My happy little life. Forever i have wondered how these two really strong, really opposing, personalities i have live together in my one body. i am totally a dreamer. someone who gets lost in movies and music and design, who needs to be making something to be happy. i am an introvert who never wants to leave my house or close my novel. big but: i am also super left-brained. i love stats, economics, logical debate with real people, technical writing and research papers, studying, and yes, obsessively cleaning and organizing. i want, and have tried, to be happy with only using one side of me. for awhile, my job was to stay home and knit and take pictures and write from my heart and do crafts with my daughter. i loved it!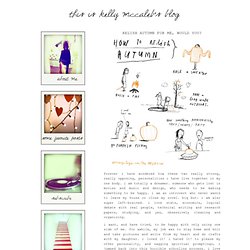 I hated it! To please my other personality, and nagging spiritual promptings, i jumped back into this horrible schooling process. i love it! I hate it! Deena Rutter. Hey There!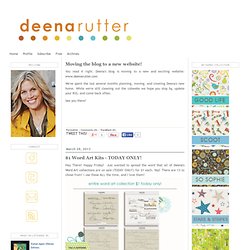 Happy Friday, It's Tiffany! I'm pretty excited to show you Deena's latest release. It's perfect for your project life, to use on a layout, or even to send as a card. Check it out! Not quite sure how to use your Layered Life Templates (ON SALE TODAY IN THE SHOP!) A Beautiful Mess. Grt published in a scrapbooking magazine. Pillow With Rosette Clusters From Felt Furnishings. I haven't crafted with felt since I was little, but since picking up a copy of Anne Kyrrö Quinn's book, Felt Furnishings, I have a whole new universe of respect for the material.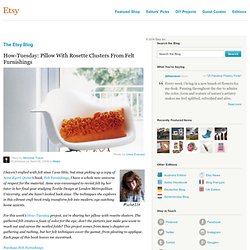 Anne was encouraged to revisit felt by her tutor in her final year studying Textile Design at London Metropolitan University, and she hasn't looked back since. The techniques she explores in this vibrant craft book truly transform felt into modern, eye-catching home accents. For this week's How-Tuesday project, we're sharing her pillow with rosette clusters. The gathered felt creates a feast of color for the eye; don't the pictures just make you want to reach out and caress the nestled folds? Where Women Create. <meta http-equiv="refresh" content="0;url= /><center><p style="padding:1em; font-size:1.5em;">For search results please <a href="
Bella Dia. I have been wanting to give this a try forever!
The needles, the roving, and the foam pad have been in my stash at least two, maybe three years, but I never sat down and just began. Well, I receiveda copy of Felt Me a Smile to review and that was just the jump start that I needed. These three little creatures are my first projects and were gifts to my children in their Easter baskets. Abbey-oyster-white-kitchens.
The Crafty Crow. I need inspiring please. My Poppet - wear play give. Monster Crochet. DOEHLER DAYS.
---