Blogs
Jenallyson - The Project Girl - Fun Easy Craft Projects including Home Improvement and Decorating - For Women and Moms
Kelleigh Ratzlaff Designs DIY Papercraft Templates for Stampers and Crafters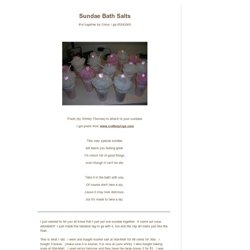 Christmas - Sundae Bath Salts
I just wanted to let you all know that I just put one sundae together. It came out sooo adorable!!! I just made the handout tag to go with it, too and the clip art looks just like the float. This is what I did. I went and bought kosher salt at Wal-Mart for 88 cents for 3lbs. I bought 3 boxes.
Freckles & Purls
Handmade Goodness for Contemporary Gift Giving & Party Plannin
My Nerdy Nook
lizard & ladybug
My Favourite
Adventures in life, love and motherhood
a little house by the big woods
Monday Artday
The Idea Room: About Me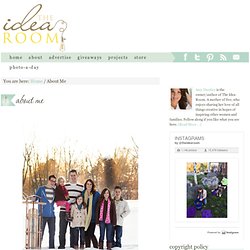 Welcome to The Idea Room. I hope you enjoy what I share here. My name is Amy Huntley and I am married to Mr.
Nuts About Sketches
Fiddlesticks - My crochet and knitting ramblings.
s.b.creatively
my happy little life
forever i have wondered how these two really strong, really opposing, personalities i have live together in my one body. i am totally a dreamer. someone who gets lost in movies and music and design, who needs to be making something to be happy. i am an introvert who never wants to leave my house or close my novel. big but: i am also super left-brained. i love stats, economics, logical debate with real people, technical writing and research papers, studying, and yes, obsessively cleaning and organizing. i want, and have tried, to be happy with only using one side of me. for awhile, my job was to stay home and knit and take pictures and write from my heart and do crafts with my daughter. i loved it! i hated it! to please my other personality, and nagging spiritual promptings, i jumped back into this horrible schooling process. i love it! i hate it!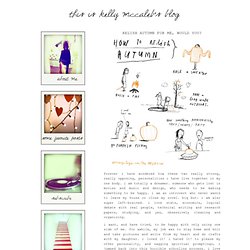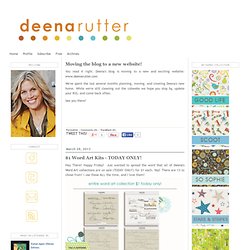 Deena Rutter
Hey There! Happy Friday, It's Tiffany! I'm pretty excited to show you Deena's latest release. It's perfect for your project life, to use on a layout, or even to send as a card. Check it out! Not quite sure how to use your Layered Life Templates (ON SALE TODAY IN THE SHOP!)
grt published in a scrapbooking magazine
<meta http-equiv="refresh" content="0;url=http://www.wherewomencreateblog.com/rg-erdr.php?p=J1c4gcNvvUVf4W1GzoFgXo143a5o%3D9%7C%40%7CbGbHFb%7C%40%7CiXfNfivVfBJNf15f%2Favs.JvV%7C%40%7CQN%7C%40%7C%7C%40%7CFtZAFzAtz%7C%40%7CzEGGzE%7C%40%7C_7&ga=7uMy30%2FFaa5Uu2L8FYHk5t1%2Fj3GvQPoJUWQ8YfxEnaS88gWwo02i2SPCd8K1I9EbkksI%2BQo37OER4HK5IS5xv6q3AAo%2B4Aruf1%2FILMoOAym4NQf8%2Fsu4GZWOzlVgsVP4bT0%2FlKzs3s1ZV88pNTE3%2Beod13fXgbk8yFDgnOQv4Jbycgubz8j%2FGXtpx2el%2FL9Jxkg5tNL4utkhnlDNAIHbmg%3D%3D&t=gnojs" /><center><p style="padding:1em; font-size:1.5em;">For search results please <a href="http://www.wherewomencreateblog.com/rg-erdr.php?
Where Women Create
Bella Dia
I have had this tutorial on my mind for so long! I love little houses and creating wee villages, definitely a carry over from my childhood, and have been wanting to make some of my own to play decorate with. I figured I could make houses from all the cardboard boxes in my recycling so now I have finally taken pictures and written up a tutorial to share with you! There are a lot of pictures but the tutorial is actually very simple. Once the house is made it can be painted or covered with paper or even left plain.
abbey-oyster-white-kitchens
i need inspiring please.
My Poppet - wear play give
Beetlehouse Designs
Monster Crochet
DOEHLER DAYS
A Little Bit of This, A Little Bit of That