Free Tech resources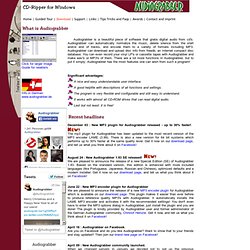 Audiograbber, free CD ripper, mp3 encoder and audio recorder for Windows
Significant advantages: A nice and easy understandable user interface. A good helpfile with descriptions of all functions and settings.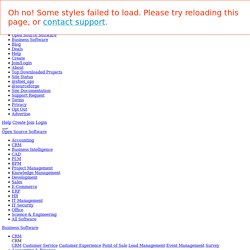 Audacity is available for Windows®, Mac®, GNU/Linux® and other operating systems. Check our feature list, wiki, and forum for more information. October 21, 2013: Audacity 2.0.5 Released Audacity 2.0.5 replaces all previous versions. It fixes crashes or hangs that were reported in Audacity 2.0.4 on some machines, and contains many other bug fixes and stability improvements. (OS X) Crashes when importing audio files are fixed.
STOP PRESS STOP PRESS STOP PRESS The PDF-XChange Editor is now available and supersedes the PDF-XChange Viewer ! The No.1 rated BEST PDF Reader - as voted by Life Hacker Readers by a 2-1 margin for the 2nd year in a row! Those wishing to View/Modify or perform simple editing and even OCR Image based PDF files on their Windows PC's now have a FREE pdf reader alternative to the Adobe Reader! The PDF-XChange Viewer is smaller, faster and more feature rich than any other FREE PDF Reader/ PDF Viewer/ PDF Editor available.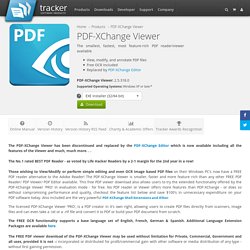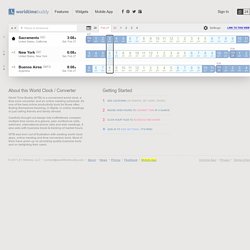 World Time Buddy (WTB) is a cross between a time zone converter, a world clock converter, and an online meeting scheduler. It's one of the best online productivity tools for those often finding themselves traveling, in flights, in online meetings or just calling friends and family abroad. Carefully thought out design lets it effortlessly convert multiple time zones at a glance, plan conference calls, webinars, international phone calls and web meetings.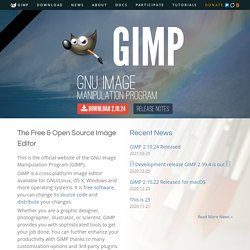 GIMP is the GNU Image Manipulation Program. It is a freely distributed piece of software for such tasks as photo retouching, image composition and image authoring. It works on many operating systems, in many languages.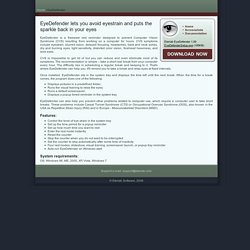 EyeDefender lets you avoid eyestrain and puts the sparkle back in your eyes EyeDefender is a freeware rest reminder designed to prevent Computer Vision Syndrome (CVS) resulting from working on a computer for hours. CVS symptoms include eyestrain, blurred vision, delayed focusing, headaches, back and neck aches, dry and burning eyes, light sensitivity, distorted color vision, forehead heaviness, and sore eyes. CVS is impossible to get rid of but you can reduce and even eliminate most of its symptoms. The recommendation is simple – take a short rest break from your computer every hour.
EyeDefender
The scheduling tool you'll actually use. Find a date for a meeting 2x faster Doodle cooperates with your calendar No switching between your calendar and Doodle Avoid conflicting bookings Automatically sync appointments to your calendar