Free Tech resources
Audiograbber, free CD ripper, mp3 encoder and audio recorder for Windows. Free Audio Editor and Recorder. Tracker Software Products :: PDF-XChange Viewer, Free PDF Reader. STOP PRESS STOP PRESS STOP PRESS The PDF-XChange Editor is now available and supersedes the PDF-XChange Viewer !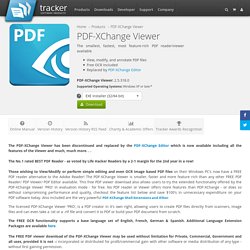 The No.1 rated BEST PDF Reader - as voted by Life Hacker Readers by a 2-1 margin for the 2nd year in a row! Those wishing to View/Modify or perform simple editing and even OCR Image based PDF files on their Windows PC's now have a FREE pdf reader alternative to the Adobe Reader! The PDF-XChange Viewer is smaller, faster and more feature rich than any other FREE PDF Reader/ PDF Viewer/ PDF Editor available.
World Time Buddy. Image manipulation. EyeDefender. EyeDefender lets you avoid eyestrain and puts the sparkle back in your eyes EyeDefender is a freeware rest reminder designed to prevent Computer Vision Syndrome (CVS) resulting from working on a computer for hours.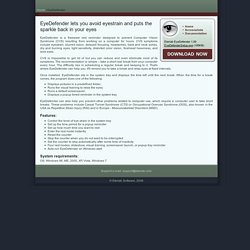 CVS symptoms include eyestrain, blurred vision, delayed focusing, headaches, back and neck aches, dry and burning eyes, light sensitivity, distorted color vision, forehead heaviness, and sore eyes. CVS is impossible to get rid of but you can reduce and even eliminate most of its symptoms. The recommendation is simple – take a short rest break from your computer every hour. Free Antivirus. Easy scheduling. SurveyMonkey. Dropbox.
---