Site interessant
Wrapp. EYEMAZING EDITIONS. A »Pierre Alivon Artist published in EYEMAZING #4-2012 »Chris Anthony Artist published in EYEMAZING #3-2008 »Oscar Y Astiz Artist published in EYEMAZING #4-2010 »Lubomir Atanassov Artist published in EYEMAZING #2-2008 B »Vyacheslav Baranov Artist published in EYEMAZING #2-2012 »Gonzalo Benard Artist published in EYEMAZING #1-2009 »Gerard Bertrand Artist published in EYEMAZING #2-2012 »Anna Block Artist published in EYEMAZING #1-2012 »Sergei Bykov Artist published in EYEMAZING #2-2012 C »Casey Carlin Artist published in EYEMAZING »Paul Cava Artist published in EYEMAZING #2-2006, Cover Artist »Katia Chausheva Artist published in EYEMAZING #2-2007 »Gordon Clark Artist published in EYEMAZING issue #1-2010, Cover Artist D »Jean-Claude Delalande Artist published in EYEMAZING #1-2008 E »Torben Eskerod Artist published in EYEMAZING #4-2008 F »Robert Flynt Artist published in EYEMAZING #1-2009.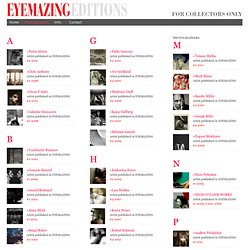 Rift Labs | Intelligent light for photographers and videographers. (2) Crypteks. MetaWatch STRATA: the Smartwatch for the iPhone 4S & Android by MetaWatch. Strata, is a smart sportwatch designed to compliment your smartphone and give you Hands Freedom™.
Supporting a Dual-Mode Bluetooth 4.0** connection to your iPhone 4s, or a Bluetooth 2.1 (SPP) connection to your Android smartphone, you can check messages, see who's calling, control music, view weather, and more, all from your wrist. Although still a work in progress, a first look is available in Update #6. They look awesome! These are available only at the "Susan Kare Signature Model" pledge level, you don't need to choose now, we'll ask you which one you want at the end. ALPHA - the Holy Grail of Heart Rate (Look Ma, no hands!) by Liz Dickinson. Is it remotely possible to double our pledges in 4 days?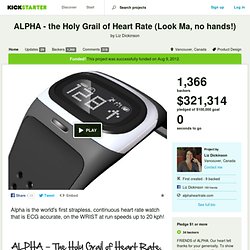 IT CAN BE DONE! IT HAS BEEN DONE! If each of you can get a friend to MATCH YOUR pledge, we CAN MAKE OUR OTHER VALUE ADD GOALS! Zeyez | A Social Media Company. MOTRR - Motion by You. LUNATIK. TikTok+LunaTik Multi-Touch Watch Kits by Scott Wilson + MINIMAL. "Thanks for stopping by!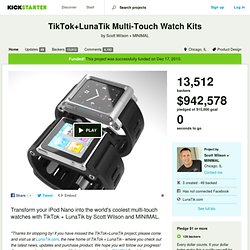 If you have missed the TikTok+LunaTik project, please come and visit us at LunaTik.com, the new home of TikTok + LunaTik-- where you check out the latest news, updates and purchase product. We hope you will follow our progress! Or you can check out our new Kickstarter project, the TAKTIK Precision Protection for the iPhone 4 and iPhone 5 —Scott Wilson and the MINIMAL team—Scott Wilson and the MINIMAL team" Pebble.
Elevation Lab | Product Design Engineering | Home. 'Brandy ♥ Melville USA | Rings. Shut Up And Take My Money - Cool Gadgets and Geeky Products. Summer '12 Update | Sous la peau d'Artoyz. (English version at the bottom of the page) Bonjour, comment ça va par chez vous ?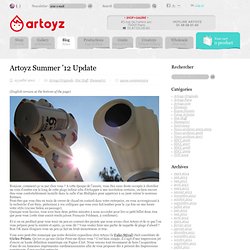 A cette époque de l'année, vous êtes sans doute occupés à chercher un coin d'ombre sur le long de cette plage infinie afin d'échapper à une insolation certaine, ou bien encore êtes-vous confortablement installé dans la salle d'un Multiplex pour apprécier à sa juste valeur le nouveau Batman. Peut-être que vous êtes en train de crever de chaud en costard dans votre entreprise, en vous accroupissant à la recherche d'air frais, prétextant à vos collègues que vous avez fait tomber pour la 15e fois en une heure votre stylo (excuse bidon au passage). Quoique vous fassiez, vous avez bien deux petites minutes à nous accorder pour lire ce petit billet doux rien que pour vous (cette rime aurait rendu jaloux François Feldman, à confirmer). Instacart.
Pure-players USA. Industrial Facility. PLATO | Where spirit of wood refined. Accessoires Tendances pour vos Cheveux : Bandeaux et Bijoux Cheveux de Créateur - Adéli Paris. Oh My Socks boutique en ligne chaussette et mi-bas - OhMySocks. Vêtement femme et homme sur mesure en cachemire, coton ...| Trendy Workshop. Thé bio Lov Organic : Vente en ligne de diverses variétés de thé bio. Lingerie et maillots de bain de grandes marques. Abonnement de culottes - LEMON CURVE - Le grand magasin de la lingerie. MR PORTER - The online retail destination for men's style. Startuppers - CONNECTING STARTUPS & INVESTORS ALL AROUND THE WORLD. Magicmamans. Totsy.com, la vente privée pour Moms and Tots.
Code Year. Member.ly - Run Subscription Programs | Visit member.ly. The last thing you need when you're trying to get your company off the ground is to keep on adding people and people to your workforce.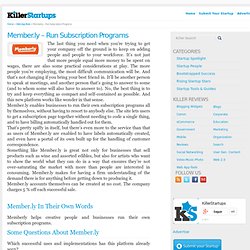 It's not just that more people equal more money to be spent on wages, there are also some practical considerations at play. The more people you're employing, the most difficult communication will be. Similare website research. Design Within Reach: The Best in Modern Furniture and Modern Design. Droog - a different perspective on design. Color Trends + Palettes :: COLOURlovers.
---