TV
Adventure Time | Spend the Holiday Inside! Your Guide to July 4th TV Binge-Watching. Is spending 54 hours on your couch the most responsible way to celebrate the long holiday weekend?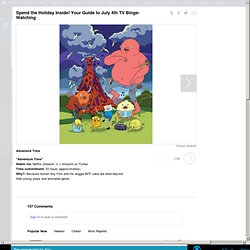 Probably not ... which is why we advise — if you're planning a long binge-watching session to catch up with "Breaking Bad" before AMC airs the series' final eight episodes next month — watch some of them while all cozy in your bed, or on the porch, or that backyard hammock, or at the beach (yes, you can buy a waterproof cover for your iPad. For those looking for another series to devour this weekend, here's our handy guide to the most binge-worthy series on TV, where you can binge-watch them, and how long it will take to binge-watch them. Watch Movies Online - Download Movies - Watch Free Online TV-Shows. Not Reality. Actuality.
Watch Series Online for free, Full episodes. Watch all your favorite tv shows and movies online free.
---