Pro
Baby Sign Language, Video Dictionary of Signs, Video Signing Dictionary. Practicing Sign Language: Find Signs for Kids to Practice Online. Designed with Kids in Mind You've decided that you'd like for your students to learn some American Sign Language (ASL) signs in the classroom.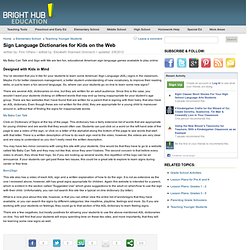 Maybe it's for better classroom management, a better student understanding of new vocabulary, to improve their reading skills, or just to learn a fun second language. So, where can your students go on-line to learn some new signs? There are several ASL dictionaries on-line, but they are written for an adult audience. Since this is the case, you wouldn't want your students clicking on different words that may end up being inappropriate for your student's age group. Untitled.
Sign language - ASL dictionary, baby talk + more. Baby Signs - EAT: My Mealtime Signs DVD - Preview Clip. WeeHands - The Alphabet Song. Learn ASL signs for animals. We Sign Colors. We Sign Animals. We Sign More Animals. We Sign Play Time. ABC Phonics Song - ASL Beginners Tutorial with Pauses. Baby Language Song (ASL), Basic Words and Commands by Patty Shukla. Sign Language Song #2 (ASL) for Toddlers by Patty Shukla. Sign Language Song #3 (ASL) by Patty Shukla. Sign Language Song (ASL) #4 by Patty Shukla.
---