Online and Web Comics
Top Ten Web Comics That You Need to Read Before You Die | The Bottom Line. Desmond WilderStaff WriterIllustration By: Danielle Terhune These days, newspaper funnies just aren't funny.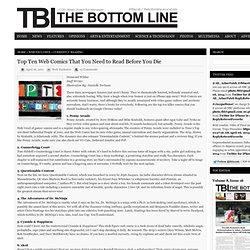 They're thematically limited, tediously censored and, alas, extremely boring. Why force a laugh when true humor is just an iPhone app away? Web Comics are seriously funny business. Free Online Comic Books. Two of the greatest obstacles that comics have in reaching readers are exposure and cost.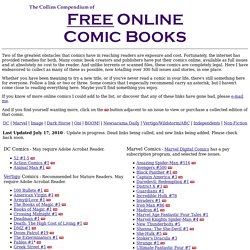 Fortunately, the internet has provided remedies for both. Many comic book creators and publishers have put their comics online, available as full issues and at absolutely no cost to the reader. And unlike torrents or scanned files, these comics are completely legal. Here I have endeavored to collect as many of these as possible, now totalling over 300 full issues and stories, in one place. Whether you have been meaning to try a new title, or if you've never read a comic in your life, there's still something here for everyone.
Current Online Comics
---