Examples
No artigo anterior, falamos de alguns truques para aproveitar o máximo de uma expressão com poucas linhas de código.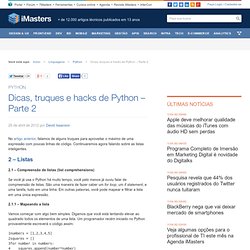 Dicas, truques e hacks de Python - Parte 2 | iMastersiMasters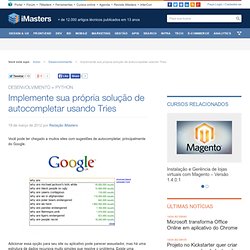 Implemente sua própria solução de autocompletar usando Tries
Você pode ter chegado a muitos sites com sugestões de autocompletar, principalmente do Google. Adicionar essa opção para seu site ou aplicativo pode parecer assustador, mas há uma estrutura de dados recursiva muito simples que resolve o problema.
This post is going to build off of Creating a GUI in Python using Tkinter which introduces the basic elements needed to create a GUI using TKinter. This post will take that introduction a bit further and build a more complex GUI application and use some more widgets.
learning python » Blog Archive » Creating a GUI in Python using Tkinter – Part 2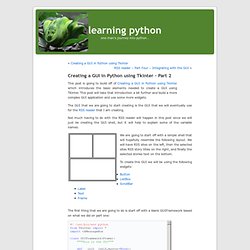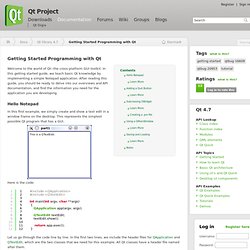 In this topic, we teach basic Qt knowledge by implementing a simple Notepad application using C++ and the Qt Widgets module. We use the Qt Creator IDE and Qt Designer to generate some code, but you could also write all the code yourself.
Getting Started Programming with Qt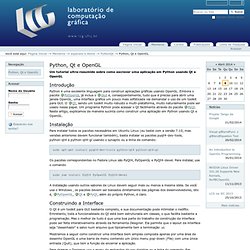 Um tutorial ultra-resumido sobre como escrever uma aplicação em Python usando Qt e OpenGL Introdução
Python, Qt e OpenGL — LCG
Como criar aplicativos Qt para Android
Você já amou duas tecnologia tangencialmente distantes ao mesmo tempo?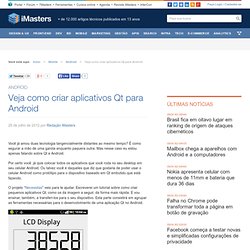 PyQt by Example (Session 1)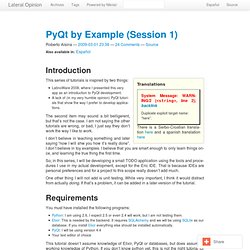 The backend The most re­cent ver­sion of this ses­sion (in RST for­mat) is al­ways avail­able at GitHub's mas­ter tree as tut1.txt Since we are de­vel­op­ing a TO­DO ap­pli­ca­tion, we need a back­end that han­dles the stor­age, re­trieval and gen­er­al man­ag­ing of TO­DO tasks. To do that the sim­plest pos­si­ble way, I will do it us­ing Elixir, "A declar­a­tive lay­er over the SQLAlche­my Ob­jec­t-Re­la­tion­al Map­per". If that sound­ed very scary, don't wor­ry. What that means is "a way to cre­ate ob­jects that are au­to­mat­i­cal­ly stored in a database".