Examples
Dicas, truques e hacks de Python - Parte 2 | iMastersiMasters. No artigo anterior, falamos de alguns truques para aproveitar o máximo de uma expressão com poucas linhas de código.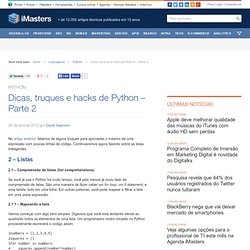 Continuaremos agora falando sobre as listas inteligentes. 2 – Listas 2.1 – Compreensão de listas (list comprehensions) Se você já usa o Python há muito tempo, você pelo menos já ouviu falar de compreensão de listas. Implemente sua própria solução de autocompletar usando Tries. Você pode ter chegado a muitos sites com sugestões de autocompletar, principalmente do Google.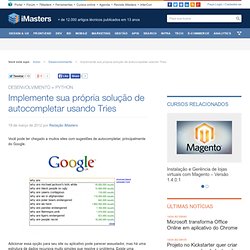 Adicionar essa opção para seu site ou aplicativo pode parecer assustador, mas há uma estrutura de dados recursiva muito simples que resolve o problema. Existe uma tonelada de literatura na net sobre como fazer isso utilizando abordagens caixa preta, como Lucene, Solr, Esfinge, Redis etc, mas todos esses pacotes exigem um monte de configurações e você também perde flexibilidade. Tries podem ser implementadas em algumas linhas de código em qualquer linguagem de sua escolha. Uma trie é basicamente uma árvore, na qual cada nó representa uma letra, como ilustrado na figura acima. As palavras são caminhos ao longo dessa árvore, e o nó raiz não tem caracteres associados. Creating a GUI in Python using Tkinter – Part 2. This post is going to build off of Creating a GUI in Python using Tkinter which introduces the basic elements needed to create a GUI using TKinter.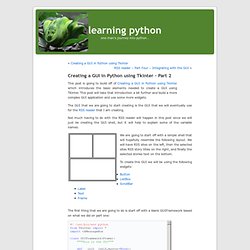 This post will take that introduction a bit further and build a more complex GUI application and use some more widgets. The GUI that we are going to start creating is the GUI that we will eventually use for the RSS reader that I am creating. Not much having to do with the RSS reader will happen in this post since we will just be creating the GUI shell, but it will help to explain some of the variable names.
We are going to start off with a simple shell that will hopefully resemble the following layout. We will have RSS sites on the left, then the selected sites RSS story titles on the right, and finally the selected stories text on the bottom. Getting Started Programming with Qt. Welcome to the world of Qt--the cross-platform GUI toolkit.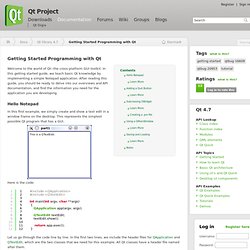 In this getting started guide, we teach basic Qt knowledge by implementing a simple Notepad application. After reading this guide, you should be ready to delve into our overviews and API documentation, and find the information you need for the application you are developing. Hello Notepad In this first example, we simply create and show a text edit in a window frame on the desktop. This represents the simplest possible Qt program that has a GUI. Python, Qt e OpenGL — LCG. Um tutorial ultra-resumido sobre como escrever uma aplicação em Python usando Qt e OpenGL Introdução Python é uma excelente linguagem para construir aplicações gráficas usando OpenGL.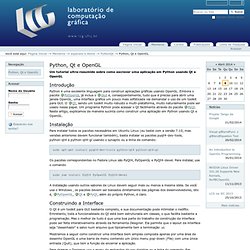 Embora o pacote PyOpenGL já inclua o Glut e, conseqüentemente, tudo que é preciso para abrir uma janela OpenGL, uma interface gráfica um pouco mais sofisticada vai demandar o uso de um toolkit para GUI. O Qt, sendo um toolkit muito robusto e multi-plataforma, muito naturalmente pode ser usado nesse papel. Um programa Python pode acessar o Qt facilmente através do pacote PyQt. Como criar aplicativos Qt para Android. Você já amou duas tecnologia tangencialmente distantes ao mesmo tempo?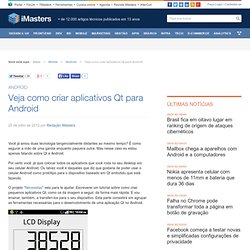 É como segurar a mão de uma garota enquanto paquera outra. Mas nesse caso eu estou apenas falando sobre Qt e Android. Por certo você já quis colocar todos os aplicativos que você roda no seu desktop em seu celular Android. PyQt by Example (Session 1) The backend The most re­cent ver­sion of this ses­sion (in RST for­mat) is al­ways avail­able at GitHub's mas­ter tree as tut1.txt Since we are de­vel­op­ing a TO­DO ap­pli­ca­tion, we need a back­end that han­dles the stor­age, re­trieval and gen­er­al man­ag­ing of TO­DO tasks.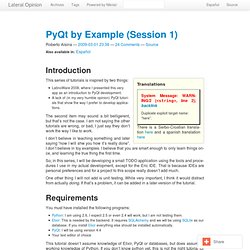 To do that the sim­plest pos­si­ble way, I will do it us­ing Elixir, "A declar­a­tive lay­er over the SQLAlche­my Ob­jec­t-Re­la­tion­al Map­per". If that sound­ed very scary, don't wor­ry. What that means is "a way to cre­ate ob­jects that are au­to­mat­i­cal­ly stored in a database".
---