Examples
No artigo anterior , falamos de alguns truques para aproveitar o máximo de uma expressão com poucas linhas de código.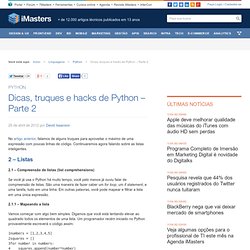 Dicas, truques e hacks de Python - Parte 2 | iMastersiMasters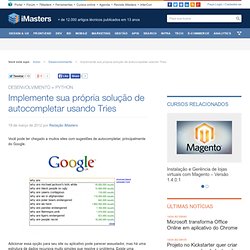 Implemente sua própria solução de autocompletar usando Tries
Você pode ter chegado a muitos sites com sugestões de autocompletar, principalmente do Google. Adicionar essa opção para seu site ou aplicativo pode parecer assustador, mas há uma estrutura de dados recursiva muito simples que resolve o problema.
This post is going to build off of Creating a GUI in Python using Tkinter which introduces the basic elements needed to create a GUI using TKinter. This post will take that introduction a bit further and build a more complex GUI application and use some more widgets.
learning python » Blog Archive » Creating a GUI in Python using Tkinter – Part 2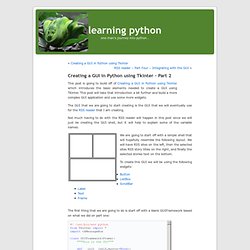 Getting Started Programming with Qt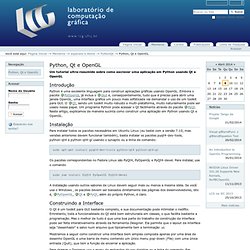 Um tutorial ultra-resumido sobre como escrever uma aplicação em Python usando Qt e OpenGL Introdução
Python, Qt e OpenGL — LCG
Como criar aplicativos Qt para Android
Você já amou duas tecnologia tangencialmente distantes ao mesmo tempo?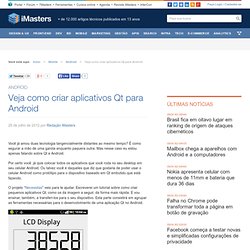 PyQt by Example (Session 1)
The backend The most recent version of this session (in RST format) is always available at GitHub's master tree as tut1.txt Since we are developing a TODO application, we need a backend that handles the storage, retrieval and general managing of TODO tasks. To do that the simplest possible way, I will do it using Elixir , "A declarative layer over the SQLAlchemy Object-Relational Mapper". If that sounded very scary, don't worry. What that means is "a way to create objects that are automatically stored in a database".