Lean
Lean UX: Getting Out Of The Deliverables Business. Advertisement User experience design for the Web (and its siblings, interaction design, UI design, et al) has traditionally been a deliverables-based practice.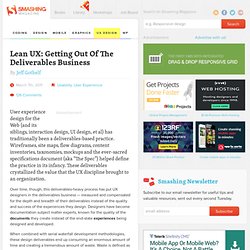 Wireframes, site maps, flow diagrams, content inventories, taxonomies, mockups and the ever-sacred specifications document (aka "The Spec") helped define the practice in its infancy. These deliverables crystallized the value that the UX discipline brought to an organization. Chill the fUX out. Lean is here to stay - We Love Lean | Lean UX, Lean Startup. Is There Any Meat on This Lean UX Thing? By Jared M.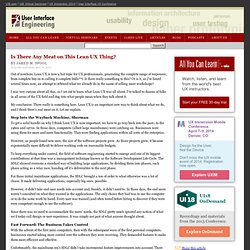 Spool Originally published: Nov 30, 2011 Out of nowhere, Lean UX is now a hot topic for UX professionals, generating the complete range of responses, from complete buy-in to calling it complete bulls**t. Is there really something to this? Or is it, as I've heard several times now, an attempt to rebrand what we already do in the name of selling more workshops?
How to Get the Team Behind Your Product Idea by ZURB. You have an idea for an awesome product, but your team isn't bought in.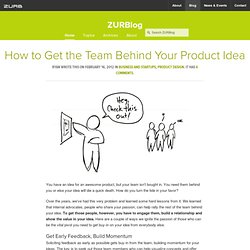 You need them behind you or else your idea will die a quick death. How do you turn the tide in your favor? Fucking Ship It Already: Limited Products vs Shitty Products. In our second installment of Fucking Ship It Already, we deal with a common problem for startups: shitty products.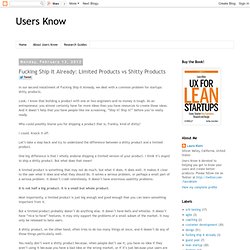 Look, I know that building a product with one or two engineers and no money is tough. As an entrepreneur, you almost certainly have far more ideas than you have resources to create those ideas. Making Sense of Minimum Viable Products. Minimum Viable Products–what does this mean?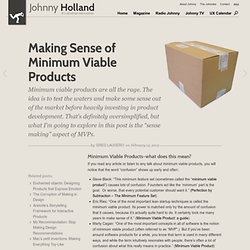 If you read any article or listen to any talk about minimum viable products, you will notice that the word "confusion" shows up early and often: Steve Blank: "This minimum feature set (sometimes called the "minimum viable product") causes lots of confusion. Quick, Visual, Collaborative & Continuous. 2012 feb 25 agile ux nyc, seiden, requirements to hypotheses. Fucking Ship It Already: Just Not to Everyone At Once.
There is a pretty common fear that people have.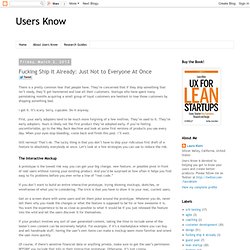 They're concerned that if they ship something that isn't ready, they'll get hammered and lose all their customers. Startups who have spent many painstaking months acquiring a small group of loyal customers are hesitant to lose those customers by shipping something bad. I get it. It's scary. Sorry, cupcake.
---