Lean
Do You Really Know What Your Users Want? Time for Some 'Discovery' | extensionEngine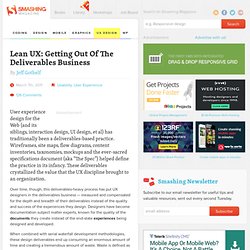 User experience design for the Web (and its siblings, interaction design, UI design, et al) has traditionally been a deliverables-based practice. Wireframes, site maps, flow diagrams, content inventories, taxonomies, mockups and the ever-sacred specifications document (aka "The Spec") helped define the practice in its infancy. These deliverables crystallized the value that the UX discipline brought to an organization. Over time, though, this deliverables-heavy process has put UX designers in the deliverables business — measured and compensated for the depth and breadth of their deliverables instead of the quality and success of the experiences they design.
Chill the fUX out. Lean is here to stay - We Love Lean | Lean UX, Lean Startup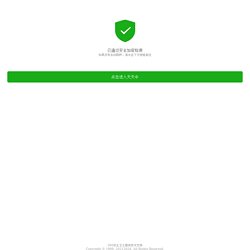 I'm not one for controversial posts but this has been bugging me for a while. Thanks to The Lean Startup movement the business community has finally embraced what many user experience design professionals have known for years – that it's important to speak to your customers (or as they say 'get out of the building'...), iterate, test and improve your product or service as you go. And about time too. In the past we've found it can been quite a struggle to get buy-in from senior management or business owners, so anything that helps create that 'eureka' moment can only be a good thing. Or so you'd think. However it seems that many UX professionals are a little chippy about the Lean Startup movement or its derivative Lean UX .
By Jared M. Spool Originally published: Nov 30, 2011 Out of nowhere, Lean UX is now a hot topic for UX professionals, generating the complete range of responses, from complete buy-in to calling it complete bulls**t. Is there really something to this? Or is it, as I've heard several times now, an attempt to rebrand what we already do in the name of selling more workshops?
Is There Any Meat on This Lean UX Thing?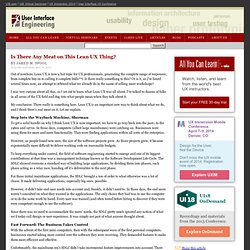 You have an idea for an awesome product, but your team isn't bought in. You need them behind you or else your idea will die a quick death. How do you turn the tide in your favor? Over the years, we've had this very problem and learned some hard lessons from it. We learned that internal advocates, people who share your passion, can help rally the rest of the team behind your idea. Here are a couple of ways we ignite the passion of those who can be the vital pivot you need to get buy-in on your idea from everybody else.
How to Get the Team Behind Your Product Idea by ZURB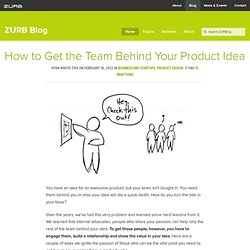 Fucking Ship It Already: Limited Products vs Shitty Products
In our second installment of Fucking Ship It Already, we deal with a common problem for startups: shitty products. Look, I know that building a product with one or two engineers and no money is tough. As an entrepreneur, you almost certainly have far more ideas than you have resources to create those ideas.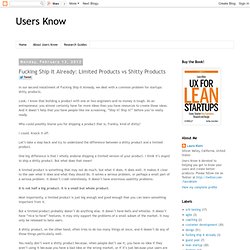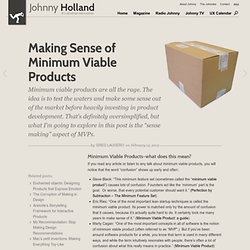 Making Sense of Minimum Viable Products
Minimum Viable Products–what does this mean? If you read any article or listen to any talk about minimum viable products, you will notice that the word "confusion" shows up early and often: Steve Blank: "This minimum feature set (sometimes called the " minimum viable product ") causes lots of confusion.
Quick, Visual, Collaborative & Continuous
2012 feb 25 agile ux nyc, seiden, requirements to hypotheses
Fucking Ship It Already: Just Not to Everyone At Once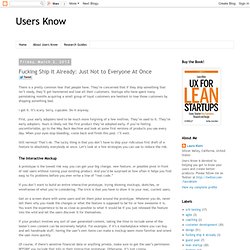 There is a pretty common fear that people have. They're concerned that if they ship something that isn't ready, they'll get hammered and lose all their customers. Startups who have spent many painstaking months acquiring a small group of loyal customers are hesitant to lose those customers by shipping something bad. I get it. It's scary. Sorry, cupcake.