SEO
Google's Matt Cutts: Web Spam Benefits From Using Rel="Author" A new video by Google's head of search spam, Matt Cutts, talks about how potentially using rel="author" structured data can help Google's Web spam team improve search quality.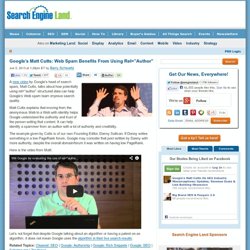 Matt Cutts explains that moving from the anonymous Web to a Web with identity helps Google understand the authority and trust of the person writing that content. It can help identify a spammer from an author with a lot of authority and credibility. The example given by Cutts is of our own Founding Editor, Danny Sullivan. The Ultimate Guide to Multilingual and Multiregional SEO.
When you begin to get into multilingual and multiregional SEO, you know that you have taken a step forward as an SEO expert.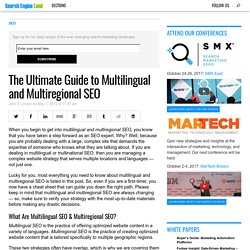 Why? Well, because you are probably dealing with a large, complex site that demands the expertise of someone who knows what they are talking about. If you are dealing in multilingual or multinational SEO, then you are managing a complex website strategy that serves multiple locations and languages — not just one. Link Building eBook by Paddy Moogan. Our Online Reputation Management Playbook. We recently completed an interesting reputation management project and I thought it'd be helpful to post our strategy and results to the SEOmoz community.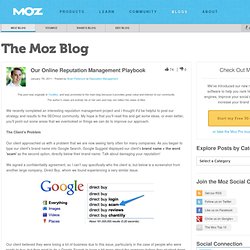 My hope is that you'll read this and get some ideas, or even better, you'll point out some areas that we overlooked or things we can do to improve our approach. The Client's Problem Our client approached us with a problem that we are now seeing fairly often for many companies. As you began to type our client's brand name into Google Search, Google Suggest displayed our client's brand name + the word 'scam' as the second option, directly below their brand name. Talk about damaging your reputation! 10 Dead Simple Tips to Take Advantage of Google+ for SEO. It's no secret.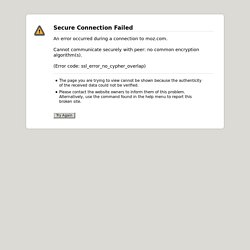 When engineers built Google+, they constructed an SEO juggernaut to dominate search results above all other social platforms. Although Facebook and Twitter are essential to marketing efforts, both restrict Google from accessing much of their data. This limits their SEO effectiveness. Not so with Google+. Here's an experiment: If you use Google+, perform a search for your name and check the domain distribution of first 100 results. Is freshness an important signal for all sites? 11 Things To Ask Yourself When Optimizing Content. A client asked me the other day why we were optimizing his software for Los Angeles, when he's located in Raleigh, NC.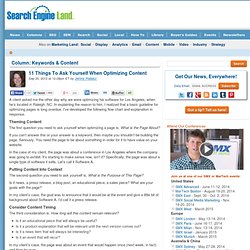 In explaining the reason to him, I realized that a basic guideline for optimizing pages is long overdue. I've developed the following flow chart and explanation in response. Theming Content The first question you need to ask yourself when optimizing a page is, What is the Page About? Yet Another Way to Reclaim Your (not provided) Data. Since Google started rolling out its SSL search for logged-in users, SEOs have been scrambling to find ways to reclaim some of the lost data.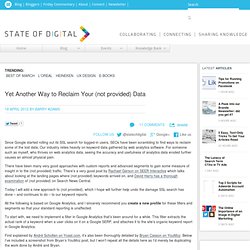 Our industry relies heavily on keyword data gathered by web analytics software. For someone such as myself, who thrives on web analytics data, seeing the accuracy and usefulness of analytics data eroded further causes an almost physical pain. There have been many very good approaches with custom reports and advanced segments to gain some measure of insight in to the (not provided) traffic. There's a very good post by Rachael Gerson on SEER Interactive which talks about looking at the landing pages where (not provided) keywords arrived on, and David Harry has a thorough examination of (not provided) on Search News Central. An SEO Playbook For 2012. Search Engine Optimization is growing up.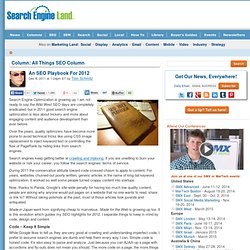 I am not ready to say the Wild West SEO days are completely eradicated, but in 2011 good search engine optimization is less about trickery and more about engaging content and audience development than ever before. Over the years, quality optimizers have become more prone to avoid technical tricks like using CSS image replacement to inject keyword text or controlling the flow of PageRank by hiding links from search engines.
Search engines keep getting better at crawling and indexing. If you are unwilling to burn your website or risk your career, you follow the search engines' terms of service. During 2011 the conservative attitude toward code crossed chasm to apply to content. Anchor Text - SEO Best Practices. Anchor Text is the visible, clickable text in a hyperlink.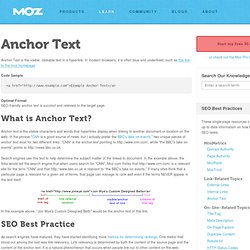 In modern browsers, it is often blue and underlined, such as this link to the moz homepage Code Sample <a href=" Anchor Text</a> SEO advice: url canonicalization. (I got my power back!)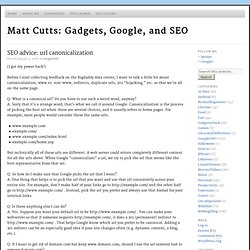 Before I start collecting feedback on the Bigdaddy data center, I want to talk a little bit about canonicalization, www vs. non-www, redirects, duplicate urls, 302 "hijacking," etc. so that we're all on the same page. Q: What is a canonical url?
---