Creativity woodwork design & house
Workshop - Pallets - How to Make Instructables. Pallets = bookshelves + bikerack. Living Walls &Vertical Gardens | Green Walls &Wall Gardens | Woolly Pocket. Create your own Vertical Garden - Living walls and Vertical Gardens. Make Your Own Gifts LIGHT BULB TERRARIUM – Green Holiday Gift Guide - StumbleUpon. Grow A Wall - Modish. There's no denying vertical gardens are a big trend.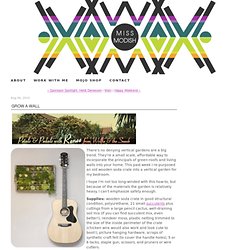 They're a small scale, affordable way to incorporate the principals of green-roofs and living walls into your home. This past week I re-purposed an old wooden soda crate into a vertical garden for my bedroom. Modish: DIY. I'm back with the how-to to make my little dreamcatcher from yesterday.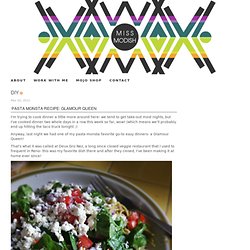 Ok, here we go! What you'll need to get started: a few pliable twigs/vines to form the dreamcatcher itself4-6 feet of thin strong string- I used embroidery flossa bead (for the "spider" in the dreamcatcher) a page of cardstock or poster board for the "feathers"paint, or colorful decorating medium of choice! Scissorscraft glue Step one: start to form your hoop! Use your imagination — or borrow some here — to turn a potted plant into an even more special gift. DIY Succulent Pallet Table | Far Out Flora. Max with the new Succulent Table.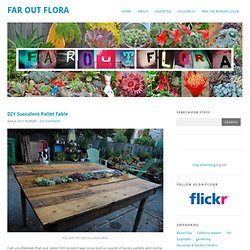 Can you believe that our latest DIY project was once just a couple of junky pallets and some scrappy table legs? Crazy…if I didn't have photos, I wouldn't believe it myself. Not too long ago, we whipped out a coffee table sized succulent table out of an old shipping crate. Now we scaled it up.
---