Mobile Learning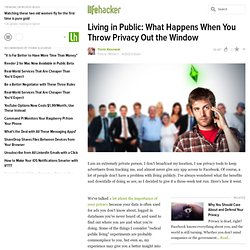 "not seeing the point" is never a good enough reason for me. i'm a science dude. science is never about seeing a point, but finding one afterwards. the privacy pros always state: someone could harm me, knowing my stuff. guess what? those who want, will be able to do so anyways, they'll get their info. but so far, fully open location tracking, all my posts (even on fb) 100% public, etc have gained me new contacts, people that helped me solving issues, etc. sometimes, it's not important to have a point in the first run. just the awareness that it might, at one point, help you. i get free stuff over the internet, people fix bugs in software, etc.. all just because i'm very open about what i use, what i like, what i do (and where, when).
Living in Public: What Happens When You Throw Privacy Out the Window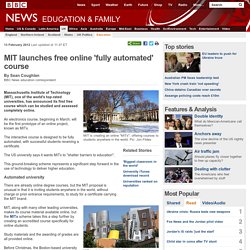 MIT launches free online 'fully automated' course
13 February 2012Last updated at 11:37 ET By Sean Coughlan BBC News education correspondent MIT is creating an online "MITx", offering courses to students anywhere in the world. Pic: Jon Fildes Massachusetts Institute of Technology (MIT), one of the world's top-rated universities, has announced its first free course which can be studied and assessed completely online.
Cell phones seem like an essential part of an American's life. I don't know anyone without one and I'd say most people even have a smart phone. Countries like Saudi Arabia and Russia have a weird distribution of cellphones per people. I guess having multiple phones is popular in those places.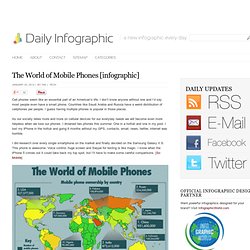 The World of Mobile Phones
'What's Wrong With Education Cannot Be Fixed with Technology' -- The Other Steve Jobs | Epicenter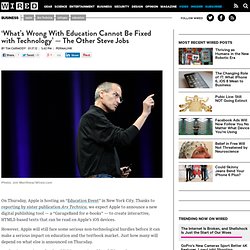 On Thursday, Apple is hosting an "Education Event" in New York City. Thanks to reporting by sister publication Ars Technica, we expect Apple to announce a new digital publishing tool — a "GarageBand for e-books" — to create interactive, HTML5-based texts that can be read on Apple's iOS devices. However, Apple will still face some serious non-technological hurdles before it can make a serious impact on education and the textbook market. Just how many will depend on what else is announced on Thursday.
Mobile Learning
Phonebrain.org.uk