UNCCWP
A Tuesday Poem: Revolution for the Tested. Revolution for the Tested by Kate Messner (Copyright 2010) Write.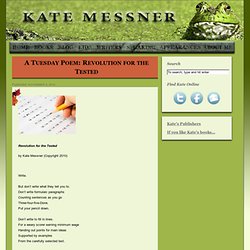 But don't write what they tell you to.Don't write formulaic paragraphsCounting sentences as you goThree-four-five-Done.Put your pencil down. Don't write to fill in lines.For a weary scorer earning minimum wageHanding out points for main ideasSupported by examplesFrom the carefully selected text. Lets_Take_Another_Look. Spring 2012 Writing Conference | NWP Connect.
Mentor Text Sources. Books About Writing. Ralph Fletcher is a writer of children's picture books, young-adult fiction and poetry as well as an educational consultant who has also written books for both children and professional educators on the craft of writing. Writing Center - Peter Elbow Workshop Materials: Marist College. Look-Alikes (9780316812559): Joan Steiner. College Knowledge: What It Really Takes for Students to Succeed and What We ... - David T. Conley. My Sister's Keeper by Jodi Picoult (2003) Your novels are incredibly relevant because they deal with topics that are a part of the national dialogue.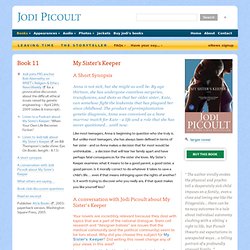 Stem cell research and "designer babies" are issues that the medical community (and the political community) seem to be torn about. Why did you choose this subject for My Sister's Keeper? Peter Elbow | University of Massachusetts - Amherst | Professor Emeritus, Department of English. Writing Next: Effective Strategies to Improve Writing of Adolescents in Middle and High Schools. Along with reading comprehension, writing skill is a predictor of academic success and a basic requirement for participation in civic life and in the global economy.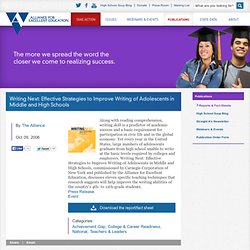 Yet every year in the United States, large numbers of adolescents graduate from high school unable to write at the basic levels required by colleges and employers. Writing Next: Effective Strategies to Improve Writing of Adolescents in Middle and High Schools, commissioned by Carnegie Corporation of New York and published by the Alliance for Excellent Education, discusses eleven specific teaching techniques that research suggests will help improve the writing abilities of the country's 4th- to 12th-grade students.
---