Ppd 240 paper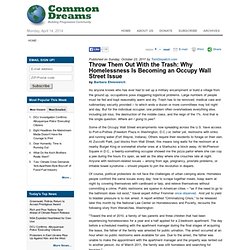 Throw Them Out With the Trash: Why Homelessness Is Becoming an Occupy Wall Street Issue
As anyone knows who has ever had to set up a military encampment or build a village from the ground up, occupations pose staggering logistical problems.
nimby and democracy - Discover
Abstract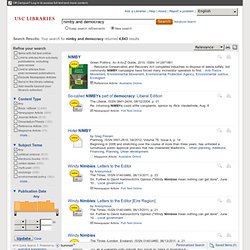 The NIMBY SyndromeIts Cause and Cure
Making sense of nimby poverty, power and community opposition to homeless shelters
Nimby and the civic good
The Ethics of NIMBYism
Why Are There Nimbys?
NIMBY (Not In My Backyard) refers to an oppositional attitude from local residents against some risk generating facility that they have been chosen to host either by government or industry. The attitude is claimed to be characteristic of someone who is positive to a facility but who wants someone else to be its host. Since siting cannot be provided if everyone has this attitude, society ends up in a worse situation. The attitude is claimed to be egoistic and irrational.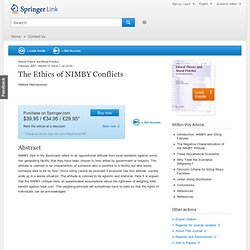 The Ethics of NIMBY Conflicts
The Ethics of NIMBY Conflicts USC
Housing Homeless People: Local Mobilization of Federal Resources to Fight NIMBYism - Oakley - 2002 - Journal of Urban Affairs
Housing the homeless USC
In the foothills of the San Fernando Valley sits a quiet retreat studded with low-slung buildings and lushly landscaped walkways.
San Fernando Valley law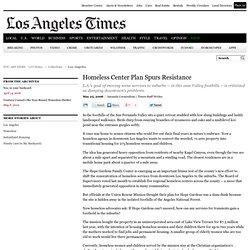 San Diego law
Hoping to protect its image as a squeaky-clean suburb, Simi Valley is expected to soon start cracking down on aggressive panhandling outside stores, restaurants and supermarkets, even though city officials say it is not a major problem.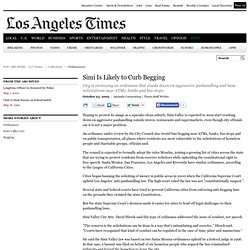 Simi Valley law
criminalization of homeless report
A Dream Denied: The Criminalization of Homelessness in U.S. Cities Executive Summary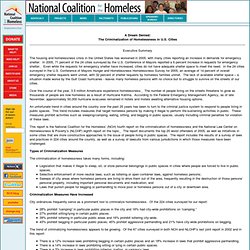 National Coalition for the Homeless
Homeless People's Network: NIMBY Report: National Law Center on Homelessness and Poverty FWD