Natural Languages
Cache, "a hidden store," is sometimes confused with cachet, "prestige, appeal." Both words come from French, but cache is pronounced like "cash," while cachet rhymes with "sashay." The confusion may be encouraged because we often don't write final accents for words borrowed from French like resume and protege, so people may mistakenly think that cache is one of these words ending in an "ay" sound.
'Words Almost Everyone Mixes Up Or Mangles': 7 Entries From The New American Heritage Book (PHOTOS)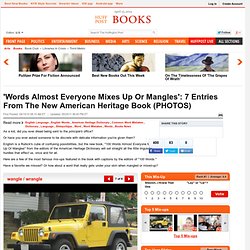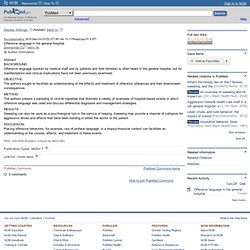 <p class="nojs"><strong>Warning:</strong> The NCBI web site requires JavaScript to function. <a href="http://www.ncbi.nlm.nih.gov/corehtml/query/static/unsupported-browser.html#enablejs" title="Learn how to enable JavaScript" target="_blank">more...</a></p> Sign in to NCBI PubMed US National Library of Medicine National Institutes of Health
Offensive language in the general hospital. [Psychosomatics. 2010] - PubMed result
Randy Susan Meyers: 41 Over 40: Novelists Debuting Over Age 40 (PHOTOS)
I tried to resist writing this -- especially after my plea against categorizing authors. Plus, so many of us hide our age in this world of never-get-old, unearthing this information, even in our Google-ized world, was difficult. But, recently, along with the plethora of lists of writers under 40, I was faced with the declaration that, as headlined in a Guardian UK article about writers, "Let's Face It, After 40 You're Past It." Then I read Sam Tanenhaus opine in the New York Times that there was "an essential truth about fiction writers: They often compose their best and most lasting work when they are young.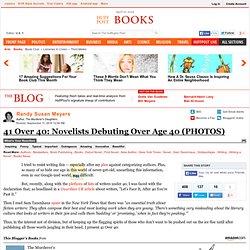 So you are here to learn Russian! The first step to learning Russian is to learn the Russian alphabet. It may seem daunting to learn a new alphabet, but it is relatively easy.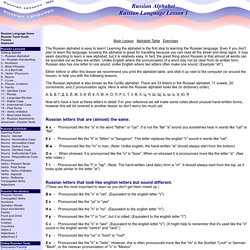 Russian Alphabet - Russian Language Lesson 1 - Russian Language Lessons
English-Russian dictionary and phrase-book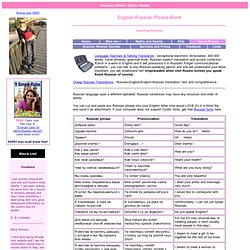 Language Teachers & Talking Translators - exceptional electronic dictionaries: 400 000 words, travel phrases, grammar book, Russian speech translation and accent correction. Punch in a word in English and it will pronounce it in Russian! Forget communicational problems - you can talk to any Russian-speaking person and she will understand you! More important, you will understand her! Irreplaceable when visit Russia (unless you speak fluent Russian of course)
The Last Story of F. Gwynplaine MacIntyre