C#
C# in Depth: Random numbers
When you see the word "random" in a question title on Stack Overflow you can almost guarantee it will be the same fundamental problem as countless similar questions. This article takes a look at why randomness causes so many problems, and how to address them. The problem The Stack Overflow (or newsgroup, or mailing list etc) question usually goes something like this: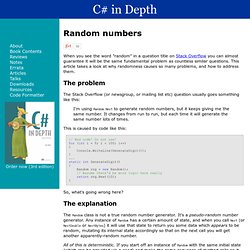 BackgroundWorker makes threads easy to implement in Windows Forms. Intensive tasks need to be done on another thread so that the UI doesn't freeze. It is necessary to post messages and update the user interface when the task is done. Steps In the image, you see the Visual Studio designer view. The fly-out panel is the Toolbox, and it contains links for all kinds of controls.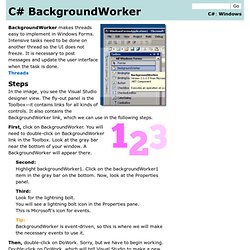 BackgroundWorker Tutorial
Irony - .NET Language Implementation Kit.
What's the difference between Application.Run and Application.DoEvents? Application.Run continually processes window messages for your application, raising events as necessary. Application.DoEvents processes all the window messages in the queue until it has run out of messages, then returns. Making your CPU work too hard Given this definition, one could conceivably suggest that Application.Run could be replaced with: while(!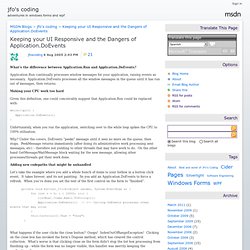 Keeping your UI Responsive and the Dangers of Application.DoEvents - jfo's coding
Introduction to Neural Networks for C#
Using unmanaged code eg Fortran to callback to C# can be a nightmare to get right. But once you know it, it is just following a recipe. Hence without further explanation, an example and recipe is given below.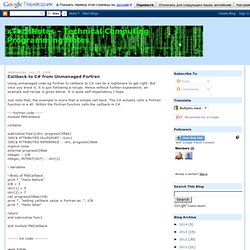 Callback to C# from Unmanaged Fortran
The C# language has two major sources of specifications: ECMA and Microsoft. The ECMA specification only goes as far as C# 2.0, even though it's the fourth edition, confusingly enough. This page is a collection of all the versions I've found - but it's quite possible that some will move around, so please let me know if you have any problems, or find any more. Microsoft specifications C# 4.0 (2010; Word document; also available as HTML ) C# 3.0 (unified, 2007; Word document) C# 2.0 (September 2005; Word document) C# 1.2 (2003; Word document) C# 1.0 (2002; Word document) The C# 5 specification is not available for download at the time of this writing, but if you have Visual Studio 2012 installed, you can find it under the installation directory (e.g.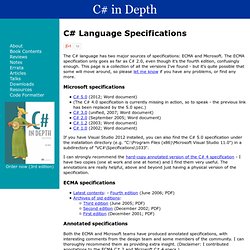 C# in Depth: C# Language Specifications
How do I access controls on a different form within a VC++ .NET application?
Hi SiSteve, This is because frmFind need to include "frmMain.h" to keep the instance of the frmMain. It becomes cyclic including in C++. The workaround is when you create and show the frmFind, pass the controls to frmFind from frmMain instead of whole form, in this case, the RichTextBox. The following is the sample snipping about Form1 pass a textbox control to Form2, Form2 modify the textbox by a mouse click.