DW
Apps4Africa: Q&A Discussion About Climate Change Solutions with Mariéme Jamme | IIP CO.NX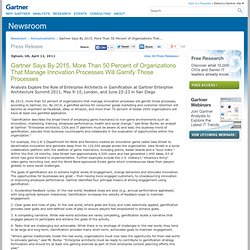 Says By 2015, More Than 50 Percent of Organizations That Manage Innovation Processes Will Gamify Those Processes
Egham, UK, April 12, 2011 View All Press Releases Analysts Explore the Role of Enterprise Architects in Gamification at Gartner Enterprise Architecture Summit 2011, May 9-10, London, and June 22-23 in San Diego By 2015, more than 50 percent of organizations that manage innovation processes will gamify those processes, according to Gartner, Inc.
Portland's Creative Class Slump
Global entertainment and media outlook: 2011-2015: Explore the data
Global growth: a world of difference Hear from Marcel Fenez, Global leader, Entertainment and Media, on the global growth picture for entertainment and media Global spending on entertainment and media (E&M) rose 4.9 percent in 2011 - a little faster than the 4.5 percent increase in 2010, but still below gains in previous growth years. This reflected a hoped-for pickup in economic momentum that did not materialize consistently around the globe, and we expect E&M growth to continue to lag nominal GDP growth, principally because of the ongoing shift from higher-priced physical distribution to lower-priced digital distribution. During the next five years, we project that E&M spending will grow at a 5.7 percent compound annual rate to $2.1 trillion. This global growth figure masks the segment and geography stories that the Outlook's extensive datasets and analysis bring to life.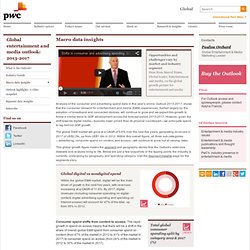 TV, radio & multimedia training courses - The Académie FRANCE 24, MCD, RFI
Facebook, Social Networks Get Greater Share of Online Ad Spend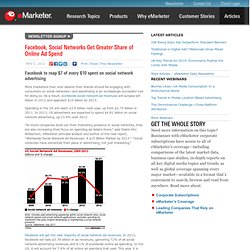 More marketers than ever believe their brands should be engaging with consumers on social networks—and advertising is an increasingly successful tool for doing so. As a result, worldwide social network ad revenues will surpass $8 billion in 2012 and approach $10 billion by 2013. Spending in the US will reach $3.9 billion next year, up from $2.74 billion in 2011. In 2013, US advertisers are expected to spend $4.81 billion on social network advertising, up 23.4% over 2012.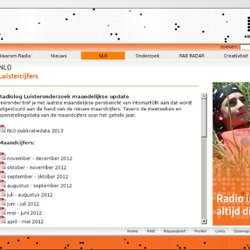 Luistercijfers
Radiolog Luisteronderzoek maandelijkse update Hieronder tref je het laatste maandelijkse persbericht van IntomartGfK aan dat wordt uitgestuurd aan de hand van de nieuwe maandcijfers. Tevens de meetweken en openstellingsdata van de maandcijfers voor het gehele jaar. NLO publicatiedata 2013 Maandcijfers: januari - februari 2013 december 2011 - januari 2013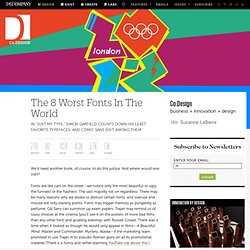 The 8 Worst Fonts In The World | Co. Design
We'd need another book, of course, to do this justice. And where would one start? Fonts are like cars on the street--we notice only the most beautiful or ugly, the funniest or the flashiest. The vast majority roll on regardless. There may be many reasons why we dislike or distrust certain fonts, and overuse and misuse are only starting points.
"The three? - House of Horrors "
Beschreibung DIE DREI ??? – SPECIAL 2011 – TEIL 2 HOUSE OF HORRORS – HAUS DER ANGST Ein besonderer Fall zum Mitraten mit über 2 Stunden Spielzeit! Wolltest du immer schon den Die drei ??? bei ihren Ermittlungen helfen?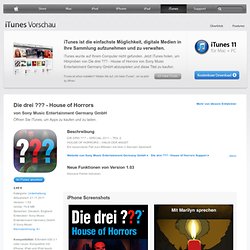 Audiogent
"What Makes Us Kenyans" (The Team TV Production - Kenya)
If you missed the Team on radio, no need to worry. Download all episodes here and listen in any of the four languages. Click here It is said "The end of a matter is better than the beginning" The last episode of the Team was aired on October 24 th 2011, with many glued to their televisions as attested by the comments on our social network sites. And surely it was a great season: Great entertainment, great actors, but most important, great insights on peace and leadership.
News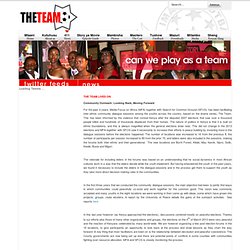 Museum strategy
download.www.arte.tv/permanent/u6/plaquette2010/2009-2010_Rapport_Annuel_DE.pdf
www.bmz.de/de/publikationen/reihen/infobroschueren_flyer/infobroschueren/Materialie183.pdf
The Culture24 network is centred on our rather unglamorously titled listings and resources system, DDE (Direct Data Entry). DDE feeds the database underpinning our website and services. The data is maintained by more than 4,000 UK museums, galleries, libraries, archives, science centres and heritage sites who update entries themselves via a set of simple, password-protected web pages. If you're not already using the DDE system, or if you have an entry but it's not being updated, here are a few reasons why we think it's a good idea to get stuck in. It's free!
Reasons to add your information to Culture24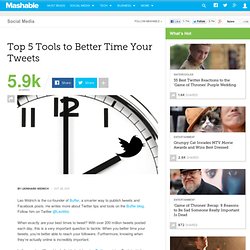 Leo Widrich is the co-founder of Buffer , a smarter way to publish tweets and Facebook posts. He writes more about Twitter tips and tools on the Buffer blog . Follow him on Twitter @LeoWid . When exactly are your best times to tweet? With over 200 million tweets posted each day, this is a very important question to tackle. When you better time your tweets, you're better able to reach your followers.
Culture Secretary James Purnell with Jane Finnis and John Newbigin of Culture24. © Jon Pratty / Culture24 The organisation that publishes 24 Hour Museum changed its name to Culture24 on November 26 2007, beginning a period of change and development that will see the family of websites rebuilt, renamed and relaunched in spring 2008. For now though, although the organisation's name changes to Culture24, the current websites stay the same, with the same names and URLs. The Culture24 name was launched at a celebratory event hosted by Culture Secretary James Purnell at the Department of Culture, Media and Sport (DCMS) office. Also present were Roy Clare, Chief Executive of MLA, Alan Davey (Director of Culture, DCMS) and Bill Morris of LOCOG, (the London Organising Committee of the Olympic Games.)
24 Hour Museum To Become Culture24!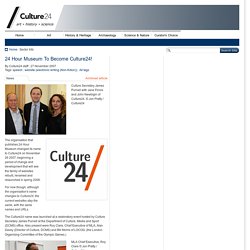 IT ALL started by accident in 1992, when Kenneth Nnebue, a Nigerian trader based in Onitsha, was trying to sell a large stock of blank videocassettes he had bought from Taiwan. He decided that they would sell better with something recorded on them, so he shot a film called "Living in Bondage" about a man who achieves power and wealth by killing his wife in a ritualistic murder, only to repent later when she haunts him. The film sold more than 750,000 copies, and prompted legions of imitators. Nollywood, as Nigeria's film industry is known, now makes over 2,000 low-budget films a year, about two-thirds of them in English. That is more than either Hollywood or India's Bollywood.
Nigeria's film industry: Nollywood dreams
How The Huffington Post Works (In Case You Were Wondering)
Hi! In the wake of the AOL acquisition, I've been reading a lot about The Huffington Post from a lot of people who, as outsiders, don't really have any idea about what we do here. They nevertheless have all sorts of opinions. And that's okay! But I thought it would be useful to address the issue of our content model, and who gets paid and who doesn't, from the perspective of someone who actually knows something about it.
Europe's national librarians support opening up their data via CC0
Jane Park, October 4th, 2011 Following the exciting news of Europeana's new data exchange agreement , which authorizes Europeana to release the metadata for millions of cultural works into the public domain using the CC0 public domain dedication , the Conference of European National Librarians ( CENL ) voted to support the agreement in a meeting last week at the Royal Library of Denmark. CENL represents Europe's national libraries and "is responsible for the massive collection of publications that represent the accumulated knowledge of Europe." From the press release , "It means that the datasets describing all the millions of books and texts ever published in Europe – the title, author, date, imprint, place of publication and so on, which exists in the vast library catalogues of Europe – will become increasingly accessible for anybody to re-use for whatever purpose they want. … Bruno Racine, new Chair of CENL and President of the Bibliothèque nationale de France, and Dr.
d+c-2011-10-sw-moyo: African expert assesses 50 years of German development policy - Development and Cooperation - International Journal.
Coca-Cola Launches Global Music Effort to Connect With Teens | Global News
Urbanology Online
s Commission on Innovation Holds First Meeting in New York
emma | european media management education association: Call for Paper
Call for Papers ⇒ download ⇐ The deadline for abstracts was 15 November 2011 Media management is not a new practice, but it is a relatively new field of academic investigation and scholarship. It has roots in historic traditions of media economics, and the study of media and of management have even longer, deeper roots in respective disciplines.