Stats
formulaire
Tech M&A In Q2 Stays Flat At $26 Billion; Tech IPOs Make Up 40 Percent Of All IPO Value
A new report put out today by PricewaterhouseCoopers lays out the tech M&A landscape. Technology deals totaled $26 billion in the second quarter of 2011, slightly down from the $26.6 billion worth of deals in the first quarter, but up 6.7 percent from the same quarter a year ago. These numbers include only deals closed in the quarter like Qualcomm's $3.5 billion acquisition of Atheros and eBay's $2.4 billion purchase of GSI Commerce, and do not include announced deals like Microsoft's $8.5 billion purchase of Skype. In terms of deal volume, Internt deals made up 32 percent of the total, but semiconductor deals edged it out in terms of total dollar value, with $6.8 billion worth of chip deals closed in the quarter. There were 82 total tech deals recorded in the quarter (based on data from Thomson Reuters), one deal above the amount during the first quarter and down from 95 deals the year before.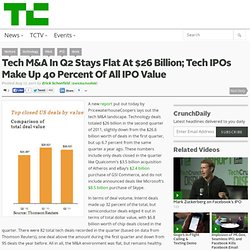 Booms and Busts
Mobile applications are commanding more attention on smartphones than the web, highlighting the need for strong app stores on handset platforms. For the first time since Flurry, a mobile analytics firm, has been reporting engagement time of apps and web on smartphones, software is used on average for 81 minutes per day vs 74 minutes of web use. Just a year ago, mobile web use outnumbered time spent on apps with 64 minutes as compared to 43 minutes. Trends are ever subject to change, but this one indicates that we'll be waiting longer for HTML 5 web apps to unify the world of mobile devices. What are our mobile app minutes spent doing? Flurry, which monitors software on iOS, Android, BlackBerry, Windows Phone and J2ME platforms, says we're a growing community of gamers, with 47 percent of our app time spent playing.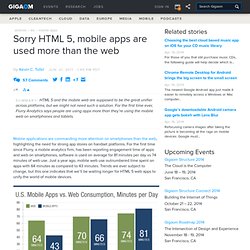 Sorry HTML 5, mobile apps are used more than the web — Mobile Technology News
Voici la liste des 20 plus grosse fortunes mondiales constituées sur Internet, selon les données de Forbes. Les années passent, mais les hommes les plus riches de l'Internet restent invariablement les mêmes : Larry Page et Sergey Brin, les deux fondateurs de Google. Globalement, on ne trouve pas de surprises dans le classement des 10 hommes les plus riches de l'Internet, basé sur les données de Forbes. Mais la suite du classement réserve quelques surprises. On trouve notamment Jeffrey Skoll (11ème), le premier employé et premier CEO d'eBay qui en fit un géant de l'e-business.
Qui sont les hommes les plus riches de l'e-business ?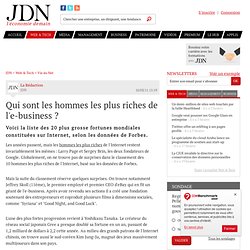 Les femmes se méfient davantage des sites étrangers - Internet et les comportements d'achat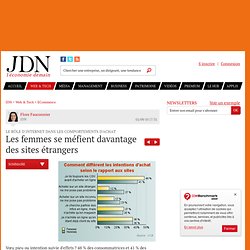 Vœu pieu ou intention suivie d'effets ? 48 % des consommatrices et 41 % des consommateurs français déclarent consulter systématiquement les conditions générales de vente avant de finaliser un achat en ligne. Mais c'est vis-à-vis des sites marchands étrangers que les femmes se montrent encore bien plus prudentes que les hommes : elles ne sont que 12 % à ne pas hésiter à acheter sur ces sites, contre 27 % chez les hommes. 36 % des consommateurs n'achète en ligne que sur des sites dont ils sont déjà clients, mais cette proportion est la même chez les femmes que chez les hommes.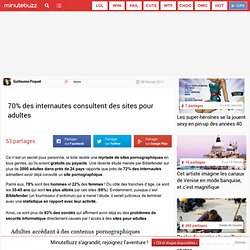 70% des internautes consultent des sites pour adultes
Ce n'est un secret pour personne, la toile recèle une myriade de sites pornographiques en tous genres, qu'ils soient gratuits ou payants. Une récente étude menée par Bitdefender sur plus de 2000 adultes dans près de 24 pays rapporte que près de 72% des internautes admettent avoir déjà consulté un site pornographique. Parmi eux, 78% sont des hommes et 22% des femmes !