Playfish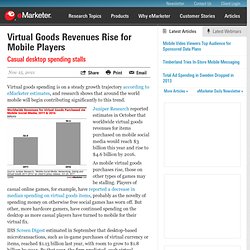 Virtual goods spending is on a steady growth trajectory according to eMarketer estimates, and research shows that around the world mobile will begin contributing significantly to this trend.
Virtual Goods Revenues Rise for Mobile Players
SCRUM / Agile Development
Business Model - Monetization, scalibility, advertising
Playfish In Numbers Infographic: Online Gaming Is Bigger Than You Think!
A new infographic released today by Playfish is proving that online gaming is bigger than you might think. Would you believe that if all the Playfish gamers lived in one country it would have a population bigger than England? It's true, along with a ton of other surprising facts illustrated on the 'Playfish In Numbers' infographic.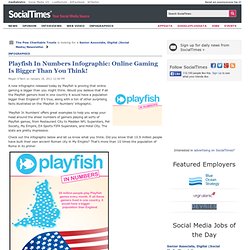 Playfish Social Games Reaching 55 Million Monthly Players
Electronic Arts-owned social games developer Playfish revealed that its games are played by over 55 million people every month, as well as other statistics about its releases. Tracking site AppData shows that Playfish's games reach a total of nearly 37.7 million monthly players on Facebook alone, but the company's titles are available on other platforms, too, such as MySpace.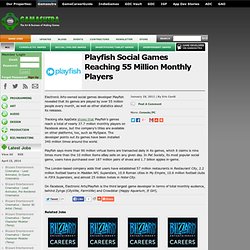 +++ Playfish's Social Gaming Architecture
Ten million players a day and over fifty million players a month interact socially with friends using Playfish games on social platforms like The Facebook, MySpace, and the iPhone. Playfish was an early innovator in the fastest growing segment of the game industry: social gaming, which is the love child between casual gaming and social networking. Playfish was also an early adopter of the Amazon cloud, running their system entirely on 100s of cloud servers.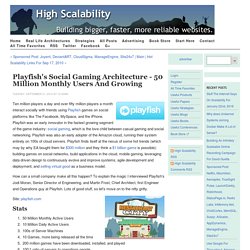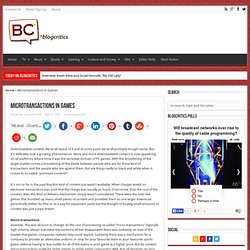 Microtransactions in Games - Blogcritics Gaming
Downloadable content. We've all heard of it and at some point we've all probably bought some.
Click to download Freemium spreadsheetBackground on this discussion Last year, the stupendous Daniel James co-hosted a talk with me on Lifetime Value metrics for subscription and virtual goods-based items. You can see the video/outline for the talk, Daniel's commentary, and a mindmap of the talk (scroll to the bottom of the post).