PayPal Vision
PayPal accélère son déploiement en magasins
eBay a débuté 2012 en beauté en enregistrant des résultats supérieurs à toutes les attentes pour le premier trimestre, et exposé mercredi une stratégie misant largement sur les possibilités d'achat et de paiement par téléphone.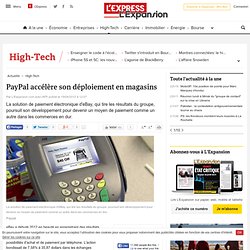 Commerce physique : le plan d'attaque de Paypal
Paypal Ready For Mobile Payment Competition - Companies & Execs
PayPal Has A Three-Year Plan To Fight Google And Apple (And Facebook)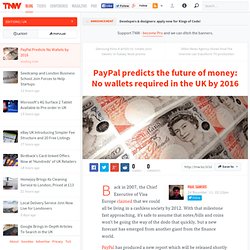 ++ PayPal Predicts No Wallets by 2016
Back in 2007, the Chief Executive of Visa Europe claimed that we could all be living in a cashless society by 2012.
PayPal exec: It won't be easy to compete with us |
Companies hopping into the payments business--with particular focus on mobile--will face unexpected challenges as PayPal did in its early days, according to an executive for the digital payments service provider. PayPal's Laura Chambers demonstrates the tap-and-pay move at the MobileBeat conference earlier this month in San Francisco with VentureBeat editor in chief and moderator Matt Marshall. (Credit: James Martin/CNET) "Being in the payments business is harder than saying you're in the payments business," Sam Shrauger, vice president of global product and design for PayPal, said in an interview with CNET today. While not naming any specific companies, his warning was clearly leveled at players such as Google, which recently unveiled its Google Wallet feature and plans to roll out a payment system in select cities later this summer.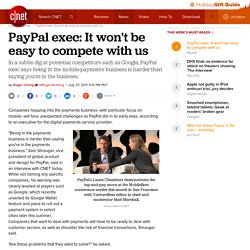 ++ eBay's CEO tells me why social is so important to the future of his company
PayPal Vision - PayPal