Offline Marketing
Pub Manix : assise sur une bitte d'amarrage. Par Ludivine D. il y a 3 ans Manix fait sa rentrée tout en finesse.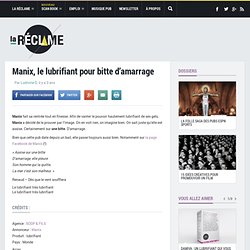 Afin de vanter le pouvoir hautement lubrifiant de ses gels, Manix a décidé de le prouver par l'image. Lego s'affiche. Afin de s'adresser à la fois aux enfants et aux adultes, la marque Lego utilise dans ses publicités la notion d'imagination.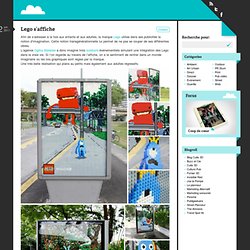 Cette notion transgénérationnelle lui permet de ne pas se couper de ses différentes cibles. L'agence Ogilvy Malaisie a donc imaginé trois outdoors événementiels simulant une intégration des Lego dans la vraie vie. Si l'on regarde au travers de l'affiche, on a le sentiment de rentrer dans un monde imaginaire où les lois graphiques sont régies par la marque.
Le « Bon à tirer », vous connaissez ? Pour promouvoir la sortie en France du film "Bon à Tirer", Warner Bros. a eu l'idée de reprendre le concept de "caméra attrape voyeurs" qui fait fureur sur Youtube.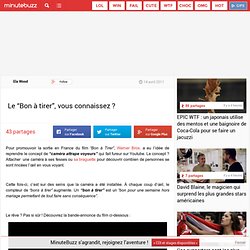 Le concept ? Attacher une caméra à ses fesses ou sa braguette pour découvrir combien de personnes se sont rincées l'œil en vous voyant. Cette fois-ci, c'est sur des seins que la caméra a été installée. À chaque coup d'œil, le compteur de "bons à tirer" augmente. Un "bon à tirer" est un "bon pour une semaine hors mariage permettant de tout faire sans conséquence". READ. Life's Too Short for the Wrong Job. I remember seeing this brilliant ad campaign a few years ago, but I only recently stumbled upon a full collection of pictures.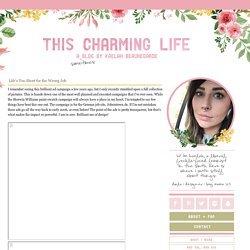 This is hands down one of the most well planned and executed campaigns that I've ever seen. While the Sherwin Williams paint-swatch campaign will always have a place in my heart, I'm tempted to say few things have beat this one out. The campaign is for the German job site, Jobsintown.de. If I'm not mistaken these ads go all the way back to early 2006, or even before! The point of the ads is pretty transparent, but that's what makes the impact so powerful.
Promotion Offline des Réseaux Sociaux: des Exemples? [je metterai certainement à jour cet article quand je croiserai d'autres exemples.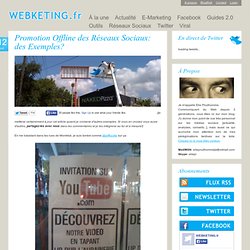 Si vous en croisez vous aussi d'autres, partagez-les avec nous dans les commentaires et je les intégrerai au fur et à mesure!] En me baladant dans les rues de Montréal, je suis tombé comme @jefflizotte sur ça: 40 Funny and Creative Condom Advertisements. If you are buying a condom in a drugstore, chances are, all people who have seen you holding the product, are all staring at you with inquisitive eyes.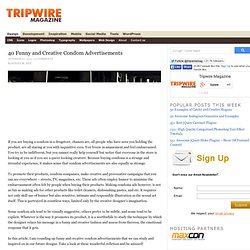 You freeze in amazement and feel embarrassed. You try to be indifferent, but you cannot really help yourself but notice that everyone in the store is looking at you as if you are a queer looking creature. Because buying condoms is a strange and stressful experience, it makes sense that condom advertisements are also equally as strange. 10 creative shopping bag designs. + 20 creative guerilla marketing campaigns.
We are so overwhelmed with advertising everywhere that it becomes hard for creative agencies to make ads that stand out.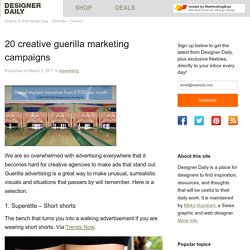 Guerilla advertising is a great way to make unusual, surrealistic visuals and situations that passers by will remember. Here is a selection. 1. Superette – Short shorts The bench that turns you into a walking advertisement if you are wearing short shorts. Famous brand name changes –What's in name!! Millward Brown. How to change a brand's name successfully A brand may change its name for a number of reasons.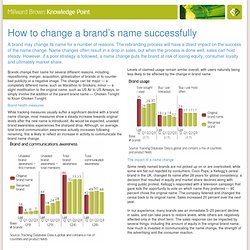 The rebranding process will have a direct impact on the success of the name change.
---