Mobile Payments
Get flash to fully experience Pearltrees
Today at MobileBeat 2011 we took another step towards realizing the PayPal vision of creating an entirely new way for people to shop and pay – anytime, anywhere and on any device – with the announcement of our peer-to-peer NFC solution.
mobile payments - news, facts & inno
I'm sure you've seen it – there's been so much "buzz" in the press over the last few weeks about mobile payments. Yet, in our partners' meeting at Glenbrook earlier this week, I told my colleagues that if I knew of a way to short "mobile payments", I'd be all over it.
The Global Innovation Series is supported by BMW i , a new concept dedicated to providing mobility solutions for the urban environment. It delivers more than purpose-built electric vehicles — it delivers smart mobility services.
Before it became a hot topic sometime early last year, few civilians had come across the term "near field communication" (NFC). Corporations, however, had been excited about the technology's potential since at least 2004 — when Nokia, Sony and Royal Philips Electronics founded the NFC Forum . Samsung, Motorola, Microsoft and more than 140 other organizations all joined the party shortly after.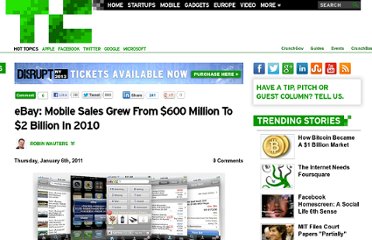 eBay has announced that global mobile sales generated nearly $2 billion in 2010, up from $600 million in 2009. To be clear, we're not talking revenues here but gross merchandise volume. Nevertheless, a clear sign that mobile ecommerce has reached a tipping point.