LivingSocial
Groupon, LivingSocial "deal of the day" pros and cons. Chaîne de livingsocial. LivingSocial - The Best Daily Deals in Your City. LivingSocial | We'll set the stage. You play the part, Act II. The LivingSocial Taxi. LivingSocial | LivingSocial Changed My Life. LivingSocial_food favorites - Tricia Duryee. Groupon Compared with Living Social: Infographic | Online Marketing Trends. Groupon vs. Living Social vs. Facebook Deals. I can honestly say I've never purchased anything from these daily deal companies.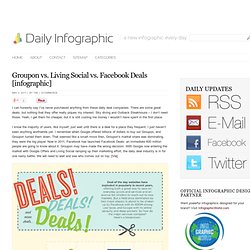 There are some great deals, but nothing that they offer really piques my interest. Sky diving and Outback Steakhouse – I don't need those. Yeah, I get them for cheaper, but it is still costing me money I wouldn't have spent in the first place. I know the majority of users, like myself, just wait until there is a deal for a place they frequent, I just haven't seen anything worthwhile yet. I remember when Google offered billions of dollars to buy out Groupon, and Groupon turned them down. LivingSocial To Expand Instant Deals to San Francisco Next Week. LivingSocial Sells 1 Million Amazon Vouchers and Counting. Apparently a LivingSocial deal offering a $20 Amazon gift card for $10 is one that's too good to pass up.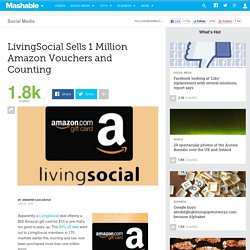 The 50% off deal went out to LivingSocial members in 170 markets earlier this morning and has now been purchased more than one million times. That number may even be doubled by the time the deal closes Thursday morning, should LivingSocial members continue to buy at this rate. At the time of publication, the Amazon vouchers were fast-approaching 1.1 million in total sales . LivingSocial Says It Will Overtake Groupon in January 2012 via @mashable - @tomcuthbert. HOW TO: Land a Job at LivingSocial. Group deal sites are booming, putting them in a great place for hiring, and that's exactly where LivingSocial is.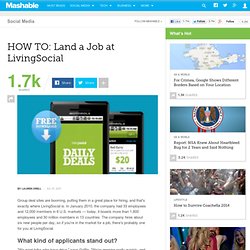 In January 2010, the company had 33 employees and 12,000 members in 6 U.S. markets — today, it boasts more than 1,600 employees and 30 million members in 13 countries. The company hires about six new people per day, so if you're in the market for a job, there's probably one for you at LivingSocial. What kind of applicants stand out? "We want folks who have drive," says Griffin. Instant Deals : Local, Short-Term Deals. LivingSocial is getting deeper into the local ad market today with Instant Deals, a mobile feature that lets consumers find deals within a half-mile radius.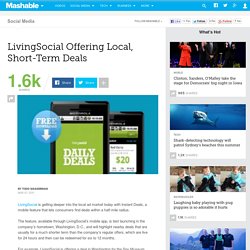 The feature, available through LivingSocial's mobile app, is test launching in the company's hometown, Washington, D.C., and will highlight nearby deals that are usually for a much shorter term than the company's regular offers, which are live for 24 hours and then can be redeemed for six to 12 months. For example, LivingSocial is offering a deal in Washington for the Spy Museum that's good for four hours.
Equinox, a local restaurant, will run deals on Sundays, Mondays and Tuesdays to help drive traffic during slow times. Some 44 merchants have signed up for the program so far, a rep says. Deals Resources. Social Deals. Living social - Groupon. Deals and Discounts. Group buying.
---