Google vs Facebook
INFOGRAPHIC: Facebook Versus Google. + Facebook vs. Google: The battle for the future of the Web - Nov. 3. FORTUNE -- Paul Adams is one of Silicon Valley's most wanted.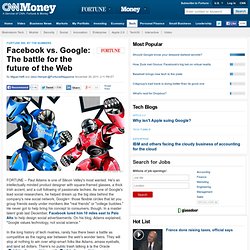 He's an intellectually minded product designer with square-framed glasses, a thick Irish accent, and a cult following of passionate techies. As one of Google's lead social researchers, he helped dream up the big idea behind the company's new social network, Google+: those flexible circles that let you group friends easily under monikers like "real friends" or "college buddies. " He never got to help bring his concept to consumers, though. The Facebook Chart That Freaks Google Out - Peter Kafka.
Facebook and Google Execs Equally Suck at Social Media. Michael Degusta at The Understatement posted a fun study yesterday on how little Google's management team actually use their Google+ service.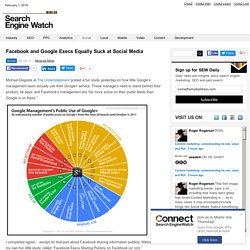 These managers need to stand behind their product, he says, and Facebook's management are "far more active on their public feeds than Google is on theirs." I completely agree... except for that part about Facebook sharing information publicly. Google Downgraded on Threat From Facebook | PCWorld. News October 5, 2011 02:17 PM ET Computerworld - A brokerage and investment banking firm downgraded Google from "buy" to "hold" because of the growing threat from social media companies like Facebook.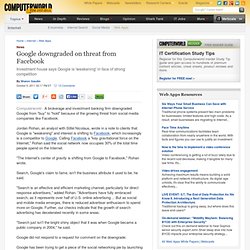 Jordan Rohan, an analyst with Stifel Nicolaus, wrote in a note to clients that Google is "weakening" and interest is shifting to Facebook, which increasingly is a competitor to Google. Facebook game leaders: We're not worried about Google+ games. For now, Facebook's gaming managers aren't worried about the competition from Google+.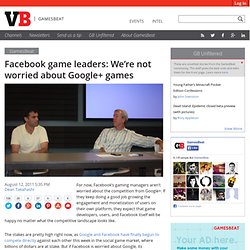 If they keep doing a good job growing the engagement and monetization of users on their own platform, they expect that game developers, users, and Facebook itself will be happy no matter what the competitive landscape looks like. The stakes are pretty high right now, as Google and Facebook have finally begun to compete directly against each other this week in the social game market, where billions of dollars are at stake. But if Facebook is worried about Google, its representatives didn't show it. Rather, they showed off new changes aimed at optimizing the social network for both game developers and their fans. The conversation was wide open and covered a range of topics, as you'll see below. Google+ vs. Facebook : la guerre des réseaux sociaux. Cela fait maintenant 2 semaines que nous pouvons découvrir le nouveau réseau social de Google, Google+ .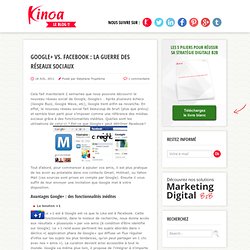 Après plusieurs échecs (Google Buzz, Google Wave, etc), Google tient enfin sa revanche. En effet, le nouveau réseau social fait beaucoup de bruit (plus que prévu) et semble bien parti pour s'imposer comme une référence des médias sociaux grâce à des fonctionnalités inédites. Quelles sont les utilisations de celui-ci ?
Zuckerberg vs. Google [COMIC] Facebook vs Google Infographic. Facebook Is Taking A Special Interest In RockMelt's Social Browser. Ever since RockMelt launched its social browser, it's been known unofficially as the Facebook browser.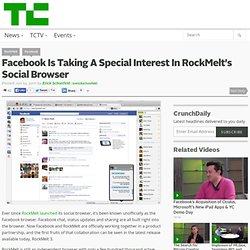 Facebook chat, status updates and sharing are all built right into the browser. Now Facebook and RockMelt are officially working together in a product partnership, and the first fruits of that collaboration can be seen in the latest release available today, RockMelt 3. Salary : Google wins over Facebook. INFOGRAPHIC: Facebook Winning War For Best Talent. Facebook has had the strongest pull in recruitment of top technology talent for some time now, and now we've got an infographic quantifying the extent to which the social network is out-recruiting the competition.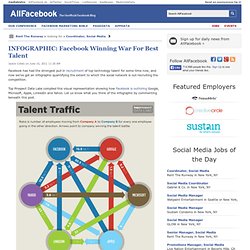 Top Prospect Data Labs compiled this visual representation showing how Facebook is outhiring Google, Microsoft, Apple, LinkedIn and Yahoo. Let us know what you think of the infographic by commenting beneath this post. Google+ Vs. Facebook Privacy [Exclusive Infographic] These days most of us spend a lot of time on social sites like Facebook and Google+, but how often do we stop to think about privacy?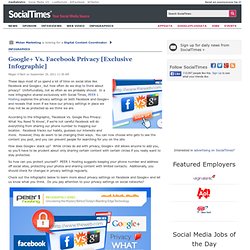 Unfortunately, not as often as we probably should. In a new infographic shared exclusively with Social Times, PEER 1 Hosting explores the privacy settings on both Facebook and Google+ and reveals that even if we have our privacy settings in place we may not be as protected as we think we are. +++ but conplex Facebook Will Surpass Google In Advertising Revenues. Editor's note: Continuing our exploration of how Facebook could eat Google's lunch, guest author Hussein Fazal makes the case for Facebook's potential advantage in advertising.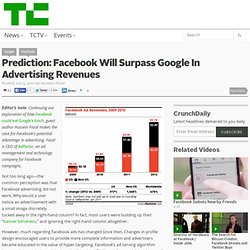 Fazal is CEO of AdParlor, an ad management and technology company for Facebook campaigns. Not too long ago—the common perception was that Facebook advertising did not work. Google's Eric Schmidt Says He 'Screwed Up' on Social Networking | Epicenter  Google chairman Eric Schmidt took responsibility for the search titan's failure to counter Facebook's explosive growth, saying he saw the threat coming but failed to do much about it.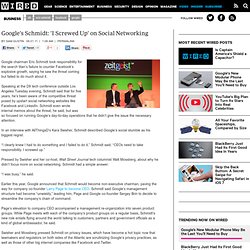 Speaking at the D9 tech conference outside Los Angeles Tuesday evening, Schmidt said that for five years, he's been aware of the competitive threat posed by upstart social networking websites like Facebook and LinkedIn. Schmidt even wrote internal memos about the threat, he said, but was so focused on running Google's day-to-day operations that he didn't give the issue the necessary attention. In an interview with AllThingsD's Kara Swisher, Schmidt described Google's social stumble as his biggest regret. "I clearly knew I had to do something and I failed to do it," Schmidt said. "CEOs need to take responsibility. Google Rolls Out Social Search Globally. Google will roll out its somewhat controversial Social Search feature to 19 more languages next week, the company announced on its official blog.
Launched in October 2009, Social Search is a feature that combines regular search results with publicly available data created by your friends' social media activities. Your "friends" are quite loosely defined and include people in your Google Talk friends list, your Google Contacts, people you're following on Buzz and Google Reader and other networks you've linked from your Google profile or Google Account. Google can also find your friends on public networks such as Twitter and Facebook and gather the data from their public connections as well. Facebook 1 : 0 Google on Earth Day (Facebook is playing at ho. How and why Google is taking on Facebook - TNW Social Media. Unless you're living in a cave, or perhaps a compound just outside Islamabad, you've most probably heard about Facebook's dirty little secret that was unearthed by both The Daily Beast and USA Today last week.
While comments and responses, statements and apologies can be made, and are a plenty, let's have a look at what could have caused such an action by Facebook. Facebook Without rehashing previous reading that you've undoubtedly already done, the long and short of the entire fiasco centers around Facebook's hiring of PR firm Burson-Marsteller to engage top level media outlets in a campaign highlighting some "flaws" in Google's privacy policies. It could easily be boiled down to a, "You say potato, I say puhtahtow" issue, with some calling "smear," while others call it "fact confirmation" (mainly Facebook), however this isn't the first time we've heard rumblings surrounding the Big G's privacy policies. According to a statement issued by Facebook,
The Difference Between Google Adwords and Facebook Advertising: Demand Generation vs Demand Fulfillment. Google AdSense May Never Make Facebook List. Google dépense quinze fois plus que Facebook en lobbying. Google's Wizard Of Oz Search Algorithm And The Threat Of Facebook Search. La recherche sur twitter/facebook va-t-elle détrôner celle sur Google?] OTA Android 2.3.3 update for the Nexus S and Nexus One rolls out. Referral Traffic For Videos On Media Sites. Source d'audience des sites d'information : Facebook bientôt devant Google ?
Google renforce l'aspect "social" de son moteur. Top 3 Social Sharing Buttons for Websites. Google, Facebook et la synchronisation des contacts téléphoniques.
---