Google Industry
CHART OF THE DAY: Google is The Least Diversified Business In Tech. Google joue à la marchande. La firme de Mountain View a ouvert son premier Chrome Store à Londres, et pourrait, en cas de succès, se lancer dans une implantation à l'échelle mondiale.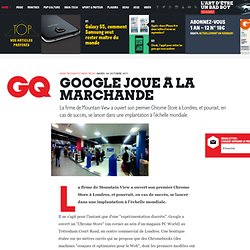 Il ne s'agit pour l'instant que d'une "expérimentation discrète". Google a ouvert un "Chrome Store" (un corner au sein d'un magasin PC World) au Tottenham Court Road, un centre commercial de Londres. Une boutique étalée sur 90 mètres carrés qui ne propose que des Chromebooks (des machines "conçues et optimisées pour le Web", dont les premiers modèles ont été fabriqués par Samsung et Acer), des casques audio, et quelques autres accessoires.
Une recherche en ligne vaudrait 0,5 dollar selon McKinsey. Selon le cabinet, l'ensemble des moteurs de recherche a généré l'équivalent de 780 milliards de dollars de valeur en 2009, soit davantage que le PIB des Pays-Bas.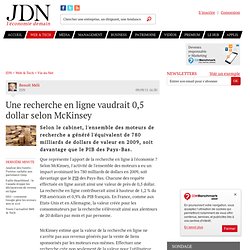 Que représente l'apport de la recherche en ligne à l'économie ? Selon McKinsey, l'activité de l'ensemble des moteurs a eu un impact avoisinant les 780 milliards de dollars en 2009, soit davantage que le PIB des Pays-Bas. Chacune des requête effectuée en ligne aurait ainsi une valeur de près de 0,5 dollar. La recherche en ligne contribuerait ainsi à hauteur de 1,2 % du PIB américain et 0,9% du PIB français. Google's Business Strategy: Have No Business Strategy | Co. Design. [This is the second in a three-part series of excerpts from Tim Harford's new book.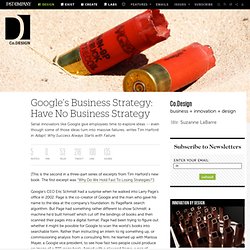 The first excerpt was "Why Do We Hold Fast To Losing Strategies? "] Google's CEO Eric Schmidt had a surprise when he walked into Larry Page's office in 2002. Google - Interactive Features - Portfolio.com. What Are The 20 Most Expensive Keyword Categories In Google AdWords? Google makes a heck of a lot of money from online advertising.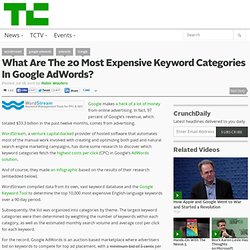 In fact, 97 percent of Google's revenue, which totaled $33.3 billion in the past twelve months, comes from advertising. WordStream, a venture capital-backed provider of hosted software that automates most of the manual work involved with creating and optimizing both paid and natural search engine marketing campaigns, has done some research to discover which keyword categories fetch the highest costs per click (CPC) in Google's AdWords solution. Marketers Root For Expanded Opportunities Represented By Google+ Marketers have had a close eye on the launch of Google+, and what I'm hearing at this point is similar to what I once heard about Bing.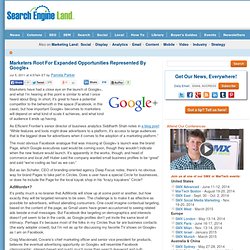 In short, it's great to have a potential competitor to the behemoth in the space (Facebook, in this case), but how important Google+ becomes to marketers will depend on what kind of scale it achieves, and what kind of audience it ends up having. As Efficient Frontier's senior director of business analytics Siddharth Shah notes in a blog post: "While features and tools might draw advertisers to a platform, it's access to large audiences that is the biggest draw for advertisers when it comes to the adoption of a marketing platform." The most obvious Facebook analogue that was missing at Google+'s launch was the brand Page, which Google executives said would be coming soon, though they wouldn't indicate when the new feature would launch. Google adds behavioural targeting to AdWords.
Google has rolled out behavioural targeting for AdWords spots, allowing brands to target search ads based on users' previous browsing activity.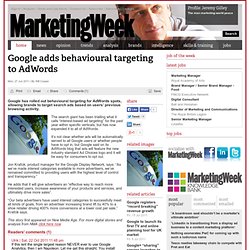 The search giant has been trialling what it calls "interest-based ad targeting" for the past year within specific verticals, but has now expanded it to all of AdWords. It's not clear whether ads will be automatically served to all Google users or whether people have to opt in, but Google said on its AdWords blog that ads will feature the new industry standard Ad Choices logo and it will be easy for consumers to opt out. Jon Krafcik, product manager for the Google Display Network, says: "As we've made interest categories available to more advertisers, we've remained committed to providing users with the highest level of control and transparency."
He adds that it will give advertisers an "effective way to reach more interested users, increase awareness of your products and services, and ultimately drive more sales". Google Now Reaches 1 Billion People Per Month [STATS] Google has become the first company ever to hit the 1 billion uniques landmark, according to comScore.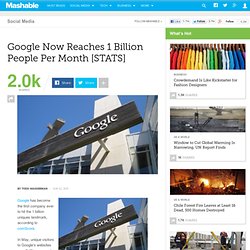 In May, unique visitors to Google's websites rose 8.4% compared to May 2010. Microsoft's sites were number two with 905 million uniques, a 15% rise. Google To Begin Charging For Directions Location Extensions. Google announced they will begin charging for searchers clicking on the directions of the location extensions found on some AdWords ads.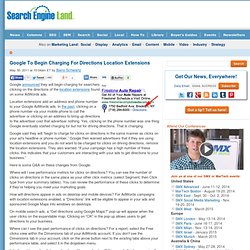 Location extensions add an address and phone number to your Google AdWords ads. In the past, clicking on a phone number via your mobile phone to call the advertiser or clicking on an address to bring up directions to the advertiser cost that advertiser nothing. Yes, clicking on the phone number was one thing Google eventually started charging for but not for driving directions.
That is changing. Google poursuit son recul aux Etats-Unis.
---