Google +1
Google+ Rolls Out YouTube Integration, New Chrome Extensions. Google is shipping more Google+ features today designed to increase user engagement and sharing.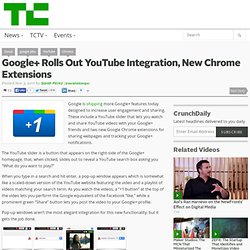 These include a YouTube slider that lets you watch and share YouTube videos with your Google+ friends and two new Google Chrome extensions for sharing webpages and tracking your Google+ notifications. The YouTube slider is a button that appears on the right-side of the Google+ homepage, that, when clicked, slides out to reveal a YouTube search box asking you "What do you want to play?" When you type in a search and hit enter, a pop-up window appears which is somewhat like a scaled-down version of the YouTube website featuring the video and a playlist of videos matching your search term.
As you watch the videos, a "+1 button" at the top of the video lets you perform the Google equivalent of the Facebook "like," while a prominent green "Share" button lets you post the video to your Google+ profile. Confirmed: Google Showing Google +1 Counts To Logged Out Users. Google is now showing the Google +1 counts for logged out users.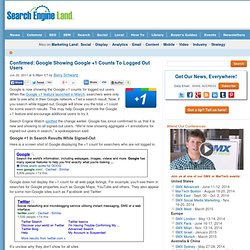 When the Google +1 feature launched in March, searchers were only able to see who in their Google network +1′ed a search result. Now, if you search while logged out, Google will show you the total +1 count for some search results. The +1 Button Is Like A Button You Push For A Treat — Without The Treat. You people confuse me.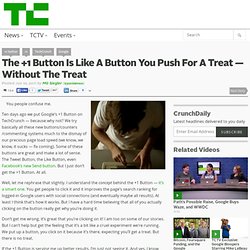 Ten days ago we put Google's +1 Button on TechCrunch — because why not? We try basically all these new buttons/counters/commenting systems much to the dismay of our precious page load speed (we know, we know, it sucks — fix coming). +1 Button. Ajută-ți prietenii să găsească cele mai bune conținuturi de pe web Atunci când prietenii tăi caută ceva pe web, +1rile tale îi pot ajuta să găsească rapid cele mai bune conținuturi.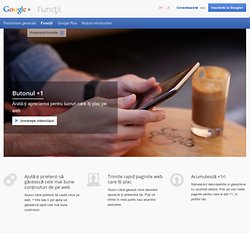 Trimite rapid paginile web care îți plac. Dear Google: You Can't Threaten People Into Being Social: Tech News and Analysis « There have been signs over the past few months that Google is feeling the pressure to step up its social efforts — the +1 features it announced a week ago being just one of them.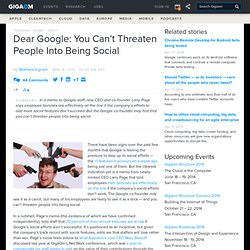 But the clearest indication yet is a memo from newly-minted CEO Larry Page that told employees their bonuses are effectively on the line if the company's social efforts don't work. The Google co-founder may see it as a carrot, but many of his employees are likely to see it as a stick — and you can't threaten people into being social. In a nutshell, Page's memo (the existence of which we have confirmed independently), tells staff that 25 percent of their annual bonuses are at risk if Google's social efforts aren't successful. It's positioned as an incentive, but given the company's track record with social features, odds are that staffers will lose rather than win.
AdWords +1. Le bouche à oreille est un outil de communication efficace.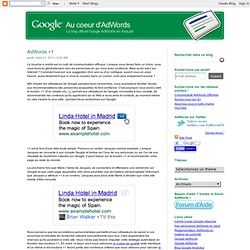 Lorsque vous devez faire un choix, vous vous tournez généralement vers les personnes en qui vous avez confiance. Mais qu'en est-il sur Internet ? Comment recevoir une suggestion d'un ami ou d'un collègue, quand vous en avez besoin, aussi facilement que si vous le croisiez dans un couloir, voire plus simplement encore ? Afin d'aider les utilisateurs de Google pendant leurs recherches, nous souhaitons faciliter l'accès aux recommandations des personnes auxquelles ils font confiance. C'est pourquoi nous avons créé le bouton +1. Bouton +1 de Google : fonctionnement et impact sur le référencement. Par Olivier Duffez, Jeudi 31 mars 2011 Google a lancé le 30/03/2011 une nouvelle fonctionnalité dans son moteur de recherche : la possibilité pour les utilisateurs d'indiquer les sites qu'ils aiment (ou plus précisément les pages).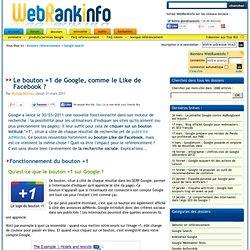 Il leur suffit pour cela de cliquer sur un bouton intitulé "+1", situé à côté de chaque résultat de recherche (et de publicité AdWords). Ce bouton ressemble fortement au bouton Like de Facebook, mais est-ce vraiment la même chose ? Quel va être l'impact pour le référencement ? C'est sans doute bien l'avènement de la recherche sociale. Google + 1 = 0. Si vous suivez d'autres blogs que celui là, alors vous devez sans doute déjà savoir que Google a lancé une toute nouvelle fonction : Google + 1.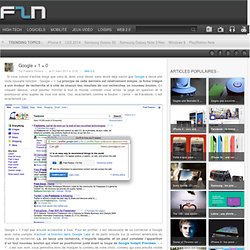 Le principe de cette dernière est relativement simple, la firme intégré à son moteur de recherche et à côté de chacun des résultats de vos recherches un nouveau bouton. En cliquant dessus, vous pourrez montrer à tout le monde combien vous aimez la page en question et la promouvoir ainsi auprès de tous vos amis. Google présente le bouton +1. Google Takes on Facebook and Bing With +1.
The +1 button & AdWords. Word of mouth is powerful.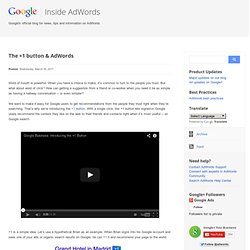 When you have a choice to make, it's common to turn to the people you trust. But what about word of click? Google lance officiellement le bouton « +1 » intégrable sur les pages web ! Après le lancement du système « +1 » intégré aux résultats Google il y a tout juste un mois.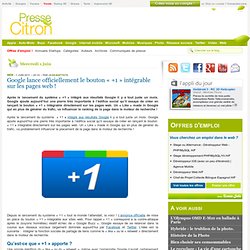 Google ajoute aujourd'hui une pierre très importante à l'édifice social qu'il essaye de créer en lançant le bouton « +1 » intégrable directement sur les pages web. Un « Like » made in Google qui en plus de générer du trafic, va influencer le ranking de la page dans le moteur de recherche ! Après le lancement du système « +1 » intégré aux résultats Google il y a tout juste un mois. Google ajoute aujourd'hui une pierre très importante à l'édifice social qu'il essaye de créer en lançant le bouton « +1 » intégrable directement sur les pages web.
Google Plus One: Top AdWords Advertisers Are Unprepared. April 13, 2011 Google recently announced the launch of their latest social initiative: Google +1 (Plus One). Still in beta, Google +1 consists of a tiny icon next to each and every organic and paid search listing that, when clicked, communicates your stamp of approval for others to see. Google +1 has strong implications for all AdWords campaigns -- the number of "+1's" will show alongside each ad, which is sure to increase the clicks. Yet there is one important nuance to this that is sure to leave many advertisers unprepared...Every distinct URL gets its own Google +1 score. Like+1 Turns Facebook Likes Into Google +1s.
---