Google +1
Google+ Rolls Out YouTube Integration, New Chrome Extensions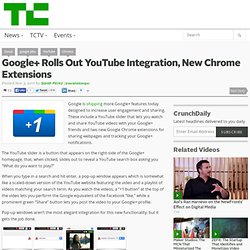 Google is shipping more Google+ features today designed to increase user engagement and sharing. These include a YouTube slider that lets you watch and share YouTube videos with your Google+ friends and two new Google Chrome extensions for sharing webpages and tracking your Google+ notifications.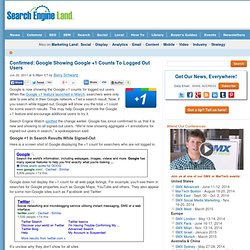 Google is now showing the Google +1 counts for logged out users. When the Google +1 feature launched in March, searchers were only able to see who in their Google network +1′ed a search result. Now, if you search while logged out, Google will show you the total +1 count for some search results.
Confirmed: Google Showing Google +1 Counts To Logged Out Users
You people confuse me. Ten days ago we put Google's +1 Button on TechCrunch — because why not? We try basically all these new buttons/counters/commenting systems much to the dismay of our precious page load speed (we know, we know, it sucks — fix coming).
The +1 Button Is Like A Button You Push For A Treat — Without The Treat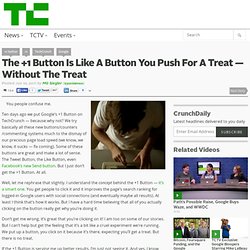 Aidez vos amis à trouver les meilleurs contenus sur le Web Lorsque vos amis naviguent sur Internet, vos +1 peuvent les aider à trouver rapidement les pages les plus intéressantes. Partagez en un clin d'œil les pages Web que vous aimez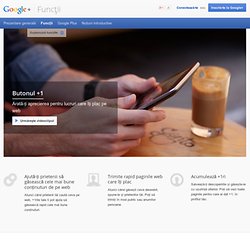 +1 Button
There have been signs over the past few months that Google is feeling the pressure to step up its social efforts — the +1 features it announced a week ago being just one of them. But the clearest indication yet is a memo from newly-minted CEO Larry Page that told employees their bonuses are effectively on the line if the company's social efforts don't work.
Dear Google: You Can't Threaten People Into Being Social: Tech News and Analysis «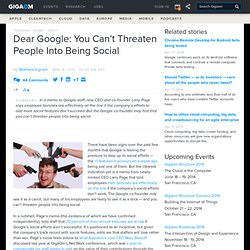 chris dixon's blog / Google's social strategy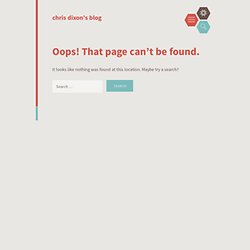 It is widely believed that Facebook presents a significant competitive threat to Google. Google itself seems to believe this – Larry Page recently said that all employees would have their bonuses tied to the success of Google's social strategy. Why does Facebook present a threat to Google?
AdWords +1
Le bouche à oreille est un outil de communication efficace. Lorsque vous devez faire un choix, vous vous tournez généralement vers les personnes en qui vous avez confiance.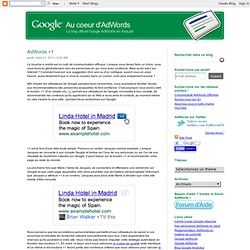 Bouton +1 de Google : fonctionnement et impact sur le référencement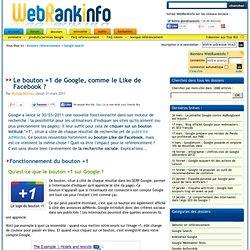 Par Olivier Duffez, Jeudi 31 mars 2011 Google a lancé le 30/03/2011 une nouvelle fonctionnalité dans son moteur de recherche : la possibilité pour les utilisateurs d'indiquer les sites qu'ils aiment (ou plus précisément les pages).
Google + 1 = 0
Google présente le bouton +1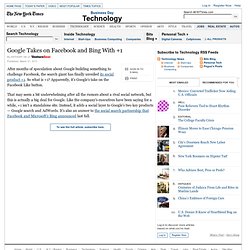 Google Takes on Facebook and Bing With +1
That may seem a bit underwhelming after all the rumors about a rival social network, but this is actually a big deal for Google.
Word of mouth is powerful. When you have a choice to make, it's common to turn to the people you trust. But what about word of click?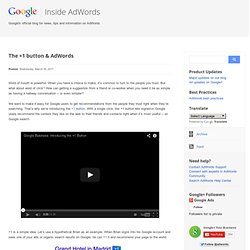 The +1 button & AdWords
Mercredi 1 juin
Google lance officiellement le bouton « +1 » intégrable sur les pages web !
Google Plus One: Top AdWords Advertisers Are Unprepared
April 13, 2011
Like+1 Turns Facebook Likes Into Google +1s