Gamification
Gamification: How Competition Is Reinventing Business, Marketing & Everyday Life. The Buzzword Breakdown Series is supported by The Network, Cisco's technology news site.
The Network features technology news, trends and information on video, collaboration, core networks, mobility, security, data center, Cisco culture and social media. Can life, and all the menial or routine tasks that come with it, be transformed through game mechanics into an engaging, social and fun recreational activity? Such is the idea behind the emerging trend of "gamification. " Gamification time: What if everything were just a game? 21 June 2011Last updated at 00:15 By Katia Moskvitch Science and technology reporter, BBC News How Microtask's Digitalkoot game helps weed mistakes out of the Finnish National Library's e-archives One more step, and a tiny creature will cross the bridge and get to safety.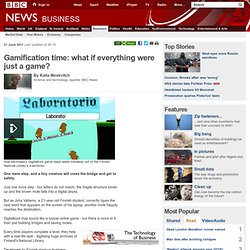 Just one more step - but letters do not match, the fragile structure blows up and the brown mole falls into a digital abyss. Gamification 101 - Using Game Dynamics to Engage Your Customers - Bunchball. In this whitepaper, you'll learn how you can use gamification to engage your customers, employees and partners.
Your customers are hungry for reward, status, achievement, competition and self-expression, and they'll go out of their way to engage with the businesses that give it to them. Gamification uses proven techniques from game design to satisfy your customers and engage them with your content, community or brand, while simultaneously driving meaningful value for your business. Learn how you can use gamification to engage your customers in this complimentary whitepaper. War, What Is It Good For? Three Points! "When I was a child, I spake as a child, I understood as a child, I thought as a child: but when I became a man, I put away childish things." – Corinthians 13:11 Last night, I visited the BBC News website for the first time in a week.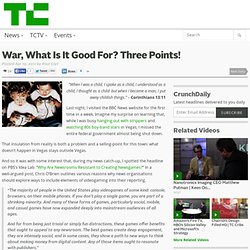 Imagine my surprise on learning that, while I was busy hanging out with strippers and watching 80s boy-band stars in Vegas, I missed the entire federal government almost being shut down. That insulation from reality is both a problem and a selling-point for this town: what doesn't happen in Vegas stays outside Vegas. Gamification: More to marketing than just a buzzword? Raf Keustermans looks at case studies and gauges expert opinion on the latest hot topic.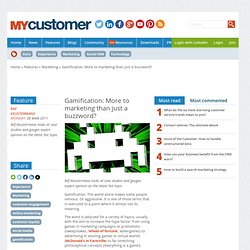 Gamification. The world alone makes some people nervous. Or aggressive. It is one of those terms that is overused to a point where it almost lost its meaning. 1000heads. Gamification. This morning 'play theorist' Pat Kane tweeted, with slight bemusement, about Chromaroma.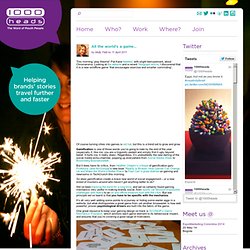 Looking at the website and a recent Telegraph article, I discovered that it is a new on/offline game 'that encourages exercise and smarter commuting': Of course turning cities into games is old hat, but this is a trend set to grow and grow. Gamification is one of those words you're going to hate by the end of the year (especially if, like me, you are a linguistic pedant and simply find it ugly beyond belief. It hurts me, it really does). Regardless, it's undoubtedly the new darling of the social media echo-chamber, popping up everywhere from Social Media Week to Bloomberg Businessweek. Too cool to play: the gamification backlash. April 11th, 2011 by Ville Miettinen In high school life was simple (brutal, but simple): popularity equaled coolness.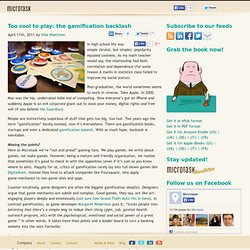 As my math teacher would say, the relationship had both correlation and dependence (for some reason A marks in statistics class failed to improve my social status). 5 brands already unlocking badges on Foursquare | blog till you drop! A growing number of people are using location-based services such as Foursquare and Gowalla, or their French counterpart Dismoioù to tell the world where they're visiting, and offering 'tips' about these places.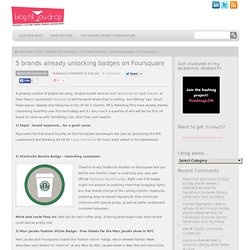 Despite only being live in the UK for 5 months, PR & Marketing Pros have already started clamouring feverishly over this technology and it's very much a question of who will be the first UK brand to come up with something cool, other than just rewards. 1) Pepsi – brand exposure… for a good cause Pepsi were the first brand to jump on the Foursquare bandwagon last year by sponsoring the NYC Leaderboard and donating $0.04 for Camp Interactive for every point added to the leaderboard. 2) Starbucks Barista Badge – rewarding customers Check-in to any Starbucks location on Foursquare and you will be one checkin closer to unlocking your very own official Starbucks Barista badge. Super Bowl becomes Foursquare's first 'promoted venue' Foursquare is taking advantage of Super Bowl madness to launch a new feature: promoted events.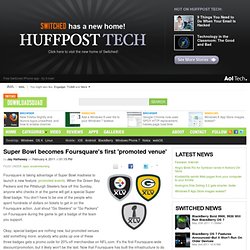 When the Green Bay Packers and the Pittsburgh Steelers face off this Sunday, anyone who checks in at the game will get a special Super Bowl badge. You don't have to be one of the people who spent hundreds of dollars on tickets to get in on the Foursquare action. Just shout "Go Steelers" or "Go Packers" on Foursquare during the game to get a badge of the team you support. [video] Transport for London Gamification. London - Louis Vuitton badge to celebrate new shop on Bond St. To celebrate the opening of their new Louis Vuitton Maison store on Bond St in London, Louis Vuitton has partnered with Foursquare to offer users tips on their favorite locations around London.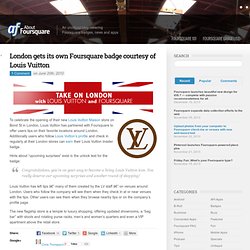 Additionally users who follow Louis Vuitton's profile and check in regularly at their London stores can earn their Louis Vuitton Insider badge. Hints about "upcoming surprises" exist in the unlock text for the badge: McDonalds : I'm check-in it ! Votre position : Home » Actualité » Nous l'attendions avec impatience et la nouvelle est tombée aujourd'hui sans prévenir.
McDonald's, la chaîne de fast-food numéro 1 dans l'hexagone vient de dévoiler sa campagne sur Facebook Deals. Heineken dévoile sa campagne Foursquare. Votre position : Home » Analyse » Heineken dévoile sa campagne Foursquare Comment annoncer sur Foursquare quand on ne possède pas de réseau de distribution ? Heineken propose une solution simple et efficace qui a déjà fait ses preuves : attirer puis fidéliser les clients potentiels via une compétition et récompenser les meilleurs. Virgin America. Virgin America, which has sought to make flying more fun than mundane for its customers, is now trying out a similar philosophy for those waiting at one of its terminals. The airline has launched a program at the new Terminal 2 at San Francisco International Airport, combining Foursquare and Facebook checkins to award badges such as "ground crew" (one to four checkins) and "captain" (50 checkins).
Passengers will randomly be awarded prizes — like T-shirts and flight vouchers — based on the checkins. In order to take part, consumers have to agree to Facebook's Terms of Service on the Terminal 2 Takeover app, created by Context Optional, on Virgin America's Facebook Page. Radio Shack Says Foursquare Users Spend 3.5X More.
Christopher Heine | April 11, 2011 | 2 Comments inShare41 Retailer extends geo-social campaign three months while national chains up their check-ins game. Radio Shack CMO Lee Applbaum made a revelation last week that helps explain why national retail chains are warming to Foursquare. "Foursquare users at Radio Shack generally spend three-and-a-half times more compared to what non-Foursquare users [spend]," Applbaum said, while speaking at the Ad Age Digital conference.
---