Facebook Credits : Virtual -> Real goods
Facebook Credits' Pricing Strategy Is Short-Sighted. Last February, Facebook beta-launched its virtual currency, called Facebook Credits.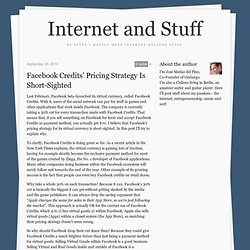 With it, users of the social network can pay for stuff in games and other applications that work inside Facebook. The company is currently taking a 30% cut for every transaction made with Facebook Credits. That means that, if you sell something on Facebook for $100 and accept Facebook Credits as payment method, you actually get $70. I believe that Facebook's pricing strategy for its virtual currency is short-sighted. In this post I'll try to explain why. Facebook Credits: Virtual Goods Are Just the Beginning: Tech News and Analysis ?
Facebook is ready to go big with its Facebook Credits virtual currency: the company announced that all developers will have to use the credits in their apps starting July 1.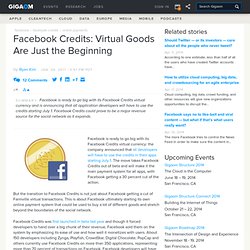 The move takes Facebook Credits out of beta and will make it the main payment system for all apps, with Facebook getting a 30 percent cut of the action. But the transition to Facebook Credits is not just about Facebook getting a cut of Farmville virtual transactions. This is about Facebook ultimately starting its own online payment system that could be used to buy a lot of different goods and stretch beyond the boundaries of the social network. Facebook Credits was first launched in beta last year and though it forced developers to hand over a big chunk of their revenue, Facebook sold them on the system by emphasizing its ease of use and how well it monetizes with users.
Les crédits virtuels de Facebook, future monnaie du web ? A compter du 1er juillet 2011, les développeurs de jeux sociaux payants sur Facebook devront obligatoirement proposer le système de paiement virtuel maison du réseau social « Facebook Credit ».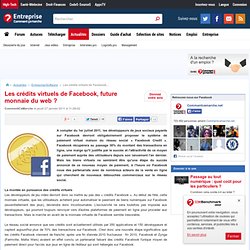 Facebook récupèrera au passage 30% du montant des transactions en ligne, une marge qu'il justifie par le succès et l'attractivité de ce moyen de paiement auprès des utilisateurs depuis son lancement l'an dernier. Mais les biens virtuels ne semblent être qu'une étape du succès annoncé de ce nouveau moyen de paiement, à l'heure où Facebook noue des partenariats avec de nombreux acteurs de la vente en ligne qui cherchent de nouveaux débouchés commerciaux sur le réseau social. La montée en puissance des crédits virtuels Les développeurs de jeu vidéo devront donc se mettre au pas des « crédits Facebook ».
Au début de l'été, cette monnaie virtuelle, que les utilisateurs achètent pour automatiser le paiement de biens numériques sur Facebook (essentiellement des jeux), deviendra donc incontournable.
---