E-Commerce
AB Tasty : une solution d'A/B testing française
Pour de nombreux éditeurs de sites internet l'A/B Testing est encore quelque chose d'ésotérique.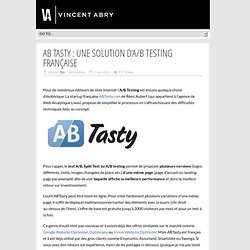 Une accélération forte depuis 2010 - Grande distribution et mobile
Le futur? Tesco teste un supermarché virtuel à Séoul
eMarketer: Online Ad Spending Expected to Accelerate This Year To $31 Billion
Online ad spending keeps ramping up thanks to an upswing in display advertising.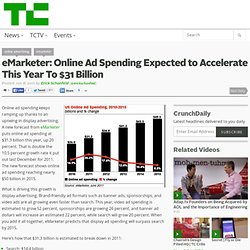 Top 10 controversies of Apple, Facebook, Google and Microsoft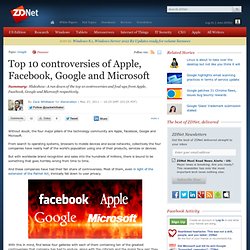 Without doubt, the four major pillars of the technology community are Apple, Facebook, Google and Microsoft. From search to operating systems, browsers to mobile devices and social networks, collectively the four companies have nearly half of the world's population using one of their products, services or devices. But with worldwide brand recognition and sales into the hundreds of millions, there is bound to be something that goes horribly wrong from time to time.
faberNovel Presentations Channel
eCommerce: la France se classe en 6e position du e-shopping européen en matière de pouvoir d'achat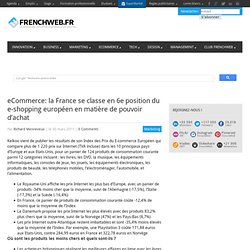 Kelkoo vient de publier les résultats de son Index des Prix du E-commerce Européen qui compare plus de 1 220 prix sur Internet (TVA incluse) dans les 10 principaux pays d'Europe et aux Etats-Unis, pour un panier de 124 produits de consommation courante parmi 12 catégories incluant : les livres, les DVD, la musique, les équipements informatiques, les consoles de jeux, les jouets, les équipements électroniques, les produits de beauté, les téléphones mobiles, l'électroménager, l'automobile, et l'alimentation.
Groupon Signs Exclusively with AdParlor for Facebook Ads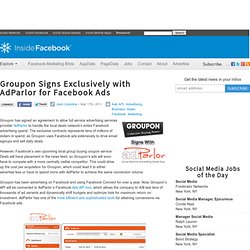 Groupon Signs Exclusively with AdParlor for Facebook Ads
Editor's note: The following is a guest post by Greylock Partners VCs Reid Hoffman and James Slavet.
Why We Invested In Groupon: The Power of Data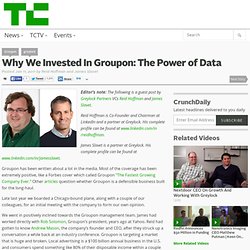 ++ Synthese + Bulle / Groupon : arnaque ou bonne affaire ?
Par Raphaële Karayan - publié le 05/04/2011 à 17:32, mis à jour le 06/04/2011 à 10:25 En mai 2010, les internautes français découvraient Groupon, le site de deals d'achats groupés locaux à la croissance la plus rapide de l'histoire du web.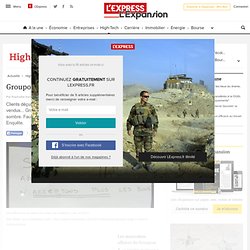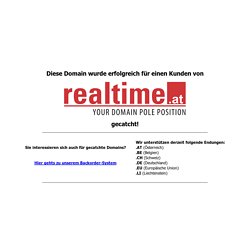 Ces industries absorbées par le web
Il est bien loin, le temps où vous deviez consulter l'énorme bottin en papier jaune en blanc pour trouver une personne que vous désirez contacter, ou l'époque où vous cherchiez dans le journal, les appartements à louer.
Editor's note: Guest author Ohad Samet is an expert in managing fraud and other risks in payments systems.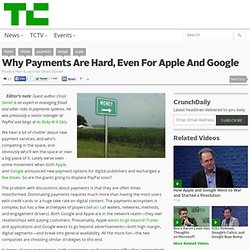 Why Payments Are Hard, Even For Apple And Google
Photographie de l'e-commerce europ?en en 2010
Forrester: E-Commerce To Reach Nearly $300 Billion in U.S. by 2015 [STATS]
After a healthy 12.6% increase to $176.2 billion in 2010, U.S. online retail sales are expected to reach $278.9 billion in 2015. Online shopping will continue to cannibalize in-store shopping as consumers become more familiar and begin, in many cases, to prefer the convenience of online shopping, Forrester says. Increased Internet connectivity via devices like smartphones, tablets and game consoles will also drive growth, as well as new e-commerce models like flash sales (i.e.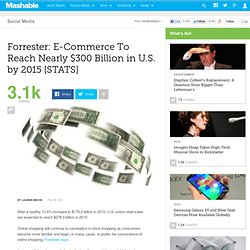 Les palmes de l'e-commerce 2011 sont attribuées à...
Time Inc. Announces List of "10 NYC Startups to Watch" June 1, 2011
Time Inc. 10 NYC Startups to Watch
The Q&A site Quora has been blowing up with new users for the last few weeks, initially thanks to some much-due love from Robert Scoble, and then by growing enthusiasm for the site among the tech press. While tech writers, VC's and geeky enthusiasts of all stripes have an obvious, immediate use for the site, it may not be as clear how owners of small and medium-sized businesses can take advantage of Quora and Q&A sites in general. It's worth noting that Quora is not the only player here. The Q&A space has been heating up for awhile, with Google acquiring Aardvark and a slew of other offerings from the likes of Yahoo, LinkedIn, and Mahalo.
How Small Businesses Can Use Quora