Culture
Une version du Cri, du peintre norvégien Edvard Munch, a été adjugée mercredi soir 119,92 millions de dollars (91 millions d'euros) à New York, devenant l'œuvre d'art la plus chère jamais vendue aux enchères. La vente dans la salle comble de la maison Sotheby's n'a duré que douze minutes, les enchères grimpant parfois de plus de 10 millions de dollars en une minute. Dans une ambiance électrique, sept acheteurs se sont âprement disputé cette œuvre-phare, qui avait été estimée à 80 millions de dollars. Le pastel, réalisé en 1895 et représentant un homme criant, les mains sur les oreilles, sur fond de ciel ensanglanté à Oslo, était la seule des quatre versions du Cri encore détenue par un particulier.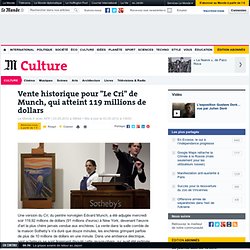 vente-historique-pour-le-cri-de-munch-qui-atteint-119-millions-de-dollars_1694487_3246.html?utm_source=dlvr
Les stations de métros (ré-)interprétées
Dans les années 90, un photographe nommé Janol APIN a eu l'excellente idée de mettre en scène, le nom des stations de métro. Des photos pleines d'humour, pleines de clin d'oeil, sont reprises dans un livre « Metropolisson » que nous vous conseillons vivement. Pour les habitants parisiens, je vous invite aussi à visiter ce site : Vie de Metro, qui recense de petites anecdotes vécues dans les rames de métro. Passionné par les Nouvelles Technologies, le marketing, le monde du numérique et le luxe, Chihong partage sur w3sh les dernières trouvailles du web. Egalement Stratège Digital, il accompagne les sociétés dans leur politique d'introduction sur les réseaux sociaux. Twitter @chihonghoac Mail : chihonghoac@gmail.com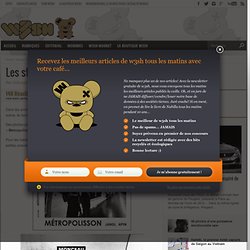 Artist Alexa Meade turns subjects into breathing canvases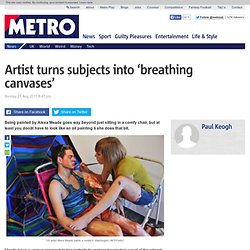 Being painted by Alexa Meade goes way beyond just sitting in a comfy chair, but at least you don't have to look like an oil painting – she does that bit. Meade takes a unique approach to her portraits by making her models a part of the artwork, as well as its subject. She turns their bodies into living and breathing canvases, brushing paint directly on to them. Her props and surroundings are liberally coated with acrylic paint to make them part of the experience.
The World's 50 Best Restaurants 1-50 No.1 El Celler de Can RocaGirona, Spain No.2 NOMACopenhagen, Denmark No.3 Osteria FrancescanaModena, Italy No.4 MugaritzSan SebÁstian, Spain No.5 Eleven Madison ParkNew York, USA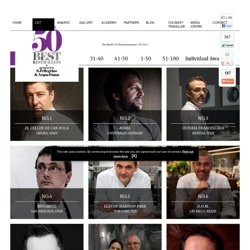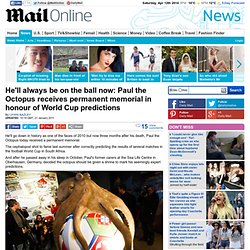 By Lewis Bazley Updated: 10:18 GMT, 21 January 2011 He'll go down in history as one of the faces of 2010 but now three months after his death, Paul the Octopus today received a permanent memorial. The cephalopod shot to fame last summer after correctly predicting the results of several matches in the football World Cup in South Africa. And after he passed away in his sleep in October, Paul's former carers at the Sea Life Centre in Oberhausen, Germany, decided the octopus should be given a shrine to mark his seemingly expert predictions.
Paul the Octopus gets memorial 'Paul Corner' in honour of World Cup predictions
11 000 billets de 1 dollar pour réaliser une sculpture
Une carte du monde sans frontières
A quoi pense un homme lorsqu'il ne pense pas au sexe?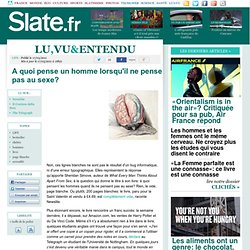 Non, ces lignes blanches ne sont pas le résultat d'un bug informatique, ni d'une erreur typographique. Elles représentent la réponse qu'apporte Sheridan Simove, auteur de What Every Man Thinks About Apart From Sex, à la question qui donne le titre à son livre: à quoi pensent les hommes quand ils ne pensent pas au sexe? Rien, le vide, page blanche. Ou plutôt, 200 pages blanches: le livre, paru pour la Saint Valentin et vendu à £4.69, est complètement vide, raconte Newslite. Plus étonnant encore, le livre rencontre un franc succès: la semaine dernière, il a dépassé, sur Amazon.com, les ventes de Harry Potter et du Da Vinci Code.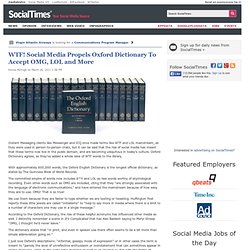 Instant Messaging clients like Messenger and ICQ once made terms like WTF and LOL mainstream, as they were used in person-to-person chats, but it can be said that the rise of social media has meant that these terms now live in the public domain, and are becoming ubiquitous in today's culture. Oxford Dictionary agrees, as they've added a whole slew of WTF words to the library. With approximately 600,000 words, the Oxford English Dictionary is the longest official dictionary; as stated by The Guinness Book of World Records. The committed empire of words now includes ♥ and LOL as real words worthy of etymological recording. Even other words such as OMG are included, citing that they "are strongly associated with the language of electronic communications," and have entered the mainstream because of how easy they are to use.
WTF! Social Media Propels Oxford Dictionary To Accept OMG, LOL and More
En cas de soulèvement au Khemed, le reporter serait du côté du pouvoir. Tunisie, Egypte, Libye, Bahreïn, etc. Les mouvements révolutionnaires fleurissent, depuis quelques semaines, dans le monde arabe. Au point que le tranquille émirat du Khemed pourrait bientôt être touché. Vous ne connaissez pas le Khemed?
Tintin & Les Emirs (Printemps de Jasmin)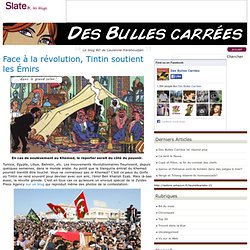 Tintin au Congo (à poil)
by Vijay Govindarajan | 9:08 AM March 17, 2011 This post is part of HBR's special issue on failure. This post was written with Mark Sebell and Jay Terwilliger, managing partners at Creative Realities, Inc. a Boston-based innovation management collaborative. There are three variables in the innovation equation: Innovation = ƒ(Strategy + Creativity + Execution) The need to experiment and fail inexpensively in Execution is where most of the focus is these days. Ironically, the relatively low risk and low cost of experimenting with seemingly dead ideas during Creativity is still one of the keys to lowering the high risk, high cost and high rate of failure in Execution.
The Positive Power of Failure - Vijay Govindarajan Video of the day | Street art à la Lego
Paris vs New York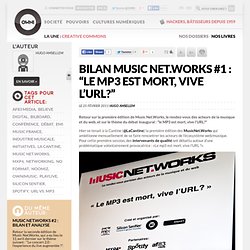 Retour sur la première édition de Music Net.Works, le rendez-vous des acteurs de la musique et du web, et sur le thème du débat inaugural : "le MP3 est mort, vive l'URL?" Hier se tenait à la Cantine (@LaCantine) la première édition des MusicNet.Works qui ambitionne mensuellement de se faire rencontrer les acteurs de l'écosystème web/musique. Pour cette première session, des intervenants de qualité ont débattu autour d'une problématique volontairement provocatrice : «Le mp3 est mort, vive l'URL ?».
Bilan Music Net.Works #1 : "Le MP3 est mort, vive l'URL?" » Article » OWNImusic, Réflexion, initiative, pratiques
Rubik's Cube : 7 sites pour vous aider à le résoudre
J'ai l'impression que ce machin amusant pour les personnes intelligentes et énervant pour les béotiens comme moi ne passera jamais de mode, même s'il est venu à bout des nerfs les plus solides. C'est pourquoi un peu d'aide pour comprendre et enfin tenter de résoudre le bazar peut être utile à ceux qui malgré leur J'ai l'impression que ce machin amusant pour les personnes intelligentes et énervant pour les béotiens comme moi ne passera jamais de mode, même s'il est venu à bout des nerfs les plus solides. C'est pourquoi un peu d'aide pour comprendre et enfin tenter de résoudre le bazar peut être utile à ceux qui malgré leur abnégation ne pas encore parvenus à résoudre complètement un Rubik's Cube.
Un article de Wikipédia, l'encyclopédie libre. C'était généralement le 3e jour du mois de brumaire dans le calendrier républicain français, officiellement dénommé jour de la poire. 23 octobre - 24 octobre - 25 octobre
24 octobre
Le Big Mac de Mc Donald's transfiguré