Critics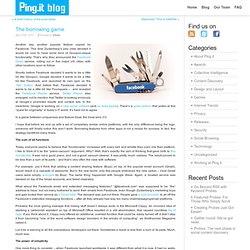 Another day, another popular feature copied by Facebook.
++++ Tres bonne critique : The Borrowing Game: Uniqueness vs. Feature Bloat
Facebook Loses Much Face In Secret Smear On Google
Facebook secretly hired a PR firm to plant negative stories about Google, says Dan Lyons in a jaw dropping story at the Daily Beast. For the past few days, a mystery has been unfolding in Silicon Valley.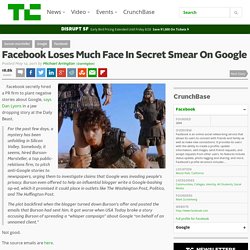 "Il n'y a pas eu de révolution Facebook"
Evgeny Morozov est né en 1984 en Biélorussie.
Google aussi conserve les données de localisation des utilisateurs Android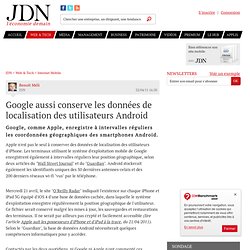 Google, comme Apple, enregistre à intervalles réguliers les coordonnées géographiques des smartphones Android. Apple n'est pas le seul à conserver des données de localisation des utilisateurs d'iPhone.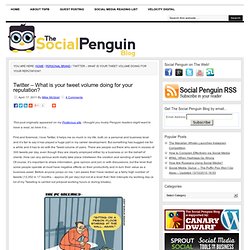 This post originally appeared on my Posterous site, I thought you lovely Penguin readers might want to have a read, so here it is…
Twitter – What is your tweet volume doing for your reputation? |
April 13, 2011 Google recently announced the launch of their latest social initiative: Google +1 (Plus One). Still in beta, Google +1 consists of a tiny icon next to each and every organic and paid search listing that, when clicked, communicates your stamp of approval for others to see.
Google +1: Top AdWords Advertisers Are Unprepared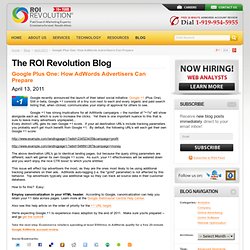 Google + 1 = 0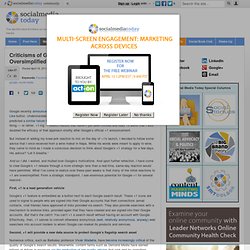 Criticisms of Google +1: Shortsighted and Oversimplified
Google recently announced +1, the search giant's answer to the increasingly ubiquitous Facebook Like button. Understandably, many bloggers and analysts cited Google's previous social failures and predicted a similar failure for +1.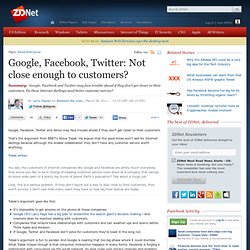 Google, Facebook, Twitter and Yahoo may face trouble ahead if they don't get closer to their customers. That's the argument from BNET's Steve Tobak. He argues that the good times won't last for Internet darlings because although the enable collaboration they don't have any customer service worth anything.
Google, Facebook, Twitter: Not close enough to customers?
Facebook, Twitter among Top 10 Worst Innovations of the Decade [SLIDESHOW]
Spam Is Growing on Facebook Fan Pages
Facebook and Labor Laws: Can Internet Posts Get You Fired?
Dawnmarie Souza's comments on her Facebook page didn't win her any points with the boss, but the rest of us owe her a debt of gratitude. In a rare test of old law on a new medium, she helped us understand just how little the online world differs from the land of bricks and mortar. Souza's career as a paramedic at American Medical Response of Connecticut Inc. may not have been too bright even before she called her boss various genital parts in a November 2009 Facebook posting. She had been hauled on the carpet for several incidents of allegedly rude behavior and had further rankled the emergency-response company by asking to have a union representative present when she was to be questioned about one particular customer's complaint that she had been rude, according to a National Labor Relations Board (NLRB) investigation of the case. The company denied the request, and that, in turn, set off her colorful Facebook flurry. American Medical fired her 23 days later.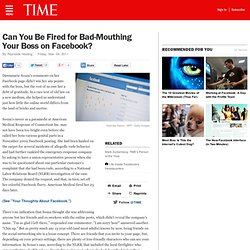 Avant-propos
Groupon, l'envers du décor | Brocooli : voir la vie en vert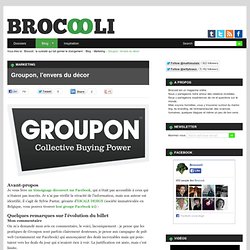 Suite à un message publié par un partenaire belge, Escale Design et à la réaction suscitée sur Internet, notamment sur Facebook et Twitter, nous souhaitons clarifier certains points.
L'envers du decor SELON Groupon
Les dérives de Groupon...