Corpo
Foursquare délaisse Google Maps : cap vers OpenStreetMap
Foursquare joue l'alternative et s'attache les services de MapBox , start-up éditrice d'un écosystème de cartographie basé sur le projet OpenStreetMap . La flexibilité et l'échelle tarifaire avantageuse de cette solution open source , considérée comme un « Wikipedia de la géographie « , ont primé sur le prestige et la quasi-hégémonie de Google Maps . Une telle transition relèverait d'une implacable logique financière pour Foursquare , un service communautaire mobile qui a fait de la géolocalisation son cheval de bataille, mais aussi de la volonté d'une moindre dépendance vis-à-vis de Google dominant dans le domaine de la cartographie interactive. Cet élément différenciant a d'ailleurs valu au réseau social de réunir sous son aile quelque 10 millions de membres, dont les plus actifs multiplient les géolocalisations… et donc les appels à l'API de Google Maps. Or, ces affichages ont un coût pour les sites tiers qui les mettent à la disposition de leurs visiteurs.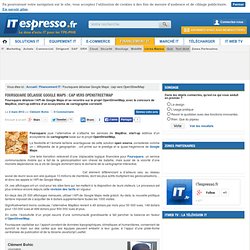 Wow! The foursquare community has over 10,000,000 members
Foursquare : présentation et utilisation business
US-based financial services company American Express has inked a contract with US start-up location-based mobile platform company Foursquare Labs, media outlet onlewsk.com reports. Under the terms of the deal, AmEx customers can register their cards in the Foursquare system to access offers from merchants who are also Foursquare participants. Thus, customers who shop at those merchants with an AmEx card are expected to receive credits and electronic notification that they have redeemed the offer, the source reports.
4sq & amEx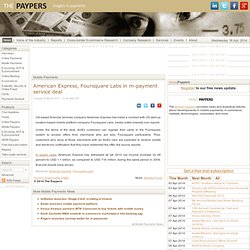 Video: Groupon and Foursquare founders
Banner Glue