Clash of the Titans : Google vs Facebook vs Apple vs ...
Groupon Vs. Zynga: Which Company Will Be More Valuable Post-IPO? 'Tis the season of the IPO.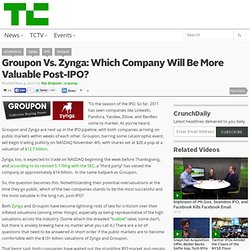 So far, 2011 has seen companies like LinkedIn, Pandora, Yandex, Zillow, and RenRen come to market. As you've heard, Groupon and Zynga are next up in the IPO pipeline, with both companies arriving on public markets within weeks of each other. [Etude] L'état des lieux des médias sociaux à travers le monde. YouTube Users: Klout Is Here. Klout now factors in YouTube activity as part of its scoring system for social influence.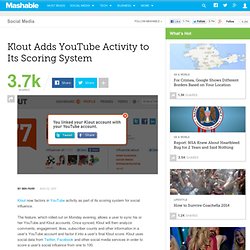 The feature, which rolled out on Monday evening, allows a user to sync his or her YouTube and Klout accounts. Once synced, Klout will then analyze comments, engagement, likes, subscriber counts and other information in a user's YouTube account and factor it into a user's final Klout score. Klout uses social data from Twitter, Facebook and other social media services in order to score a user's social influence from one to 100. While some people may not care about a score of their social influence, more and more brands do.
Facebook vs Apple
Google vs Apple. Google vs Facebook. Google vs Groupon. Twitter vs Facebook. Microsoft vs. Apple infographic details rivalry from inception to global domination. In the world of computing, no two companies have more history than Microsoft and Apple.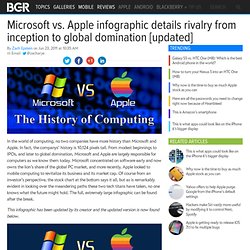 In fact, the companys' history is 10,124 pixels tall. From modest beginnings to IPOs, and later to global domination, Microsoft and Apple are largely responsible for computers as we know them today. Microsoft concentrated on software early and now owns the lion's share of the global PC market, and more recently, Apple looked to mobile computing to revitalize its business and its market cap. Les boutons « Follow » Twitter, Google +1 et Youtube. How LinkedIn has started copying Facebook - Social Media. It's always funny to see the big social networks copying features from each other and generally imitating the things that they see working elsewhere.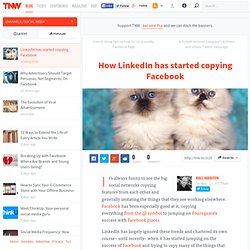 Facebook has been especially good at it, copying everything from the @ symbol to jumping on Foursquare's success with Facebook places. LinkedIn has largely ignored these trends and chartered its own course– until recently– when it has started jumping on the success of Facebook and trying to copy many of the things that make Facebook the huge success that it is today. Location-Based Services: Foursquare vs. Facebook Places | Evolve Greenville. This domain is available through Go Daddy Auctions ® !
Auction ends on 08/07/2012 at 10:00 AM PDT Price: $280.00 *Buy a new .COM, get one new .INFO for FREE for 1st year only. Not valid on renewals or transfers. Microsoft launches Office 365, its Google Apps killer. Microsoft caught up with the present today with the launch of Office 365, a suite of its well-known Office software tailored for the cloud.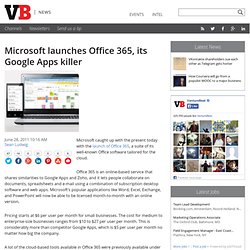 Office 365 is an online-based service that shares similarities to Google Apps and Zoho, and it lets people collaborate on documents, spreadsheets and e-mail using a combination of subscription desktop software and web apps. Microsoft's popular applications like Word, Excel, Exchange, and PowerPoint will now be able to be licensed month-to-month with an online version. Pricing starts at $6 per user per month for small businesses. The cost for medium to enterprise-size businesses ranges from $10 to $27 per user per month.
---