Business Strategy & Best Practices Twitter
The Power Of Hashtags On Twitter. Hashtags are the world's chat room.
Where else can you hop on the phone or computer and have an instant, passionate conversation about something that shares a hashtag? When it comes to primetime television, current events, or sports events like the Olympics or the Super Bowl, hashtags allow anyone with a Twitter account to take part in a universal conversation about a group topic. Photo Courtesy of PRSarahEvans.com Besides TV shows, news, or sports stories, harnessing the power of hashtags can lead to serious exposure and gains for a business or individual. For example, Sarah Evans of PR Sarah Evans hosts #journchat, a weekly twitter chat using that hashtag for journalists, PR professionals, and bloggers to discuss topics and questions related to the industry.
E-commerce : les 6 types de clients sur les réseaux sociaux. Une étude de l'Institut Mc Kinsey avait proposé de classer les clients présents sur les réseaux sociaux en 7 groupes.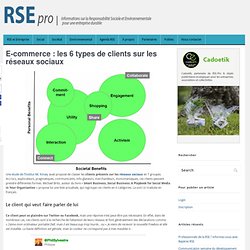 Accrocs, explorateurs, pragmatiques, communicants, info-glaneurs, marchandeurs, monomaniaques, ces clients peuvent prendre différentes formes. Michael Brito, auteur du livre « Smart Business, Social Business: A Playbook for Social Media in Your Organization » propose lui une liste actualisée, qui regroupe ces clients en 6 catégories. La voici ici traduite en français. Le client qui veut faire parler de lui Ce client peut se plaindre sur Twitter ou Facebook, mais une réponse n'est peut-être pas nécessaire. 5 Tools to Be More Efficient on Twitter. As much as I love Twitter it can sometimes really turn out to take up more of my time than it should.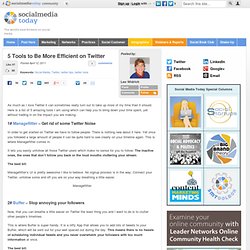 Here is a list of 5 amazing tools I am using which can help you to bring down your time spent, yet without trading in on the impact you are making: 1# Manageflitter – Get rid of some Twitter Noise. Twitter to Offer Brand Pages Like Facebook's, Report Says. Twitter is developing a new kind of profile page for business accounts, similar to Facebook Pages, according to London-based Sarah Shearman of BrandRepublic The report was based on conversations with multiple unnamed sources familiar with the plans.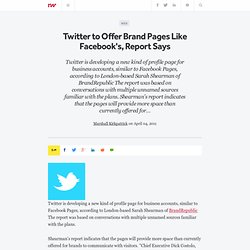 Shearman's report indicates that the pages will provide more space than currently offered for brands to communicate with visitors. "Chief Executive Dick Costolo, and Adam Bain, president of revenue, are leading the push to create fresh revenue streams," Shearman writes. (Update below the fold.) Marketers we spoke to tonight expressed support for the idea; Twitter has not yet responded to our request for comment. Update: At 11:00 AM PST Twitter responded with the following statement.
Stats - Use of Twitter. Measuring your Social Message Impact. As we all tweet, tag, post, connect, follow and like - we all wonder if our message is reaching anyone out there.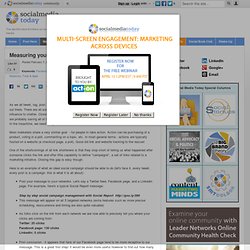 There are all sorts of metrics that people are using - from virality to engagement, from influence to chatter. Closed nature of the data behind all social networks isn't helping much either. 5 Twitter Metrics Beyond Follower Count. Counting your Twitter followers is a mostly fruitless exercise.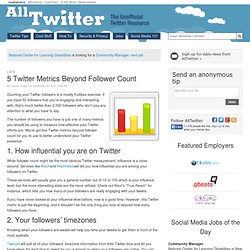 If you have 50 followers that you're engaging and interacting with, that's much better than 2,000 followers who don't pay any attention to what you have to say. The number of followers you have is just one of many metrics you should be using to measure how effective your Twitter efforts are. We've got five Twitter metrics beyond follower count for you to use to better understand your Twitter presence. 1. How influential you are on Twitter. 7 Guaranteed Ways To Lose Twitter Followers. Recent research provides some interesting insights into why consumers fall out of love with a brand on social media.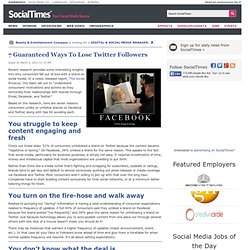 In a newly released report, 'The Social Breakup,' the team set out to "understand consumers' motivations and actions as they terminate their relationships with brands through Email, Facebook, and Twitter." Based on the research, here are seven reasons consumers unlike or unfollow brands on Facebook and Twitter, along with tips for avoiding each. You struggle to keep content engaging and fresh Check out these stats. 52% of consumers unfollowed a brand on Twitter because the content became "repetitive or boring." On Facebook, 38% unliked a brand for the same reason. Comment réaliser une veille efficace sur Twitter ? Le Real Time est plus que jamais d'actualité… Avec Twitter, les internautes ont la possibilité de rechercher dans les conversations instantanées, on parle de Real Time search.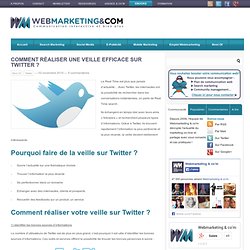 Ils échangent en temps réel avec leurs amis « followers » et recherchent plusieurs types d'informations. Grâce à Twitter, ils trouvent rapidement l'information la plus pertinente et la plus récente, la veille devient réellement intéressante. Pourquoi faire de la veille sur Twitter ? 8 Ways Entrepreneurs Can Get More Out of Twitter. Scott Gerber is a serial entrepreneur, angel investor, public speaker and author of Never Get a "Real" Job: How to Dump Your Boss, Build a Business and Not Go Broke.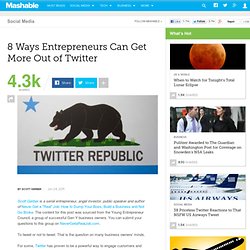 The content for this post was sourced from the Young Entrepreneur Council, a group of successful Gen Y business owners. You can submit your questions to this group on NeverGetaRealJob.com. To tweet or not to tweet. 7 Ways Businesses Can Use Twitter. Twitter is a valuable tool for any business, big or small.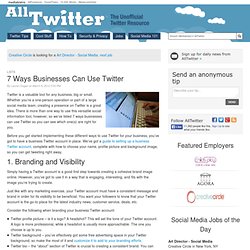 Whether you're a one-person operation or part of a large social media team, creating a presence on Twitter is a great idea. There is more than one way to use this versatile social information tool, however, so we've listed 7 ways businesses can use Twitter so you can see which one(s) are right for you. Before you get started implementing these different ways to use Twitter for your business, you've got to have a business Twitter account in place.
---