Burson-Marsteller
3. Facebook avoue avoir engagé une agence RP afin de dénigrer Google
Facebook secretly hired a PR firm to plant negative stories about Google, says Dan Lyons in a jaw dropping story at the Daily Beast.
2. Facebook Loses Much Face In Secret Smear On Google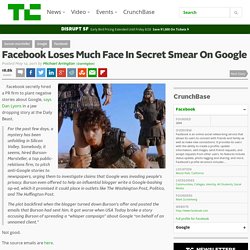 At this point, I think it's pretty clear what Facebook's strategy for this whole Burson-Marsteller caught-with-their-pants-down situation is going to be: say as little as possible and move on. And it will work.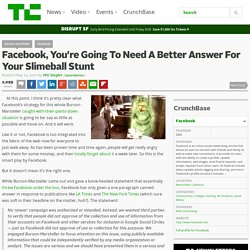 Facebook, You're Going To Need A Better Answer For Your Slimeball Stunt
For the past few days, a mystery has been unfolding in Silicon Valley. Somebody, it seems, hired Burson-Marsteller, a top public-relations firm, to pitch anti-Google stories to newspapers, urging them to investigate claims that Google was invading people's privacy. Burson even offered to help an influential blogger write a Google-bashing op-ed, which it promised it could place in outlets like The Washington Post, Politico, and The Huffington Post.
1. Facebook PR to pitch negative stories about Google !