Apple
[Infographie] Apple : l'impact des lancements de produits sur l'action depuis 2007. L'iPhone 5 deviendra enfin une réalité demain, lors de la conférence tant attendue d'Apple à San Francisco.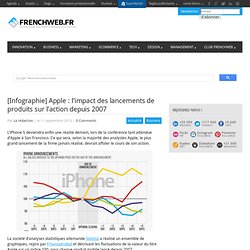 Ce qui sera, selon la majorité des analystes Apple, le plus grand lancement de la firme jamais réalisé, devrait affoler le cours de son action. La société d'analyses statistiques allemande Statista a réalisé un ensemble de graphiques, repris par Finansakrobat et décrivant les fluctuations de la valeur du titre Apple sur un indice 100, pour chaque produit mobile lancé depuis 2007. On découvre ainsi qu'à J-5 du lancement d'un nouveau produit de la marque, l'action passe de l'indice 98 à 100, pour retomber à 95 à J+5. Concernant les iPhones, c'est le lancement du premier, en 2007, qui a le plus fait augmenter la valeur de l'action, passant de l'indice 96 à 112 en seulement 6 jours. Apple by the Numbers [INFOGRAPHIC] Keeping up with Apple's growth is like sneezing with your eyes open — it's nearly impossible.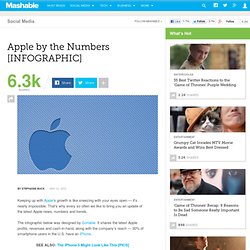 That's why every so often we like to bring you an update of the latest Apple news, numbers and trends. The infographic below was designed by Sortable. It shares the latest Apple profits, revenues and cash-in-hand, along with the company's reach — 30% of smartphone users in the U.S. have an iPhone. SEE ALSO: The iPhone 5 Might Look Like This [PICS] iPhone4 vs HTC Evo. iPhone 5G. A quoi ressembleront nos téléphones portables dans 10 ans.
I want to work at Goldman Sachs. L'ardoise tactile -- ils en parlent -- The New mac Mini! The Mactini. iToilet: Your interactive toilet from Apple. USB Wine, download wine straight from the vineyards ! There is an Intern for That pt.1. There is an Intern for That pt.2.
---