Alternative payment methods
Tinypay.me Raises $1 Million, Moving HQ to San Francisco. E-commerce platform Tinypay.me, which emerged from 2010′s Le Web conference as a sort of Twitter for e-commerce, has just raised $1 million from Aksoy Internet Ventures.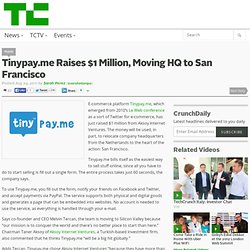 The money will be used, in part, to relocate company headquarters from the Netherlands to the heart of the action: San Francisco. Tinypay.me bills itself as the easiest way to sell stuff online, since all you have to do to start selling is fill out a single form. The entire process takes just 60 seconds, the company says. To use Tinypay.me, you fill out the form, notify your friends on Facebook and Twitter, and accept payments via PayPal. Kwixo.
---