Thoughts
by Antje Funcke, Olivier Godart, Aoife Hanley and Sarah Hoffmann The ubiquitous phrase 'back to the blackboard' is often used to describe something that is deficient and that needs to be partially or fully reworked. Some economists like Wössmann or researchers at the OECD might apply the same reasoning to the education systems of many industrialized countries; hence the idea that education needs to be 'reinvented'. From the empirical findings and commentary presented in the accompanying 'Background Paper' to this session, we have put together some solutions which we present to the panel as an input for their deliberations at the Global Economic Symposium in October 2011. 1. What matters most for good education are good teachers (Slater, Davies and Burgess, 2009; Sanders and Rivers, 1996).
Reinventing Education - Bertelsmann Future Challenges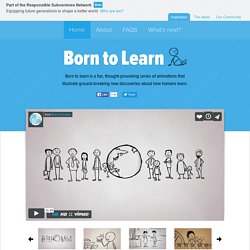 Battling for the Soul of Education Moving beyond school reform to educational transformation: The findings and recommendations of 3 decades of synthesis Download from battlingforthesoulofeducation.org Your brain is the planet's most powerful learning machine. But our current systems of education aren't doing enough to unlock our true potential.
Born to Learn: Class Reunion on Vimeo
Last week in brief: BIG things brewing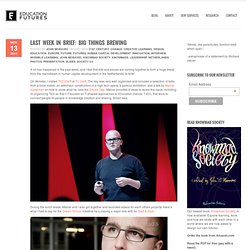 A lot has happened in the past week, and I feel that bits and pieces are coming together to form a huge break from the mainstream in human capital development in the Netherlands. In brief: On Monday, I visited TEDxDelft at TU Delft. The day was very well organized and included a selection of talks from a book maker, an astronaut, constructors of a high tech opera, a parkour exhibition, and a talk by Marcel Kampman on how to close what he calls the Dream Gap. Marcel provides 9 ideas to tackle the issue, including re-organizing TED so that it it focuses on T-shaped approaches to EDucation (hence, T-ED), that work to connect people-to-people in knowledge creation and sharing. Smart idea.
People
Teaching Co-Creation Now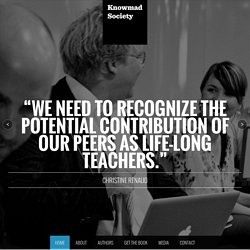 This book explores the future of learning, work and how we relate with each other in a world where we are now asked to design our own futures. Key topics covered include: reframing learning and human development; required skills and competencies; rethinking schooling; flattening organizations; co-creating learning; and new value creation in organizations. Knowmads are nomadic knowledge workers –creative, imaginative, and innovative people who can work with almost anybody, anytime, and anywhere. The jobs associated with 21st century knowledge and innovation workers have become much less specific concerning task and place, but require more value-generative applications of what they know. The office as we know it is gone. Schools and other learning spaces will follow next.
Edward Harran shares his personal story into the knowmad movement: an emerging digital generation that has the capacity to work, learn, move and play - with anybody, anytime, and anywhere. In his energetic talk, Edward gives us a compelling insight into his story and highlights what the knowmads represent: the beginnings of the next renaissance. In spirit of kaizen , I would love to hear your insights; your feedback; and
"Knowmads and The Next Renaissance" - My TedxBrisbane Talk
TEDxBrisbane 2011 - Edward Harran - Imagination
It's Happening: sharing the shift in education
Wij zijn 16 studenten die de Minor 'Knowmadic Learning Lab' volgen. Wij zijn: Bianca, Charlotte, Fatih, Fatiha, Floor, Geoffrey, Idiris, Lisa, Menderes, Michiel, Sander, Senne, Sergey, Sobia, Tessa & Thyra. Dit is een kleine greep uit al onze blogs die wij per week bijhouden.
THRIVE
Change Begins with Me
cc flickr photo by R/DV/RS The reason things stay the same is because we stay the same. For things to change, we must change. ~ Eric Jensen Lately, I have been struggling with the issue of change. Specifically, I am looking at one area of our school that I believe has become a vicious cycle of despair for both our staff and students — homework. Teachers assign it.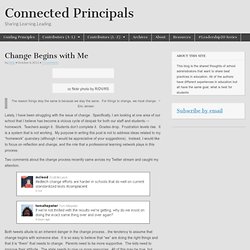 Higher education: Is it really the next bubble?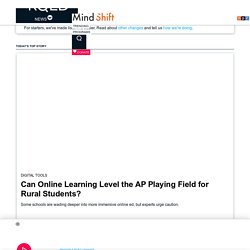 How Educators Can Protect Students' Data from Security Breaches Every day, teachers are responsible for maintaining numerous logins, passwords, data, and other private information about their students. With so many tools, security and privacy are often an afterthought despite the increasing number of websites that fall victim to data breaches and security vulnerabilities each day. In the wake of the Heartbleed data security flaw discovered last week, here are measures teachers can take to secure school data.
Culture Digital Tools Teaching Strategies This week, we feature the most popular posts of the year on MindShift. In today's dynamic classrooms, the teaching and learning process is becoming more nuanced, more seamless, and it flows back and forth from students to teachers. Here's a look at current trends in teaching and learning, their implications, and changes to watch for. The Three Key Trends 1.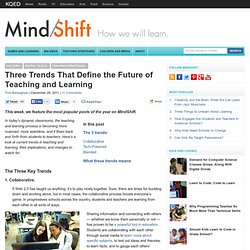 G S A 2011 English
A clear day in New York After having been in New York for two weeks now, it's been interesting to contrast what I've been discussing with entrepreneurs and educators against what my friends and peers have been telling me in regards to the reflections from their own paths. Yes, I've been meeting with respected organizations and journalists, participating in entrepreneurial learning sessions at General Assembly, and even attending a great class at NYU on social entrepreneurship. But throughout all this, I've been couchsurfing in Brooklyn with art students, visiting friends who attend an elite small liberal arts school in upstate New York, and sitting down at cafes in DC and New York with other Eduventurists who are entirely out of the school system. This contrast between the two groups provides me with both a macro and micro view of the same issues.
eduventurist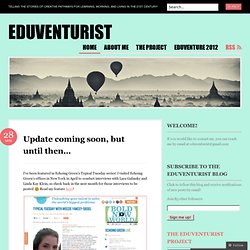 Five Steps to Better School/Community Collaboration
As the old African proverb says, "It takes a village to raise a child." One could imagine then that it would take a community to raise a school. We can't rely on local, state, or federal governments to take ownership of the issues we face locally. We need to work as a community to nurture our schools for our particular community needs. I believe the answer to real education/school transformation is strong, authentic community connections and actions.
What Are You Going to Do With That?
By William Deresiewicz The essay below is adapted from a talk delivered to a freshman class at Stanford University in May. The question my title poses, of course, is the one that is classically aimed at humanities majors. What practical value could there possibly be in studying literature or art or philosophy? So you must be wondering why I'm bothering to raise it here, at Stanford, this renowned citadel of science and technology.
The Learning Planet
Bas Verhart: Education is failing the future-makers
This article was taken from the February 2012 issue of Wired magazine. Be the first to read Wired's articles in print before they're posted online, and get your hands on loads of additional content by subscribing online. When you're super-smart and want to learn -- or simply don't fit the mould -- what other choice is there? Some of the world's greatest creative leaders dropped out, found a way to create the type of education they needed, and changed our world. Edwin Land, cofounder of Polaroid, dropped out to focus on research.
6th European Conference on Games Based Learning